How to improve Cyber Security and Secure Messaging
Learn how to use a proven CPaaS solution to create a cyber security policy for mobile engagement.
Category:
Enterprise Solutions
Subject:
Secure Messaging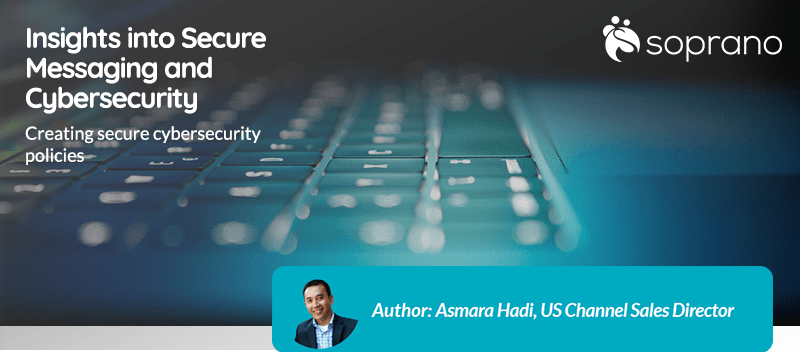 When an organization supports a BYOD (Bring Your Own Device) policy, it becomes more difficult to physically safeguard enterprise communications. Much of this is due to the fact that social media apps have pressing security loopholes and threats when it comes to sensitive information.
While organizations believe that messaging apps have significant business benefits, the fact that employees' use of consumer messaging apps cannot be monitored or controlled is a major cause for concern.
It is important for organizations to have a proper cybersecurity policy with some kind of mobile security that can manage business applications separately from those used for personal reasons. Additional login credentials must be strictly required to prevent non-authorized users' access to company data.
What secure messaging is and why it's important
Secure communication is a fundamental business requirement and should be one of the key strategies for organizations to communicate with their customers, employees and suppliers, and to collaborate securely from any device.
Mobile has seen significant growth for the last 15 years, with most service industries seeing 60-80% of their customers communicate with the business via mobile channels. Messaging is one of the components of mobile customer engagement – and customers' adoption rate is high.
However, if organizations are not available to customers over their preferred channels, they are missing important revenue-generating opportunities, while potentially leaving their customers disengaged. A secure messaging channel will provide the same kind of real-time engagement as a phone call, but with a new level of fluidity as to when the exchange takes place, allowing it to naturally fit into a customer's life. With the right security protocols in place for this channel, organizations can avoid security incidents such as data spills.
When choosing a secure messaging service, keep in mind that end-to-end encryption is not a catch-all security feature to protect yourself from surveillance. Even if you use a secure messaging app, an unsecured device will allow anyone access to messages. When considered a solution provider, organizations should evaluate features, update frequency, and spam filtering, plus advanced identification of social engineering attacks including spear phishing and account takeovers.
The resources needed to implement a secure messaging system, and how Soprano can help
Ideally, we'd like one app, platform, or feature that we could use to address or mitigate all security issues. As it stands, many organizations must go through many routes to integrate multiple platforms to communicate with customers, employees, family, and colleagues.
Unfortunately, all popular encrypted messaging apps can only be used to talk to others that use the same platform. Regardless, organizations should select a resource with at least the following capabilities:
Encryption options for SMS transmittal
Allow messaging data and metadata to be secured throughout the system
Password policy controls for expiry and account lockout
Security with role-based permissions and license controls over features
Industry Leading Security Certification
Adherence to a privacy statement standard
Soprano is a Communication Platform as a Service (CPaaS) hosted in an industry-leading private cloud data centre. Our service is used by many public and private organizations worldwide, including those in government agencies, financial services, healthcare, and other security and compliance-driven industries.
Customers use our messaging platform to enhance their data privacy controls with encrypted data (both at rest and in motion) to reduce the risk of security breaches. You will also benefit from HTTPS or FTPS for enhanced data transport security, plus mobile messaging for two-factor authentication and one-time passwords.
Contact us for a personalised look at our platform and to discuss your needs.