The Keys to a Successful Omnichannel Marketing Strategy
Modern human communication is a complex and diverse thing – and it's time marketing reflected that fact. In omnichannel marketing, that's exactly what we're aiming to do. Let's talk about the basics of omnichannel: what it is, why it's important, and how to implement it. I'd also love to hear from marketers: have you gone all in on an omnichannel approach?
Category:
Mobile Messaging
Subject:
Mobile Marketing, Omnichannel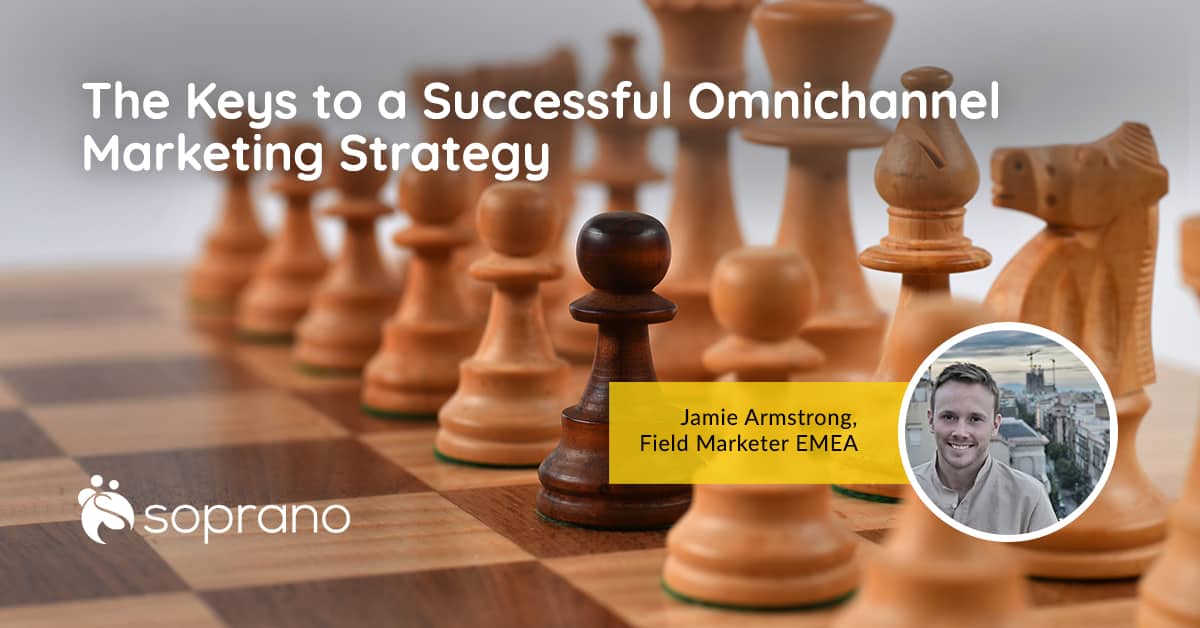 There's no single communication channel – people communicate in all manner of ways and means. It's a fact that organizations need to understand that if they are to continue to connect with customers in a meaningful way.
Omnichannel marketing is about understanding the channels used by your audience, and forming a strategy that allows you to engage with them wherever they might be.
90% of multi-device owners switch between three devices to complete a standard task. It follows that organizations also need a multi-prong approach if they are to stay engaged with their customers.
What is omnichannel marketing and why do I need it?
SMS, WhatsApp, Voice, Email, Social Media, RCS, Viber; the endless list of modern communication channels can feel a little overwhelming… unless you take an omnichannel approach, which sees all these channels unified into one.
Instead of creating separate strategies for every channel, the same strategy is applied across the board, with individual channels utilized when and where needed. Omnichannel marketing sees communication channels working together, rather than working in their own best interests.
The benefits of such an approach are many and varied, but include:
More data, better insights: An omnichannel approach allows you to build a more complete view of your customers and their behaviors.
Targeted campaigns: Using the insights drawn from data, you can more effectively target specific demographics within specific channels.
An enhanced experience: A single strategy creates uniformity and familiarity across channels, while allowing you to personalize the experience for each customer.
Greater ROI: By analyzing the data you can identify the channels and strategies with the greatest return.
The why of omnichannel marketing is compelling. The next question: how?
How to establish an omnichannel approach
While switching to an omnichannel strategy may represent a rather seismic marketing shift within many organizations, there are ways and means to make the task less imposing. Here are 6 tips for omnichannel success.
Map the journey: Begin by charting your customer journey. Ensure any dead ends are traded for green lights. Put yourself in the customer's shoes as they navigate their journey: is every channel and touchpoint optimized to be customer-centric?
Personalize, customize: The modern consumer wants to be treated like the individual they are. Use CRM data and automation to personalize the customer experience.
Be consistent as a brand: While the customer experience should be customized, the brand experience must create familiarity and recognition by being consistent across the board. Sure, RCS provides far more rich media options than SMS, but your core message should be the same across both channels.
Integrate your CRM system: As customers move through different channels, going from SMS, to a chatbot, to a voice call, every step should be recorded within your CRM system.
Keep a human handy: While automation technology can take care of a lot of the basic communications, you could always have a human on hand, ready to step in and answer more complex questions or solve more complex problems.
Use a CPaaS solution: A communication platform as a service (CPaaS) solution forms the meeting point of your omnichannel strategy, and makes it super simple to manage. And your choice of CPaaS will arguably be more critical to the ongoing success of your omnichannel strategy than any other factor.
The importance of a CPaaS solution
An omnichannel marketing strategy aims to bring all customer communication under the one umbrella. And from a technology standpoint, that umbrella is a
CPaaS
solution.
Say you've identified WhatsApp, Facebook and SMS as the key communication channels for a particular demographic. A CPaaS solution allows you to create a single message, then customize its appearance for each platform. Perhaps you deliver it as plain text on SMS, add a GIF on WhatsApp, and a link on Facebook.
When a customer responds through any of these channels, their message is fed back into the CPaaS. Conversations flow seamlessly across channels, allowing you to deliver a far more consistent experience.
Soprano's unified messaging platform helps you get the right information, to the right person, in the right format, at the right time, for the right business outcome. It integrates as a core element of a digital transformation technology stack, allowing it to share information with other systems, and automate a wealth of processes that might currently be manual.
An example: in a recent omnichannel marketing campaign for one of our clients, we allowed their customers to submit satisfaction scores across almost any channel they chose, from typing a rating into a text message to clicking a button in an RCS message. This omnichannel experience saw the brand generate a far higher level of survey response than they ever had before, and the insights they drew from the campaign were invaluable.
The potential of CPaaS, and the concept of omnichannel marketing as a whole, is so broad and deep that it is difficult to condense into a short blog post. The ways in which omnichannel marketing is deployed will also vary wildly from organization to organization.
One thing we can say with confidence is that omnichannel is not just the undoubted future of marketing, it's increasingly the present. By switching to an omnichannel approach now, you'll market yourself far more efficiently and effectively in the short-term, and future-proof your business in the long-term.