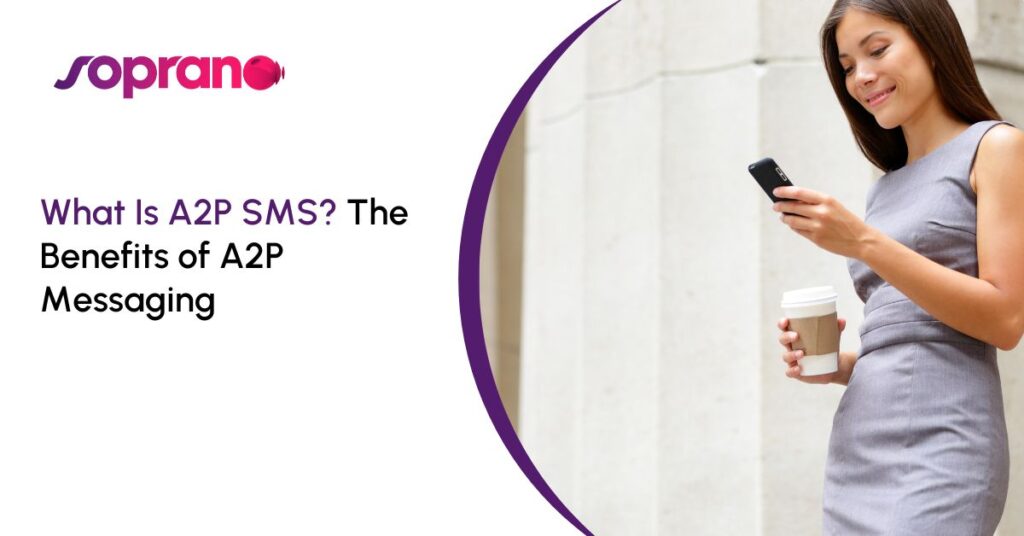 A2P SMS or A2P messaging (application-to-person messaging) is the process of sending mobile messages from a business application to a mobile user. These messages are also known as professional or enterprise messages.
Considering almost 98% of text messages are opened, A2P messages are highly likely to be read – offering a cost-effective way for businesses to increase consumer engagement. They are generally one-way communications that don't require a response, with classic examples including notification and reminder texts, code authentication, or access to account logins.
At Soprano, we see our business customers all over the world using smart SMS for different purposes across a variety of industries. We focus heavily on developing messaging solutions that drive the high levels of consumer engagement our customers seek, and most importantly, lead to results.
Here's how businesses are leveraging our Communications Platform as a Service (CPaaS) to integrate messaging APIs and solve common issues, as well as deliver better content and customer experiences to their audience.
How does A2P messaging work?
Unlike P2P (person-to-person) messaging, A2P messaging gives businesses the ability to automate text messaging for things like appointment reminders, banking pins, text alerts, text-based sales offers, and many more.
The smarts of A2P messaging nowadays include features that allow businesses to personalize their text messages, control what is sent to whom, and use trusted routes to deliver their messages. In addition to improved service delivery times, proactive fraud prevention mechanisms and reporting capabilities, this means companies can deliver reliable and timely smart SMS communications on a global scale to their entire customer base.
Applying A2P messaging
Choosing the right approach to using A2P SMS in your business is key. To begin, you need to ensure you understand where exactly your organization will benefit from an A2P solution. How could you use a 24/7 instant communication channel with your customers to deliver helpful content that improves their lives and their journey with your brand?
Put yourself in your customer's shoes. What frustrations, limitations or problems do they face with your service? If you can solve these by sending a message to their mobile via an A2P text, A2P SMS is going to add considerable value to the customer.
Finally, select the right partner to provide you with an enterprise-grade service to launch your A2P project successfully. Then you'll be ready to implement your effective new text messaging solution.
How our customers use Soprano's A2P messaging solutions
Soprano products are actively used by numerous global Fortune 2000 companies including leading financial institutions and large government agencies in four major world regions. Our award-winning engineering and innovation has resulted in a powerful cloud-based enterprise platform that powerfully integrates IP, smart SMS, MMS, voice, and location into a seamless, secure business mobile messaging experience. This also includes Soprano as an A2P SMS provider
Our CPaaS solution can be used as an SMS marketing platform to send texts promoting your latest products and services. You can send bulk SMS, or automate messages depending on customer activity, while simultaneously using our SMS API to ensure you are sending bespoke messages based on customers' needs.
A common issue now being solved by Soprano's A2P functionality is the 'Did Not Attend' rate for appointments and events. Sending automatic confirmations and reminders to customers or patients has been proven to drastically reduce no-shows and wasted resources. It also saves time for employees who may otherwise have to manually send out reminders and updates.
Our solution can be configured to automatically send a confirmation via any channel when a booking is made in your current CRM. The tool then automatically sends out reminders closer to the date, alongside a quick, easy way for the contact to cancel or reschedule if necessary.
These are just a few examples of what our CPaaS platform is able to support in the delivery of A2P messaging.
Are you interested in how mobile messaging can transform your business communication? Continue learning more: