Omnichannel Communication for Educational Institutions
Interact with the entire educational community through mobile channels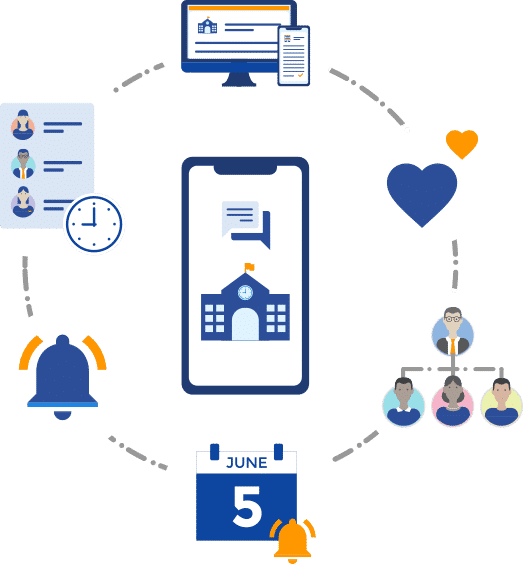 The Challenges for Educational Institutions
The educational community goes beyond an institution, it involves students, parents, teachers and administrative staff. Educational institutions must implement channels to interact with all members of this community to build on relationships and to establish trust.
The challenges for educational institutions include:
Increasing catchment indicators
Reducing dropout rates
Increasing two-way communication between students and teachers through secure channels
Implementing mobile communication channels in emergency plans
Delivering timely reminders to parents and students
Delivering urgent alerts and notifications
Solution: Implement an Omnichannel Interaction Solution within the Education Sector
Leverage Omnichannel Interactive Messaging to Stay Close to your Educational Community
Soprano's Omnichannel Platform forms a basis for those in the education sector to communicate reliably and securely with students, parents and employees. The platform allows for two-way mobile messaging using multiple channels, and it can be easily integrated with existing IT systems to allow for information to be shared and triggered appropriately. The Soprano platform gives educational entities a competitive advantage, offering a solution they can easily implement.
By offering SMS, Voice, Instant Messaging, Email and WhatsApp; our Omnichannel approach allows educational institutions to reach more of their community.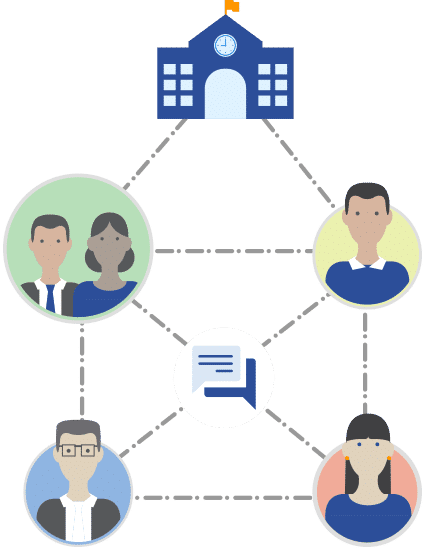 Deepen the Level of Engagement within Schools.
Collaboration between teachers, parents, students, staff and administrators is complex and challenging. Soprano Connect enables true two-way communication with mobile phones, tablets and laptops reduces this complexity and moves the school beyond traditional methods.
Instant messaging applications, such as IP messaging open a direct communication channel between teachers and students in a secure and controlled environment. This channel is used for personal information and queries such as confirmation of exam dates, coursework deadlines and more.
Integration
Add 2-way messaging and alerting capabilities to almost any existing school or IT systems using Soprano Connect's "Smart APIs" for integration.
Keyword-Enabled
Keywords such as "Debate Club" or "MySchool Info" can be used to provide instant information based on inbound query messages beginning with the appropriate keyword.
Multi-mode
Soprano Connect enables one-to-one and one-to-many communication. Choose from SMS, MMS, Email, or voice broadcast for personalised delivery to each recipient's medium of choice.
Smart Routing
Replies to messages sent to parents or students can be easily captured and routed back to the sender, or copied to the appropriate inboxes of others.
Scheduling
Messages and reminders can be scheduled in the system to be sent automatically at one or more times during the day, week or month.
Embrace Mobile Communication Solutions for Schools, Universities and Education Institutions with Soprano Connect
Solutions for Academic Messaging Services
Soprano Connect is a comprehensive 2-way mobile messaging delivered through a single user interface for inbound and outbound messaging via SMS and email and integrates with existing IT systems to help automate communication and workflow processes throughout a single facility or across multiple facilities
Smart Integration
Integrate secure and encrypted mobile messaging features with existing IT systems. Reduce time to benefit with a SaaS model and lower your on-site hardware costs.
2-WAY MULTICHANNEL MESSAGING
Access a comprehensive 2-way communications platform through a single user interface for inbound and outbound secure mobile messaging.
CPAAS Model
Soprano Connect is a cloud communications platform. There's no need for on-premise software or costly infrastructure on the part of the customer to host the software.
Omnichannel Messaging
Automate communications using SMS, Voice, RCS, WhatsApp for Business, IP Messaging and email. Reach users to their preferred communication channel.

Communication Orchestration

Communication Integration

Policy, Governance & Control





Featured Academic Messaging Use Cases
Engage and reach securely and productively with a proven mobile messaging solution
2-way student-teacher interaction after class ends.
Create quizzes, polls and surveys that reach mobile devices.
Remind students of upcoming tests or exams.
Notify parents of illness, unexplained absences or low attendance.
Send scheduled reminders or late-payment alerts.
Allow parents to subscribe to school event reminders.
Last-minute class schedule changes.
Daily management and communication with school staff.
Organise sporting events, field trips, dances and off-site events.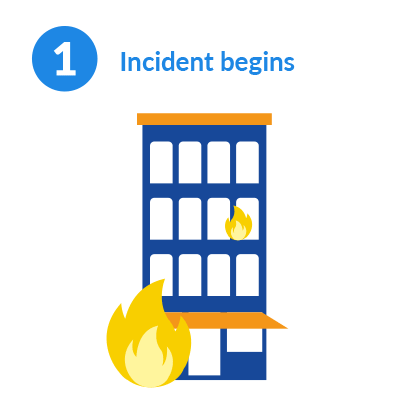 Internal Incident Management
Last-minute class schedule or outdoor event changes due to bad weather or incidents are full of stress and challenging to manage effectively without a communication plan.
An unexpected threat to campus safety typically leaves very little time for ad hoc planning or response. A preparedness plan is essential, and technology can be a central element in the plan.
Soprano Connect allows you to send workers safety check messages to validate if a worker is safe and can track responses and escalates if no responses are received based on duration rules.
Prepare for critical incidents with rapid internal communications using 2-way messaging as part of your business continuity plan.  Trigger alerts from any web-enabled device.
Rapid Response
Trigger alerts from any web-enabled device, in or out of the office, at any time of the day or night and deploy time-sensitive information to the right people from wherever you are.
Communicate Richly & Securely
Share information quickly and securely during an incident with pre-set contact groups, updating key stakeholders about the situation and measures being taken.
Archive & Audit Mobile Conversations
Message logs and conversations are searchable and downloadable and our online portal provides detailed and configurable reports to fully audit mobile conversations.

A Platform for Business Continuity Planning
Provide a rapid broadcast notification system and 2-way SMS throughout the organisation. Soprano Connect enables ongoing communication during and after an incident.

Urgent Response & Student Safety
Trigger alerts from any web browser, on or off premises at any time. Broadcasts can also be initiated using SMS from your mobile device. Pre-configure messages so you will quickly deploy time-sensitive information

Rapidly Adapt to Changing Circumstances
Combine group lists, request delivery confirmations and view real-time reporting during an event. Send ad hoc notifications  or schedule pre-recorded broadcast messages.
Create a safe and inclusive learning environment
Many students and parents are reluctant to raise issues such as bullying and other sensitive topics with school administration out of fear of worsening the problem or being ridiculed.
Anonymity has been proven effective in encouraging reports of bullying and other crimes. Soprano Connect's 100% anonymous helpline empowers students and helps to create a safer and more inclusive learning environment for your school.
100% anonymous
Messages are anonymous and cannot be traced by anyone back to the person who sent the message.
Immediately actionable
Messages are routed straight to school officials and are immediately actionable.
Real-time dialogue
2-way dialogue (100% anonymous) can be optionally initiated to obtain further detail from the sender.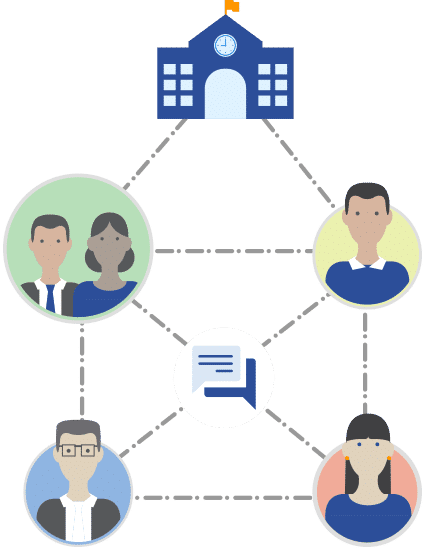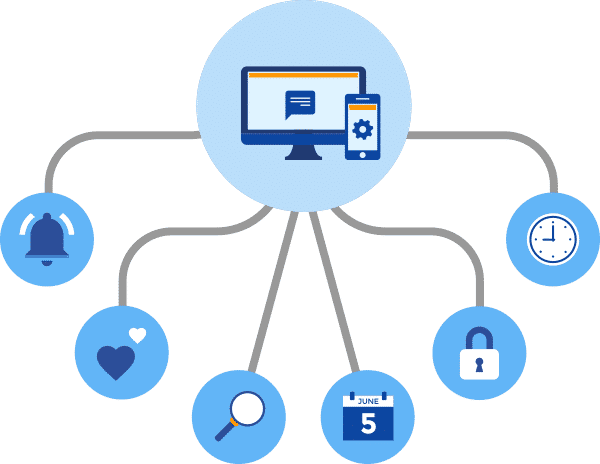 API-Integrated Mobile Messaging
Use our APIs to integrate Omnichannel messaging into your existing academic IT systems. Soprano Connect can enhance your existing communications and systems with mobile interactions.
Soprano Connect is used widely today as a complement to leading academic institution IT administration systems, CRM systems, and well as various industry alerting and facility IT systems.

Sophisticated "Smart" APIs
Soprano Connect includes advanced API capabilities and major APIs including REST, HTTP/S, SMPP, SMTP, WCTP, SNPP, SOAP/WSDL, FTP, and much more. 

One-Time Passwords
Generate a security token that can be sent via SMS to your students' and employees' mobile devices as a One-Time-Password. OTP via SMS is a low-cost way of implementing 2FA.

Automated Reminders & Confirmations
Make sending alerts and reminders easier by integrating academic messaging with your existing IT systems.
Soprano Connect Integrates with numerous existing content and database systems.
Soprano Connect's flexible application framework can enable most business messaging use case, and "Smart APIs" extend 2-way messaging for leading enterprise education systems, CRM systems, and well as industry alerting and facility IT systems.
Simplify your messaging across your digital platforms with a reliable and comprehensive messaging API.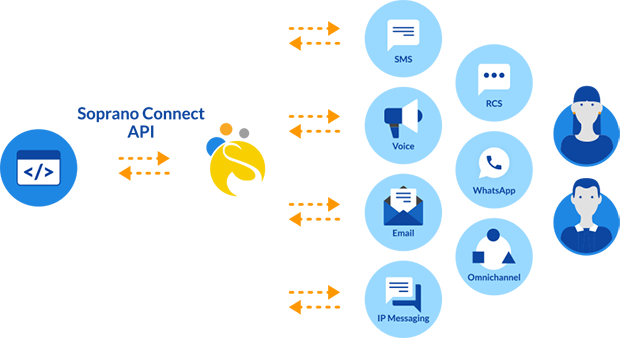 Soprano Connect is a leading communications platform-as-a-service (CPaaS) profiled by Gartner in their 2019 CPaaS market guide.
We send over 9 billion mission critical messages per year, from over 4.5 million active users. Our customers include over 150 Global Fortune 2000 companies. Soprano products are used actively by global top-100 companies, leading financial institutions, and large government agencies in four major world regions. Soprano's award-winning engineering and innovation has resulted in a powerful cloud-based enterprise platform that powerfully integrates IP, SMS, MMS, voice, and location into a seamless secure business mobile messaging experience.
Soprano are heavily focused on providing a solution which gives you high engagement rates and results. We have a team of experts based worldwide ready to help you with your business requirements.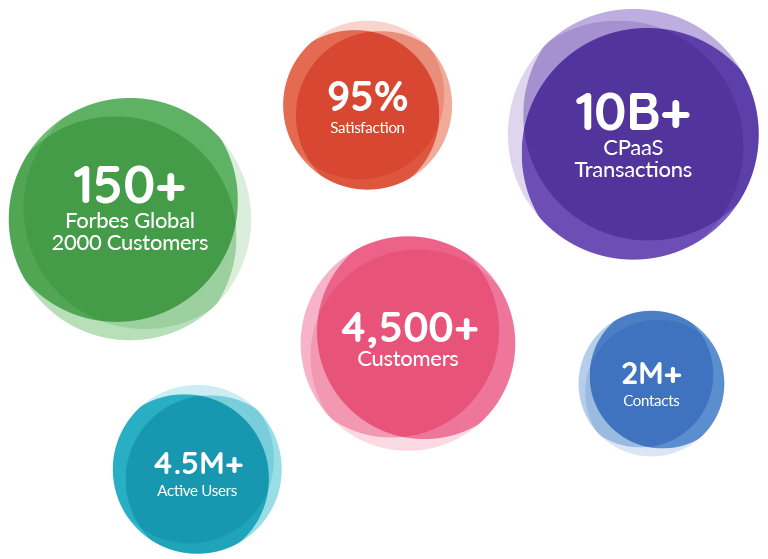 Soprano Connect's Customers
Soprano Design have more than 4500 customers globally across APAC, EMEA, LATAM and the US.
Our customers range from large corporations to independent companies across every industry possible including Government, Healthcare, Finance, Education, Retail, Manufacturing and Logistics.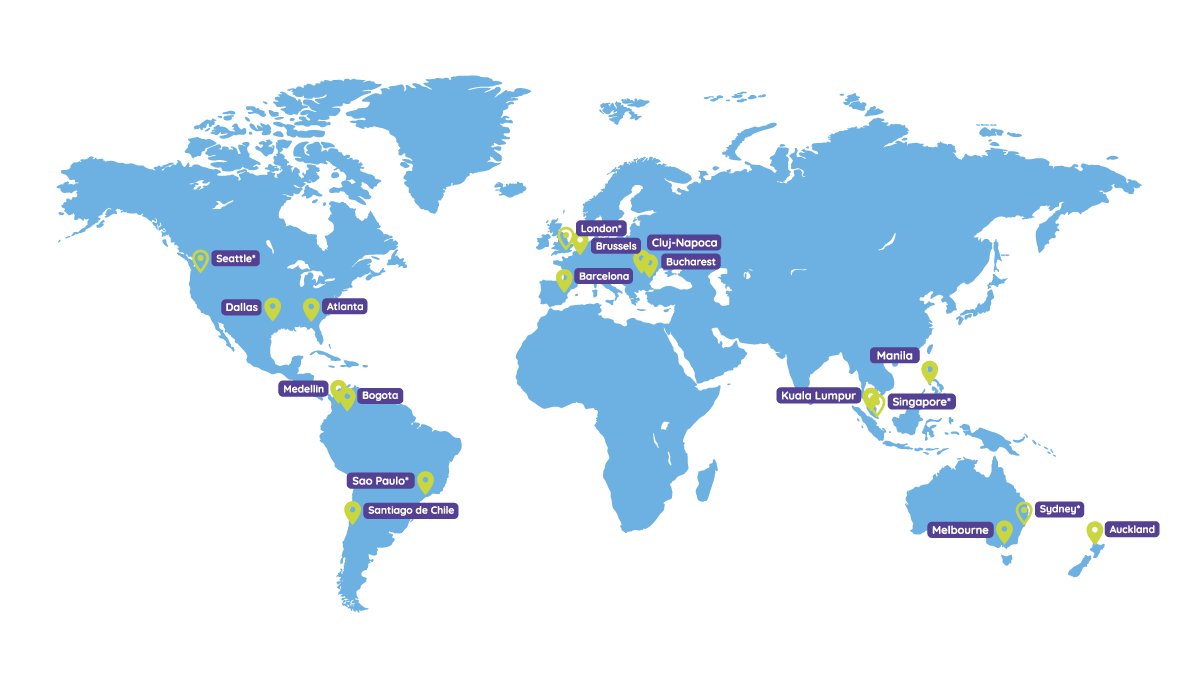 Soprano Connect is a leading communications platform-as-a-service (CPaaS) credited by IDC as a "Major Player" in CPaaS and by 451 Research as a "CPaaS Vendor to Watch" in 2021.
Soprano Connect is a leading global CPaaS solution, proudly featured by

Guides and Resources for Academic Messaging Services
Related Content
Blog Post
The importance for educational institutions to provide secure communication channels
Blog Post
Enterprise messaging workflows for education and crisis communication. Learn more from our experts.