What is CPaaS?
Your Guide to Communications Platform as a Service
We live in a world where personal communication happens at the touch of a button — we're always connected and always online. So why should business communication be any different?
Today's customers expect to be able to contact us from any device, on the platform of their choice, and get the information or support that they need immediately. For businesses, this means having a comprehensive digital strategy that ensures multichannel communications are consistent, that the customer experience is streamlined and intuitive, and that every interaction is logged and recorded centrally.
It means making sure the right info gets to the right person, on the right channel, at the right time. Here's where CPaaS, meaning Communications Platform as a Service, comes in.
From a tech perspective, CPaaS enables developers to programmatically embed voice, video, chat and messaging services into their business or consumer applications via messaging APIs. This allows businesses to connect with their customers, employees, or service users via voice, SMS, messaging service, social media — whatever works best for the individual recipient.
And everything's connected, so conversations can be picked up exactly where they left off, even when the customer moves between channels.
Put simply, CPaaS lets businesses integrate real-time communications channels with the web and mobile applications they're already using. There's no new platform to set up, no additional training for your staff, everything just works.
At the heart of the platform are actions and outreaches. When a defined action occurs, for example, a customer books an appointment through your website, or updates a shipping address, or cancels a subscription, the CPaaS solution records this and triggers an outreach.
This can be an outbound email, SMS, Facebook message, or voice note, depending on the individual customer's preference.
CPaaS Providers
Offer Solutions That Integrate With Your Existing Systems And Applications To Add Rich Communications Capabilities Across A Variety Of Channels
A CPaaS solution gives your business the flexibility to engage with your customers, partners, employees, and other stakeholders more efficiently and more meaningfully, removing barriers to prompt and effective communication — and bringing you closer together.
Inbuilt automation allows you to scale rapidly, without the overheads associated with managing each communications channel individually.
The result is an integrated communication capability that works seamlessly with the applications and platforms you're using today, taking the customer experience to the next level in terms of availability, reliability, and ease of use.
Discover more about Soprano CPaaS Platform
The Advantages of CPaaS  → Learn how you can make business communications applications richer, better integrated, and more intuitive for the operator and the client.
The Need for CPaaS in the New Normal → Find out how you can update your digital communication strategy to meet the changing needs of stakeholders in a post-pandemic world.
How Companies Use CPaaS  →Check out some real-life use cases and gain actionable insights on how CPaaS helps businesses to optimise their communications strategy.
Soprano Connect →Take a look at Soprano Connect, our market-leading integrated communications platform-as-a-service (CPaaS) which was recently profiled by Gartner.
Redefine the way you engage with your audience and connect with them at their convenience.
Communication Platform Benefits
Embed communications directly into your existing applications
A CPaaS solution doesn't replace your existing applications and systems – it enriches them, adding sophisticated communication options which allow you to streamline workflows and increase efficiency. 
This means there's much less of a barrier to entry than when implementing an entirely new system, reducing training and onboarding costs and allowing your teams to benefit fully from the enhanced functionality from day one.
Connect with customers on their preferred channels
A one-size-fits-all communication strategy just doesn't cut it nowadays, with increasingly tech-savvy customers expecting to choose the channel and device they prefer to send and receive information.
A CPaaS solution takes the work out of managing these expectations — rather than requiring operators to monitor every possible inbound and outbound channel, everything is integrated into the systems you're already working with.
At the touch of a button, you can reach out to customers, employees, or partners via their choice of social media account, email, SMS, or messaging app.
Stretch your budget and resource further
CPaaS solutions can drastically increase the throughput of your call centre, customer service, or admin teams, enabling you to scale faster and do more with less.
Automated processes and deep systems integration remove the need for customer service agents to manually send reminders, confirm bookings, or respond to simple inquiries.
Integrating your CPaaS solution with your CRM or ticketing system allows confirmations, updates, notifications, schedule changes, and other transactional communications to be completed automatically, and therefore immediately.
Your team members are freed up to focus their efforts on more complex tasks and can give those customers a level of attention that just wasn't possible before.
Ultimately, the difference is most apparent in your bottom line, as a result of saving thousands in management overheads, recruitment and training costs, and onboarding.
Exceed customer expectations
Customers are no longer willing to settle for substandard interactions with a business – gone are the days when it was acceptable to keep a client on hold or trapped in an endless voice menu for minutes on end.
Research shows that 90% of customers expect consistent, trusted interactions across various channels as a baseline. Over a third of those customers expect to be able to connect with the same customer service agent, regardless of which channel they choose to use, and two-thirds expect to receive assistance in real-time.
CPaaS gives you the tools you need to offer this level of responsiveness and flexibility, without having to double or triple your staffing budget. It allows integrated communication, using your existing systems, which moves between channels as necessary.
No more interrupting the flow of the conversation, or asking customers to continually reconfirm or restate information. Rather than simply satisfying your customer's needs, you can deepen the relationship by making every interaction a delight.
Get through to your contacts every time
Whether you're communicating with customers, employees, or other stakeholders, you're facing serious competition for their attention. Sending a single email update is unlikely to get the message across, as there's a pretty good chance your carefully crafted words will be lost under an avalanche of sale and marketing emails or trapped by an overzealous spam filter.
Using multi-channel communications helps to ensure that the important messages get through intact and on time. And it's welcomed by customers, with research indicating that brand perception is improved up to 68% when customers receive consistent messaging across multiple channels. This also results in a 90% uptick in purchasing intent — a real win — win.
So whether you're sending an urgent notification, a change to a scheduled appointment, a password reset, or simply a thank you note, using the multi-channel communication functionality made possible by a CPaaS solution means you can be confident your message is received and read.
Remove the risk of human error
People are not robots — so whenever you're relying on employees to manually send out customer communications, there will always be errors. Sometimes they're unimportant, sometimes they have a serious impact.
It's also true that the more transactional the communication, the greater the likelihood of mistakes. When customer service agents are in a rush to clear an overloaded task list, sending out update after update by hand, errors are almost certain to creep in. When they have the time and space to give their full attention to inquiries, they're able to deliver a more considered, accurate response.
Using a CPaaS solution addresses both of these issues, with automation ensuring that the correct notifications or updates go to the right people at the right time, while also freeing up your staff to focus on those communications which require the human touch.
Cut wasted time on missed appointments
No-shows, late arrivals, "did not attend" — it all means the same thing, wasted time and resources for your employees and the inconvenience of longer waiting times for your other customers.
Research has proved that sending out automated confirmation messages on appointment booking, as well as reminders in the days leading up to the scheduled meeting can significantly reduce missed appointments, saving you time and money.
With a CPaaS solution, you can increase the effectiveness of these reminders, scheduling them to auto-send when a booking is made in your CRM and at specified intervals before the event, via your customer's preferred channel.
The messages can be configured to include a quick link to cancel or reschedule the appointment, so if the customer can't make it, you have advance notice and can adjust your schedule accordingly.
Improve communication with remote teams
Remote or hybrid working has become increasingly prevalent in many industries, accelerated by the travel and occupancy restrictions posed by the COVID pandemic.
As businesses start to recover, many are planning to keep at least partial remote working practices in place, so effective communication has never been more important for keeping teams engaged and able to collaborate effectively, even when working from home.
Using a CPaaS solution, you can easily integrate your internal communication systems with channels such as SMS, WhatsApp, or IRC alongside traditional methods such as email to ensure that messages reach your team wherever and whenever they're working.
Communication Platforms for Business in the New Normal
One effect of the COVID pandemic was that it highlighted a lack of preparedness in many sectors for the challenges in communication which were caused as "business as usual" was disrupted by travel restrictions, office closures, and labour shortages.
A recent report showed 66% of businesses admitting they felt the pandemic exposed weaknesses in their digital strategy (AppDynamics by Cisco).
As businesses and economies begin the process of recovery, it's more important than ever for organizations to have an updated communication strategy in place, both to serve the new needs of their business and their customers, and to mitigate against disruption on a similar scale occurring in future.
Are you happy with your current digital presence?
We've found that 74% of businesses are signing off digital projects in weeks rather than years and 66% of these companies are implementing projects that were previously deemed unnecessary — highlighting the increased prioritization of digital strategy (AppDynamics by Cisco).
Is your business prepared for the new way of working?
Our research indicates that 34% of <$1bn revenue companies and 63% of >$1bn revenue companies plan to increase spending on employee communication tools and collaboration technologies going forward (451 Research study).
Are you changing your approach to communication?
Reaching your customers and employees digitally is more important than ever as we enter the new normal. We commissioned a report with 451 Research which highlighted some interesting behavioural changes in the way businesses are planning to communicate and collaborate.
Find out how your business compares to the competition
Our white paper looks in detail at the changes businesses are making to meet the needs of a post-pandemic environment and illustrates what products and services organizations are planning on investing in over the coming months and years.
Download the 451 Report
Real-time Communications and Digital Engagement Take on New Meaning in Post-COVID-19 Era
We have a unique insight into the many and varied ways that our clients deploy CPaaS to meet their own individual challenges.  Below are some of the more common use cases we've observed for communications platforms as a service
Appointment and reminders
Appointment confirmations
Scheduling system communications
Appointment reminders
Appointment amendments or alterations
Security and
Compliance
Secure communication platform
Sending and receiving sensitive documents
Maintaining compliance and privacy controls
Urgent
notifications
Crisis management
Worker safety
Patient notifications
Banking security notifications
Marketing and sales communications
CRM updates
Promotional marketing messaging
Lead nurturing
Sales outreach
Updates and Confirmations
Dispatch and delivery updates and confirmations
Booking confirmations
Contact centre communication
Billing confirmations
Education and Awareness
Student engagement
Charity outreach
Government awareness programmes
Surveys
Internal Communication
Remote work communication
Workplace transformation
Employee satisfaction and wellbeing
Internal staff communication tools
Why Choose CPaaS by Soprano?
Soprano Connect is a leading communications platform-as-a-service (CPaaS) that has been praised by the top analyst firms in the world.
We've deployed our award-winning engineering and innovation capabilities to deliver a powerful cloud-based enterprise platform that seamlessly integrates IP, SMS, MMS, voice, and location to create a secure, centralised, multichannel communication experience that engages and delights our clients' customers
Soprano products are trusted by global top-100 companies, leading financial institutions, and large government agencies in four major world regions, including over 25 Global Fortune 500 organizations.
In total, our service is used to send over 6 billion mission-critical messages per year, from over 4.5 million active users.
Our core focus is on providing a solution that pairs advanced communication capability with a simplified user experience supported by automation.
We measure our success on the exceptional levels of engagement and outstanding results that our CPaaS technology solution makes possible. Our team of experts is ready and waiting to assist you with your communications requirements, wherever in the world you're based.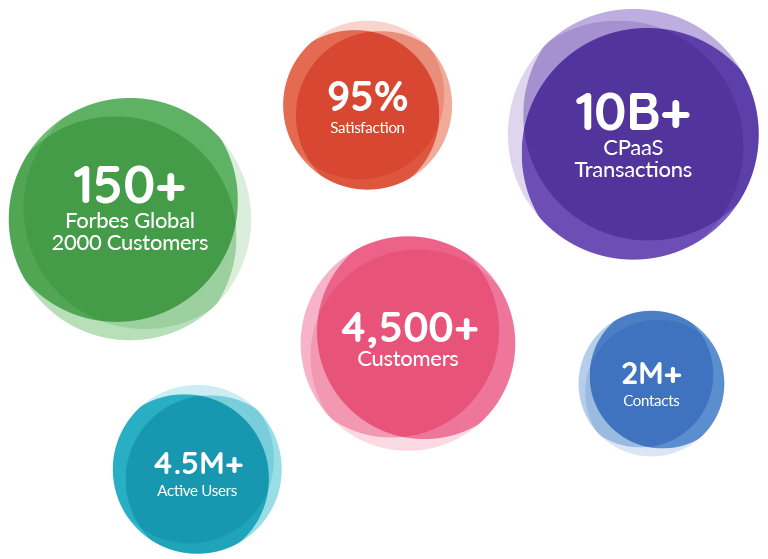 CPaaS Resources
As a leading CPaaS provider, we regularly publish reports, insights, advice, and guidance on all aspects of the communication platform as a service market. Check out our free resources to find all the information you need on industry best practices, developments in mobile messaging, and trends in digital communication and integration.
The Channels Our CPaaS Supports
Soprano's enterprise communication platform offers customers a variety of channels. These channels can be integrated into your existing platforms using our API platform as a service.
Discover more about the Soprano CPaaS Platform
Soprano's Communication Platform Customers
Soprano Design has nearly 4500 customers globally across APAC, EMEA, LATAM and the US.
Our diverse client base includes companies of all sizes, from large publicly traded corporations to independent companies, and spans a wide selection of verticals, including government, healthcare, finance, education, retail, manufacturing, and logistics.
Get in touch to discuss how to get started with CPaaS.