Are You Using Communication Tools the Right Way?
Learn how you can take advantage of your software's full capabilities by enhancing and enriching communications, both internally and externally.
Category:
Mobile Messaging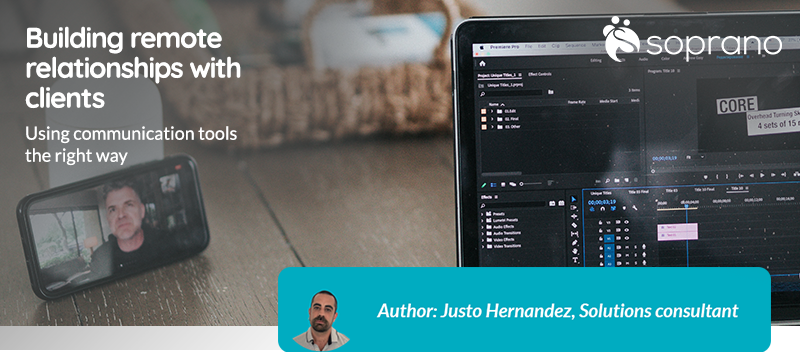 As working from home becomes a fixture in more and more companies, remote communication comes into the spotlight. More than ever, there are tools in the market that make working remotely almost the same experience as working in the office.
But despite the capabilities technology affords us, communication remains the biggest struggle when it comes to remote working. The "social atmosphere" that comes with working in an office or meeting clients in person is still difficult to replicate. Building remote relationships with clients requires extra effort and confidence.
Fortunately, with the help of the right tools and methods to use them effectively, communication challenges don't have to be a barrier to success.
Understanding the basics
There is no secret software that will solve all communication issues. Communicating effectively with clients isn't about using the right tools, but about using tools right.
Something to keep in mind when picking a software is making sure the tool you've picked works well for group communication. Though nearly all modern software supports this, some place limits on the number of people in one call, or the number of people visible on screen at once. At Soprano Design, we use Microsoft Teams for both internal and external communication, which is a fairly standard video-calling platform.
Regardless of which software you're using, it's important to take advantage of its full capabilities – in other words, turn cameras on. Being able to see faces improves concentration in meetings and fosters connection.
Using the right tools at the right times
Know when and where to use different forms of messaging and communication.
A common sentiment I see is "Never hold a meeting when an email will do". While email has its place, it's not optimal when the conversation becomes extensive, or requires several inputs from different people and is objective-oriented.
Video calling is the next general means of communication. To take full advantage, make sure to track what is being said and when – the nature of remote video calling means that a larger portion of information communicated is lost. I use OneNote for my internal notes and following-up projects and Sharepoint to collaborate and to create a shared space where all the parties are able to contribute during a meeting.
Finally, it may be helpful to invest in licenses for more specialist tools of communication. If the task is related to an escalation, then I use Zendesk to communicate with our Customer Service Team and JIRA to manage Customer Design or Product projects.
Tracking communication goals
Enhancing and enriching communications both internally and externally relies on deliberate steps taken to improve in this area. One way to do so is to track communication goals with a platform.
Soprano Design, as a trusted global CPaaS, plays a key role in enabling rich communications to our clients. We operate on a solution basis, where we listen to our customers' needs and pains in order to provide the best solution to enhance and enrich their communications, whether it is internal or with their own customers.
We offer a large range of channels (SMS, MMS, Email, Voice, WhatsApp, RCS.) and our software is very flexible, so we are always able to design the proper solution for our clients. Find out more about our solutions at Soprano Design.