Mobile Messaging For Transportation & Logistics
Engage and reach securely and faster with a proven mobile messaging solution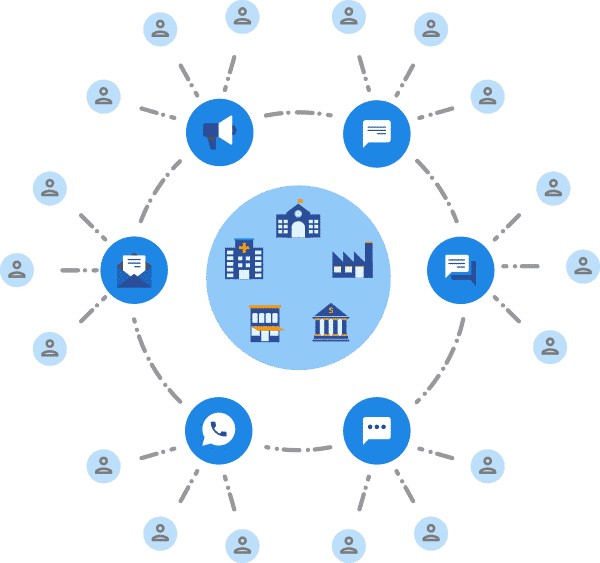 The Importance of Communication in the Transportation and Logistics sector
Transportation and logistics companies want affordable way to reach and communicate with employees and customers  around the world.  These companies are now looking at the potential business benefits of deploying digital mobile interactions to overcome most common challenges like customer service issues, reduced operational capacity, employee safety, an unreliable communication system or lack in productivity.
Soprano Connect is a trusted mobile messaging solution for transportation and logistics operations.
Messaging Solutions for the Transportation Industry
Soprano provides multichannel/omnichannel mobile messaging through a single user interface for inbound and outbound messaging.
The platform effortlessly integrates with your existing IT systems and makes communication easier through the automation of workflow processes throughout a single facility or across multiple facilities for:
Operating logistics processes
Training and worker safety
Delivering B2C customer notifications
Managing critical incidents
Delivering account service alerts
Providing One-time passwords and two-factor authentication
Integrating messaging with existing systems
Soprano Connect
is an intelligent, geo-redundant and feature-rich
CPaaS platform
that sends
up to 10 Billion mission-critical messages across the world every month
.
The platform has demonstrated its capability to handle excessive volume spikes, maintain low message delivery latency and high platform availability.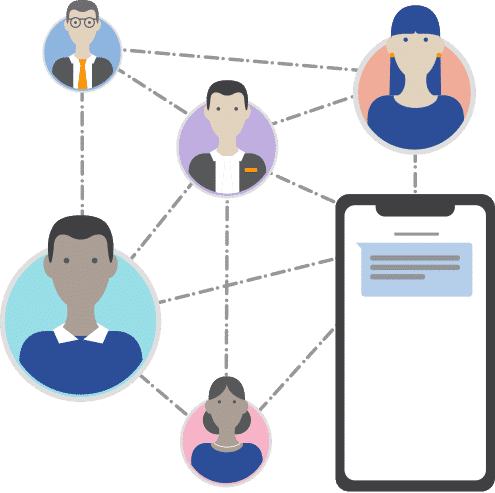 How a CPaaS transforms Transporation & Logistics with Trusted mobile interactions
Soprano's omnichannel messaging solution offers businesses with connectivity tools that are easily integrated with their existing IT systems without increasing operational cost. It offers a range of intelligent APIs to connect and send automated inbound and outbound messages on a preferred channel and format.
The unified communication platform features global reach and high-redundancy performance for transportation and logistics companies. It empowers companies to automate communication and provide relevant information anywhere, anytime, and with the right outcome.
Our digital solutions bridge the communication gaps faced by drivers, field workers, and customers and has proven to improve productivity with the connectivity tools (APIs) for sending and receiving real-time information.

Communication Orchestration

Communication Integration

Policy, Governance & Control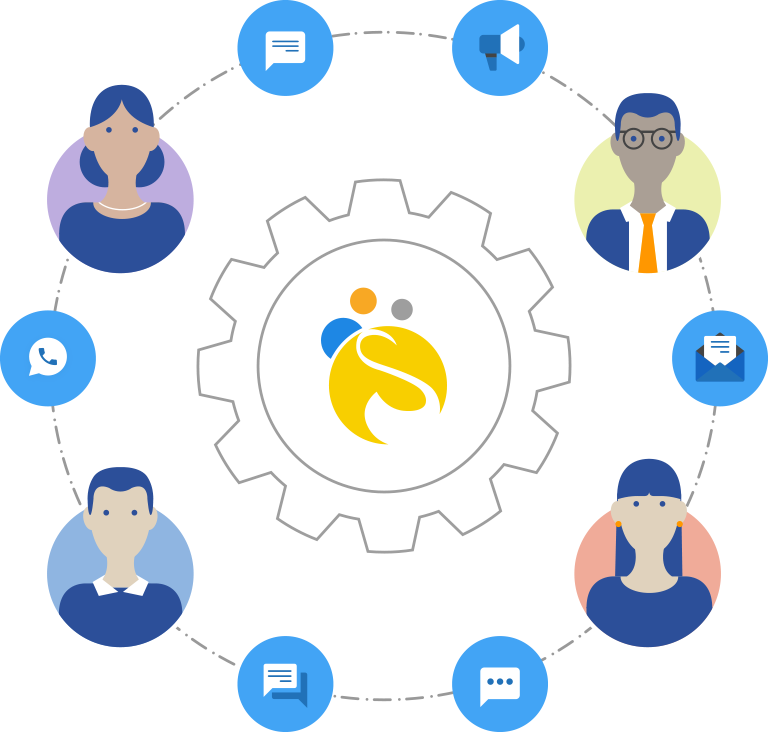 Enabling Business Communication for Digital Financial Services
Soprano Connect is a proven intelligent, geo-redundant and feature-rich software platform that currently delivers message volumes in excess of 50 million mission-critical messages a month worldwide and has demonstrated its ability to handle volume spikes and maintain low message delivery latency and high availability.
Our unified communication platform integrates easily with any banking IT system and empowers financial organisations to automate customer service-related processes on a variety of communication channels faster, while delivering an excellent experience.
Mobile messaging in the financial sector unlocks the door to truly meaningful, personalized engagement, which has a direct impact on the bottom line:
84% of businesses that focus on enhancing the customer experience report an increase in revenue.
92% report increased customer loyalty. In a sea of banking options and competition, customer loyalty has never been so valuable to a bank's long-term success.
With API integrated digital mobile interactions, many financial companies around the world are improving their CX and the overall performance, both in productivity and revenue.
Respond rapidly during a critical incident with Soprano Connect
Messaging Solutions for Transportation and Logistics
Soprano Connect is a comprehensive 2-way mobile messaging delivered through a single user interface for inbound and outbound messaging via SMS and email and integrates with existing IT systems to help automate communication and workflow processes throughout a single facility or across multiple facilities




Critical Incident Management

System-Integrated Mobile Messaging

Mobile Team Collaboration

Remote Worker Communication

Featured Transportation and Logistics Messaging Use Cases
Engage and reach securely and productively with a proven mobile messaging solution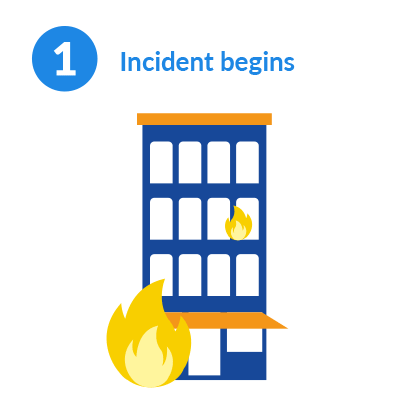 Business Continuity Mobile Messaging
Send rapid notifications across your organisation and facilitiate 2-way multichannel communication with Soprano CPaaS. Deliver mission-critical messages during and after an emergency event via SMS, RCS or Voice to pre-configured group of workers.
Featured Use Case:
Verify worker safety quickly using SMS. The StaffSafe application tracks responses and automatically escalates if a response hasn't been received within a specified time period.
Critical Incident Management
Create your different templates and group lists for different scenarios in advance, ( for example different messages and contacts for on-site and remote workers, security officers, specialists, first responders, etc.). Easily import contacts from existing IT systems.
Rapid Response Management
Quickly send alerts from any you are from your web browser at any time of the day or night. You can also initiate broadcasts be sending an SMS from your mobile device. The system is pre-configured to enable you to deploy time-sensitive information quickly to the right people, wherever you are.
Adapt to Changing Circumstances
Quickly add customised content to broadcast messages before you send, combine contact groups effortlessly, request a response and view real-time reporting during a critical event. Send one-off at any point, or schedule automatic delivery of pre-written alerts.
Travel & Passenger Alerts (B2C Messaging)
Use Soprano Connect to deliver discounted upgrade possibilities to loyal customers before they travel or inform them about travel disruptions, such as those caused by adverse weather. The platform makes managing large distribution lists and monitoring real-time performance reports effortless with Soprano's sopthisticated suite of tools.
Featured Use Case:
Provide additional information to account holders by sending URLs to HTML landing pages with Omnichannel (RCS, Voice, SMS, WhatsApp…).
Information & Awareness Alerts
Manage opt-in marketing and loyalty programs by integrating and consolidating CPaaS with your CRM system to provide a tailored relationship with your customers. Provide your hubs and regional locations with the ability to send announcements, promotions and offers.
Travel Notifications
Automate the delivery of customer booking confirmations and travel reminders. Send informative travel requirements, route changes or delays. Soprano's platform integrates with account IT systems to track and report an audit trail with a full archive of all conversations.
New Marketing Channels
Create opt-in SMS programs, mobile coupons and discount offers (e.g., VIP programs, new product announcements and first-to-know event promotions).
SPAM Compliance
Adhere with SPAM rules and regulations and ensure your contact lists are compliant. Soprano's capabilities allow you to manage a whitelist (opt-in subscribe) and blacklist (opt-out unsubscribe) and has additional fraud-protection features as well.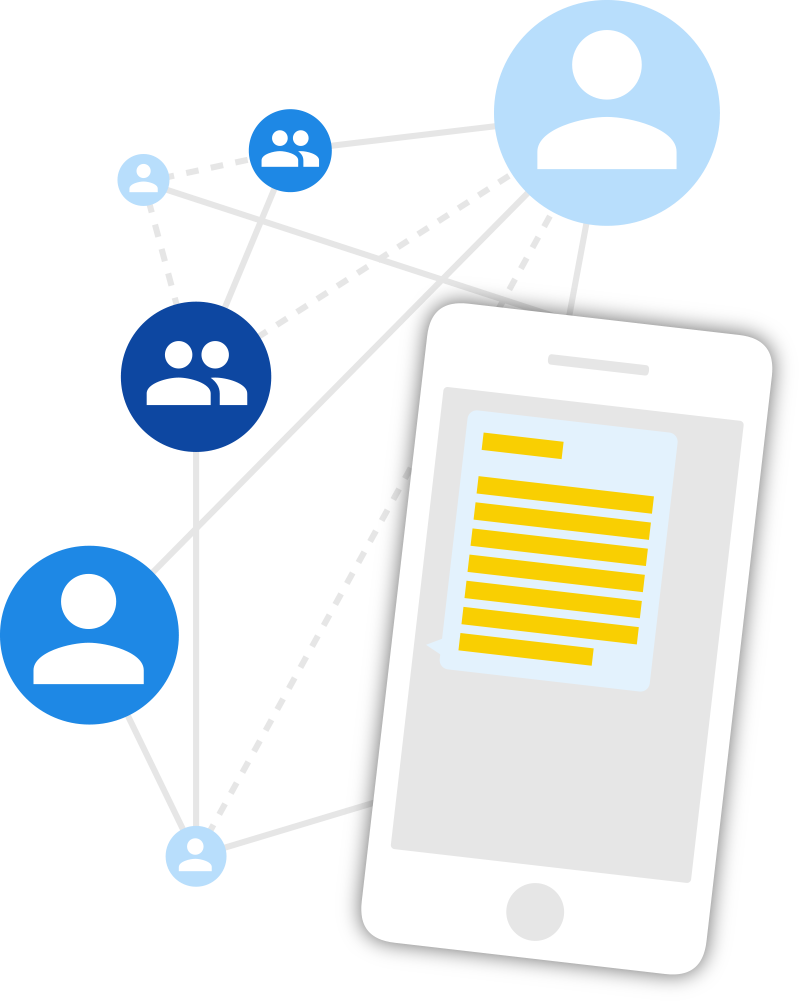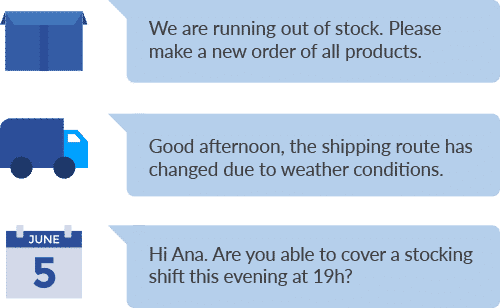 Transport Operations Productivity & Management
Facilitate rapid broadcast notifications and 2-way messaging between workers and operations teams across all of your operational sites. Soprano Connect enhances your existing workflows and systems to enable account authentication using SMS for one-time-passwords, complementing leading IT administration systems, CRM systems, and well as various industry alerting and facility IT systems.
Featured Use Case:
Fill temporary and vacant shifts with Soprano Connect. Send automated mobile shift offers, deliver shift details to a target group of contacts and give the shift to candidate who is first to respond. Provide automated SMS reminders to ensure workers turn up for their scheduled shift on time.
Coordinate & Collaborate Teams
Manage small and large teams of operational staff. Soprano Connect syncs with existing operations systems to automate mobile messaging and integrate SMS as a tool to make your workforce more productive through sending and receiving real-time information.
Safety & Training Messages
Provide ongoing safety and training information to workers and ops workers via SMS with Soprano. Ensure teams are kept up-to-date with real-time and high-impact information regarding changes to priorities or situations.
Seamless Integration with API
Enable Soprano Connect to integrate with your existing transport IT systems. Use Connect's 'smart' messaging capabilities to track employee' hours, vehicle turnaround times and repair requirements without impacting existing workflows.
API-Integrated Mobile Messaging
Use our APIs to integrate Omnichannel messaging into your existing company IT systems. Soprano Connect can enhance your existing communications and systems with mobile interactions. Soprano Connect is used widely today as a complement to leading financial institution IT administration systems, CRM systems, and well as various industry alerting and facility IT systems.
Use a Smart API for Integration
Integrate our mobile solutions seamlessly into your existing IT and CRM systems. Enhance your existing processes and easily build mobile messaging into your workflows.
One-Time Passwords
Generate and send unique security tokens via SMS, to provide One-Time-Passwords as a second layer of authentication.
Integrate with Existing Security Systems
Our mobile enterprise messaging systems are compatible with RSA SecureID, F5, Citrix, IBM and other 3rd-party OTP systems that can be used when RSA hardware tokens aren't feasible or desired.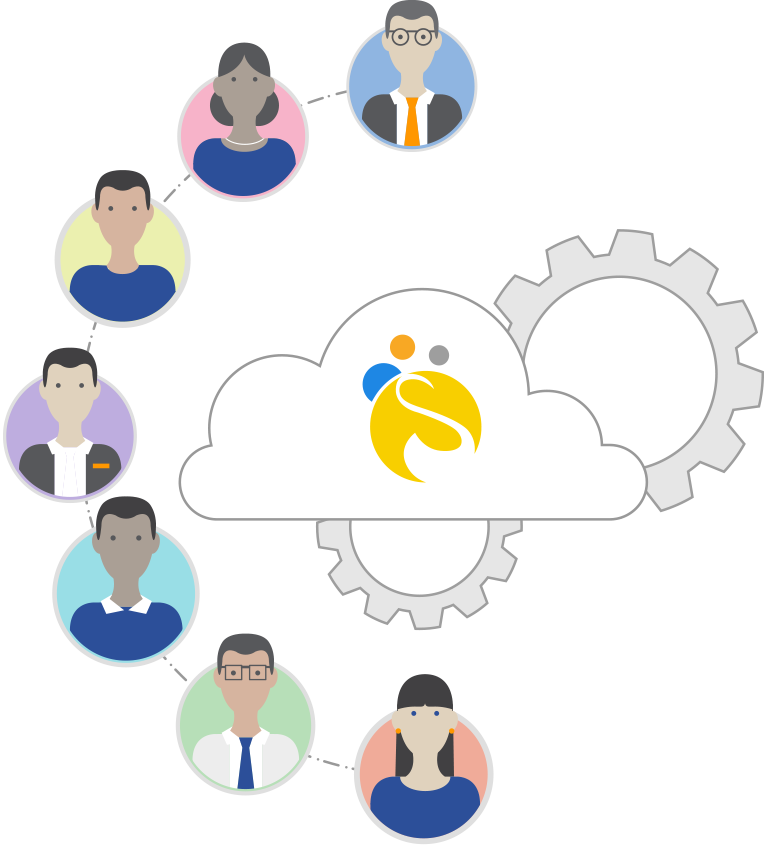 Sophisticated "Smart" APIs
Soprano Connect includes advanced API capabilities and major APIs including REST, HTTP/S, SMPP, SMTP, WCTP, SNPP, SOAP/WSDL, FTP, and much more. 

One-Time Passwords
Generate a security token that can be sent via SMS to your customers' and employees' mobile devices as a One-Time-Password. OTP via SMS is a low-cost way of implementing 2FA.

Automated Reminders & Confirmations
Make sending alerts and reminders easier by integrating enterprise messaging with your existing IT systems.
Soprano Connect is a leading communications platform-as-a-service (CPaaS) profiled by Gartner in their 2019 CPaaS market guide.
We send over 9 billion mission critical messages per year, from over 4.5 million active users. Our customers include over 150 Global Fortune 2000 companies. Soprano products are used actively by global top-100 companies, leading financial institutions, and large government agencies in four major world regions. Soprano's award-winning engineering and innovation has resulted in a powerful cloud-based enterprise platform that powerfully integrates IP, SMS, MMS, voice, and location into a seamless secure business mobile messaging experience.
Soprano are heavily focused on providing a solution which gives you high engagement rates and results. We have a team of experts based worldwide ready to help you with your business requirements.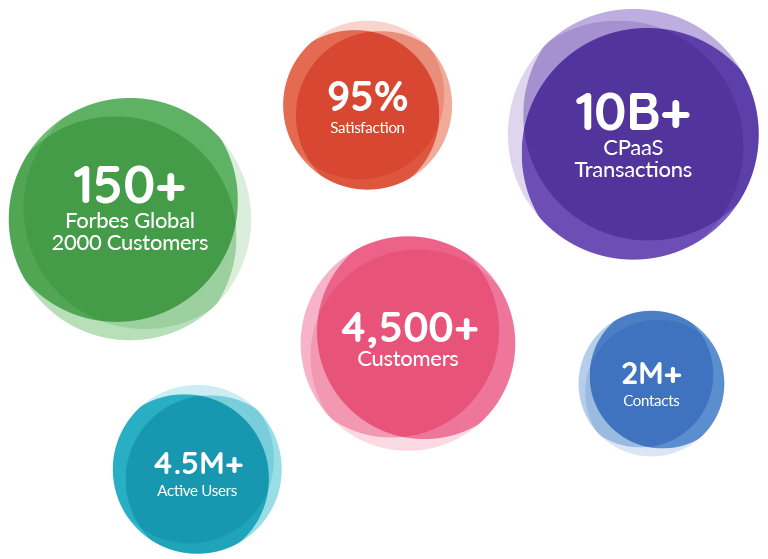 Soprano Connect's Customers
Soprano Design have more than 4500 customers globally across APAC, EMEA, LATAM and the US.
Our customers range from large corporations to independent companies across every industry possible including Government, Healthcare, Finance, Education, Retail, Manufacturing and Logistics.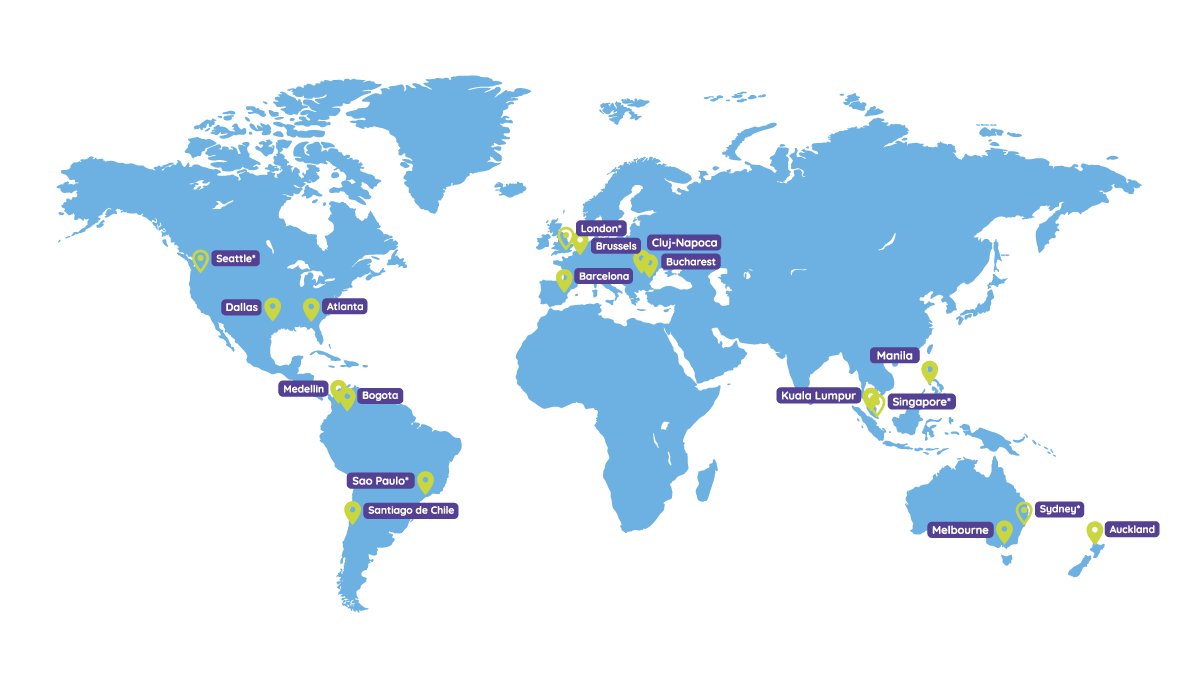 Soprano Connect is a leading communications platform-as-a-service (CPaaS) credited by IDC as a "Major Player" in CPaaS and by 451 Research as a "CPaaS Vendor to Watch" in 2021.
Soprano Connect is a leading global CPaaS solution, proudly featured by

Guides and Resources for Transportation and Logistics Messaging Services
Related Content
Use Case: Solving Productivity Challenges
A logistic company solves productivity challenges with IP messaging app to broadcast jobs to available staff who are in the right geographical area. 
Enterprise Messaging Workflows in Action: Transport and Logistics
It's estimated that at least 3,000 hours each year are lost across the transport and distribution industry through inefficient workflow processes.
3 use cases for mobile messaging in logistics and transportation
Three ways companies in the logistics space are taking advantage of modern mobile messaging to make internal communications more efficient.
5 Things to Consider When Choosing a CPaaS Platform
A unified business communication platform effectively communicates with your customers via the channels they love to use.