Email to SMS
Your Guide to Email to SMS Messaging Capability
What is Email to SMS?
Simply put—it's exactly what it sounds like. It's the ability to send a message from your email client which is received by the recipient as an SMS message. And in most cases, it implies the reverse—the recipient can reply with an SMS, and you'll receive their message in your email inbox.
As well as sending emails to SMS manually, an email to SMS solution also allows automated emails to be converted to text messages. So, account reminders, notifications, booking details, delivery status updates, all can be delivered directly to your recipient's messaging app, rather than getting lost in their inbox.
On the technical side, email to SMS, also called email to text, works via a gateway—a piece of software that converts your emails to SMS messages in one direction, and SMS to email in the other. There are a few different terms for this type of technology—email-to-SMS, email-to-text, or SMTP-to-SMS, but essentially they're all describing the same thing, the ability to send messages between the two formats.
How do businesses use SMS?
In a world of endless spam emails, minute-by-minute social media updates and disruptive marketing calls, there's no substitute for SMS messaging when it comes to direct, personal and immediate communication.
Businesses use email to SMS when they need to ensure their message gets through and is read and understood. There is a wide range of use cases, from appointment reminders or schedule updates, to emergency safety announcements or disaster alerts, to promotional messaging about offers or events.
Why do businesses need an email to SMS solution?
It's clear that SMS is the answer for any business looking for a reliable, direct and immediate channel to reach their customers, patients, clients, employees, whoever they need to talk to.
But email is already so well integrated into business communications that moving away from it completely would be extremely expensive, disruptive and inefficient. What businesses need is a bridge—something that allows them to push their email communications to SMS, and receive the SMS replies back to their inbox.
Without an integrated solution, businesses would have to invest in separate SMS software to send these messages. This would involve extra training for staff, provide additional steps in the workflow and require additional resources to monitor inbound messages.
Or, the business would have to invest in custom development to add SMS capability to existing communication software, ticketing systems, CRMs, the list goes on. It's an expensive and inconvenient prospect either way.
With an email to SMS solution, none of these problems occurs. Sending and receiving SMS messages is as convenient, as quick, and as intuitive as sending an email—and without even having to click away from your email client.
That's what Soprano has achieved with the EmailSMS platform.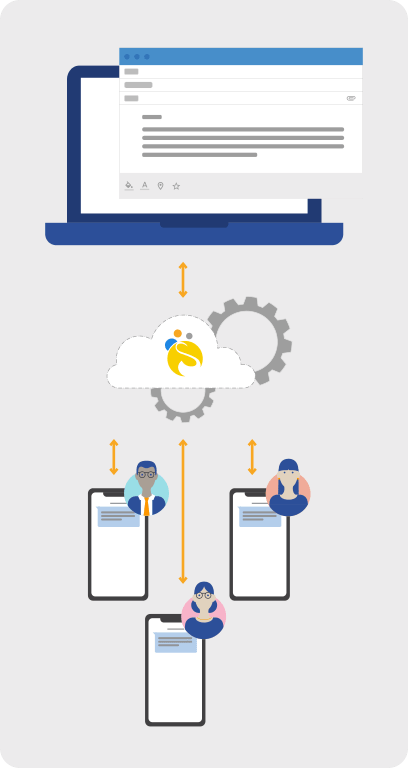 Interested in Email to SMS?
How Big is Email to SMS?
It's big. And it's growing fast. If we look at the research, it's predicted that 3.5 trillion business SMS messages will be sent in 2023—that's an increase of one trillion from 2019 (2.5t). The majority of those messages will be sent using email to text solutions.
And customers are onboard. Research shows that around three quarters of consumers are happy to receive marketing messages via SMS, as long as they have opted in, and almost two thirds think that businesses should use SMS as a channel to contact them more often. Most importantly, over 80% of consumers say that they trust SMS as a communication medium.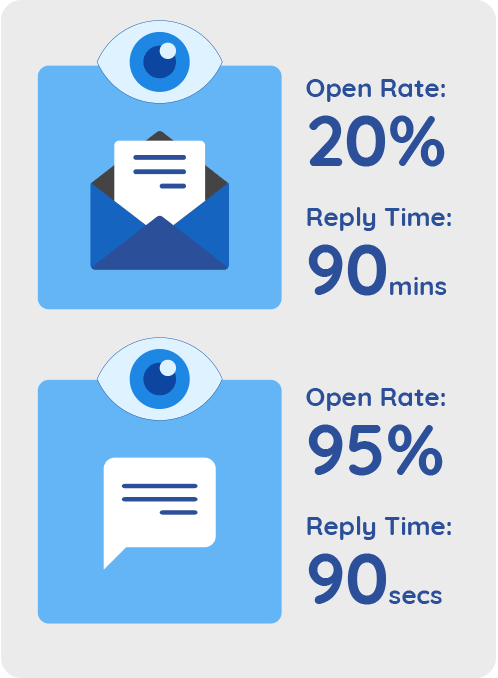 Why is Email to SMS so Much Better than Just Using Email?
Over a quarter of a trillion emails are sent each day across the globe—the majority of them unwanted updates, notifications or spam. And even the ones that get through to people's inboxes are generally filtered away into a subfolder by increasingly intelligent email clients like Gmail or Outlook. So it's no surprise that read rates are falling month on month, even for legitimate, and in some cases, highly important messages.
SMS, on the other hand, doesn't face the same problems. Even with the rise of alternative messaging platforms such as Facebook Messenger, WhatsApp and Telegram, SMS is still a trusted channel, and available on every phone, whatever the network provider, region or operating system. When a new message arrives, it's right there on the notification screen, so the recipient can see who it's from and understand the content without even having to unlock their phone, in many cases.
---
What's the difference between email and SMS?
The numbers paint a pretty clear picture of the difference between the two channels. Email open rates are around 20% across the board, and for those that get through to the intended recipient, reply times are around 90 minutes.
For SMS? Open rates upwards of 95% with replies taking an average of 90 seconds – sixty times faster.
How Soprano Makes Email to SMS Messaging Simple
Our SMTP API means you can use your existing email client to send and receive messages via an SMS to mail gateway. There's no new system to learn.
In fact, our Email to SMS solution:
iI designed to be so easy to use, you'll forget you're even messaging cross-platform. 
Connecting via SMS brings your business closer—to patients, to clients, to customers, to employees—than any other channel.
It allows you to communicate more naturally, and more conversationally. It allows you to get things done promptly, with a quick and efficient exchange.
Email to SMS takes the pain out of business communication, bringing you into your customers' lives in a way that other channels can't.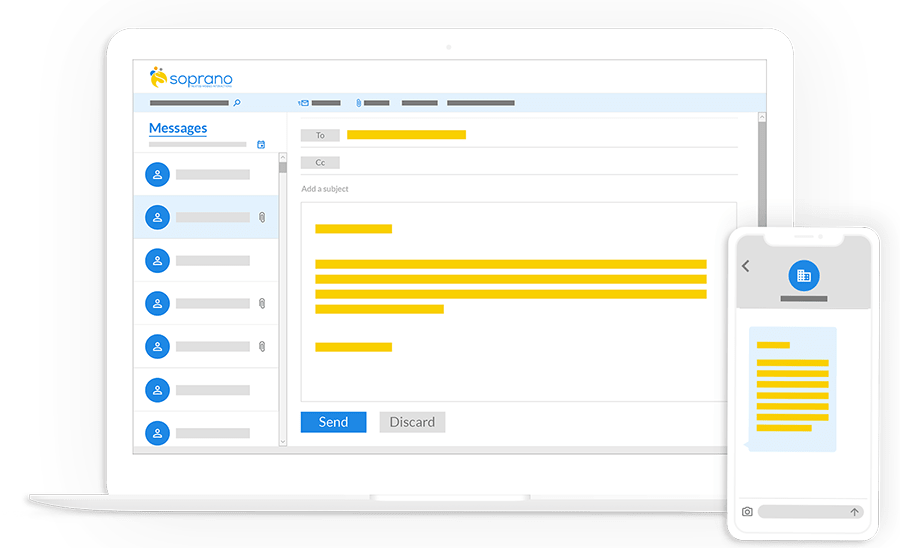 Email2SMS: A Way to Simplify Business Processes
Our Email to SMS platform doesn't just make life more convenient for your customers, it makes communication much more efficient for you and your staff. Let's look at some of the day-to-day processes involved with sending SMS messages via email.
How to convert an email into an SMS message
Creating new SMS messages is done through your existing email client—there's no additional software to install, and no separate interface to work from. You simply create a plain text message, as you would if you were sending an email. Bear in mind that less is more when it comes to SMS, so it's best to keep messages short and to the point, but nowadays you don't have to limit yourself to a strict 160 characters.
How to send a text message from a computer
Whether you want to send text messages via Gmail, you're sending SMS via Outlook and Office 365, or you're using another email provider entirely, the process is essentially the same. Once you've composed and proofread the message, it's just like sending an email. The only difference is that you'll use a specific destination address based on the individual or group list you want the SMS to go out to.
How to send bulk text messages via email
EmailSMS integrates with your existing contact database, ticketing system or CRM, making it easy to create bulk mailing lists based on customer data in order to send one-to-many SMS messages directly from your email client. The process is exactly the same as for individual messages—compose, send and receive responses just as you would with a normal email. 

How to read replies to an emailed SMS
If the person receiving the message wants to reply, they can do so through their messaging app. The content of their response will be converted back into email format and delivered to your inbox within a few seconds of them pressing "send". You can send messages back and forth as needed, allowing for real-time conversations with your audiences.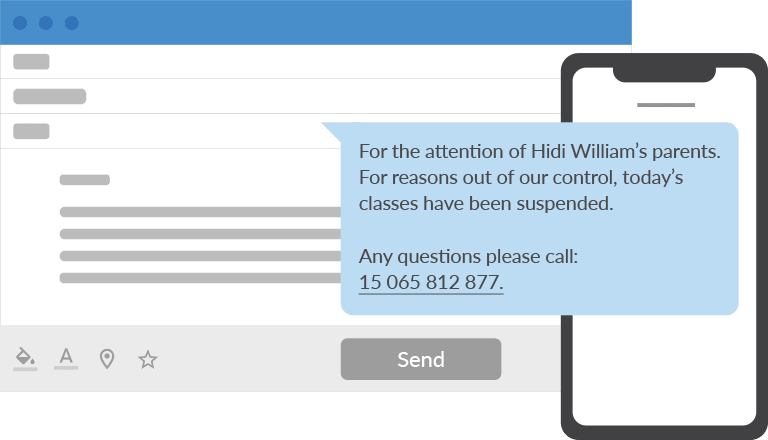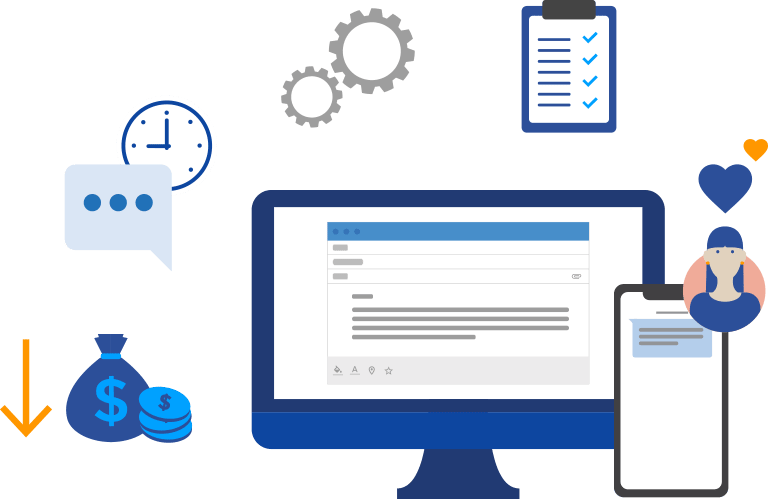 The Benefits of Sending Text Via Email
We've talked already about the reasons that SMS makes sense as a preferred channel for communication in terms of the increased open rates, shorter response times and greater convenience it offers, but there are a number of associated benefits that might not be as obvious at first glance.
Here are some of the positive effects that Soprano's EmailSMS platform is having on our clients' businesses.
Email to SMS cuts costs
While email itself is very cheap, it's an unreliable method of communication, particularly for messages which are extremely important, or time-sensitive. The risk of the message not being read is too high, so companies who need to guarantee they can get through to a recipient end up calling instead.
Not only is that expensive in terms of call costs, but also in terms of the significant time needed to make, return and manage even relatively modest volumes of calls.
By contrast, using EmailSMS is an even better solution than either emails or calls.
The message gets through, with 95%+ success rates, and sending an SMS to 1,000 recipients takes a few seconds, rather than hours of your agents' time—so it's a much more cost-effective channel.
Email to SMS saves time
Our EmailSMS platform doesn't just save money, it reduces the time spent on communication, whether that's scheduling, making or following up on calls. And it's not just a time saver for your staff, it's much more convenient for the recipient too.
It's much less disruptive to your customers, for example, to receive an SMS message with "Reminder: Appointment 03-05-2022 12:00" than a call giving them the same information. And they can compose and send a response within a few seconds, whether they're at home, in the office or on the move.
Email to SMS boosts productivity
In addition to the time savings achieved by using email to SMS messaging, there's also a significant productivity boost gained by increasing the immediacy of communications. Connecting with customers via email can result in a lag of one or more days between responses, which means that agents have to juggle a large number of ongoing conversations.
Using SMS messaging makes it easier for the recipient to respond in real-time, so conversations can be completed, and issues dealt with, in a matter of minutes rather than hours or days. As well as making staff more productive, this also results in a better experience for the customer.
Email to SMS integrates easily
EmailSMS integrates easily with your existing systems, applications, and databases, with our SMTP API allowing you to use your existing business email client to send and receive SMS messages.
There's no need for additional software on the user side, and therefore no additional training or reskilling is required—sending an SMS is just as simple as sending an email.
Use Cases for Email to SMS
Simplify communication by converting email to a text message
Once you start to think about the number of ways in which email is used in your business, you'll understand how much of a difference EmailSMS could make to your productivity, your efficiency and most importantly, your bottom line.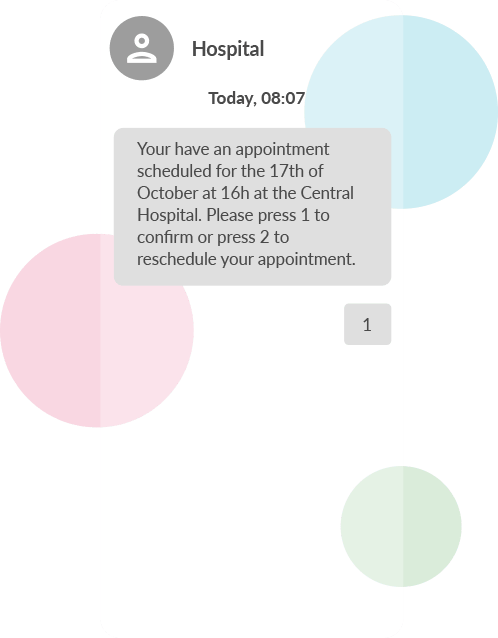 Email to SMS for Healthcare
The healthcare sector relies on effective communication on a daily basis, and the direct nature of SMS messaging, coupled with it being universally available to patients, makes it an invaluable channel.
Email to text appointment reminders
Missed appointments are a major source of inefficiency within healthcare, and are as inconvenient for the provider as they are for patients. Being able to quickly send out reminders via SMS, with an invitation to reschedule if the appointment will be missed helps providers plan their time better and fit more patients into their schedule.
Send results notifications with email to SMS
Waiting on the results of a medical procedure or test can be an anxious time. Rather than relying on the postal system (too slow) or email (too unreliable), EmailSMS allows surgeries or practices to send out SMS notifications to patients to let them know their tests are complete—and if appropriate, indicate the result.
Send SMS via email for patient follow up
When patients are receiving long-term care, keeping track of their next clinic session, medication review or consultant visit is a complex task. Sending SMS reminders ahead of each step helps to keep everything on track and ensure patients are always up to speed with their care.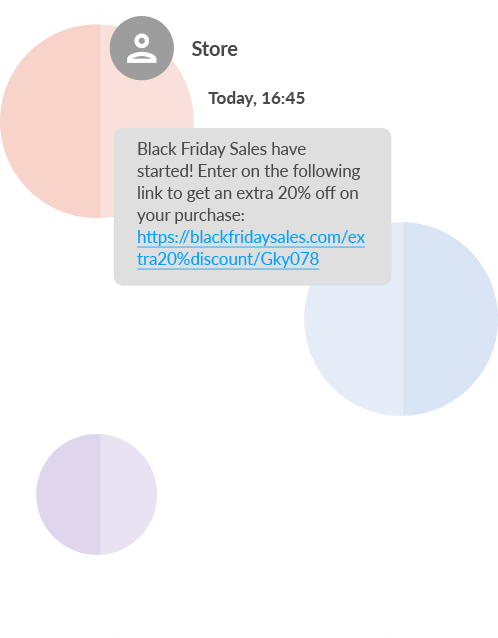 Email to SMS for Retail
Keeping customers happy is all about ensuring they have up-to-date information on their purchases, delivery dates, offers and promotions. Using SMS means you know the message has been received, and cuts down on inbound support requests, saving valuable time.
Send delivery tracking SMS from your email
Customers expect up-to-the-minute information on their deliveries, so they can plan their schedule and ensure they're available to receive the goods. Using SMS means that if something changes, you can let them know about it without delay.
Send results notifications with email to SMS
Waiting on the results of a medical procedure or test can be an anxious time. Rather than relying on the postal system (too slow) or email (too unreliable), EmailSMS allows surgeries or practices to send out SMS notifications to patients to let them know their tests are complete—and if appropriate, indicate the result.
Use email to text for limited time offers
SMS messaging is ideal for time-sensitive communications such as new stock availability or sales offers, allowing you to connect immediately with customers wherever they are, and let them know about the latest promotion you're running.
Move customer support emails to text messages
Using SMS messaging for customer support offers greater convenience than email or phone and allows for a more immediate response. Customers no longer need to navigate voice menus or web forms or take time out of their day waiting for a response, increasing overall satisfaction scores.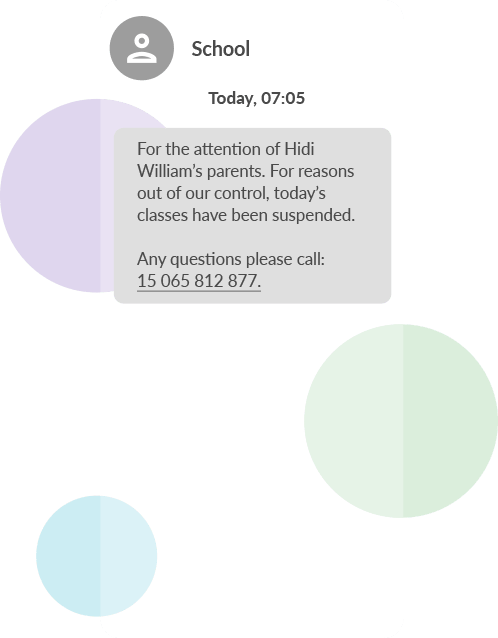 Email to SMS for Safety
When sending emergency alerts or critical safety information, it's vital that your message can be sent and received quickly and clearly. EmailSMS allows you to easily send text via email, and be confident that the message will be seen immediately.
Send emergency alerts from email to text message
In an emergency, email doesn't work—it's unlikely your message will be viewed in time. Calls are direct but require significant time and resources. With Email SMS you can distribute your message to thousands of recipients in the same time it takes to write and send a single email, right from your browser or email client.
Manage worker safety with mail to SMS software
For health and safety notifications or policy reminders, email to SMS messaging allows you to reach large groups of employees simultaneously, even if they're away from the office or don't have access to an Internet connection.
Use email to SMS for incident management
When dealing with an ongoing incident, having a direct communication channel to employees, customers or partners is crucial. Using SMS allows you to keep recipients updated with the latest information on a developing situation, ensuring every message gets through.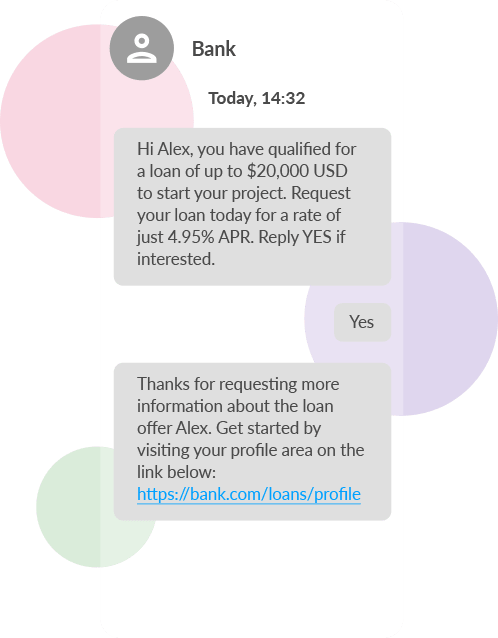 Email to SMS for Finance
In the financial sector, accurate and prompt communication is critical. Email is ideal for tasks such as exchanging contracts or policy documents, but for more immediate communication, SMS is the most effective medium.
Move payment reminders from email to SMS
The improved deliverability and higher open rates which can be achieved with SMS, compared to email, make it the perfect channel for sending payment reminders for loans, insurance policies or other financial products.
Use mail to SMS software for mortgage updates
Keeping customers updated on their mortgage application, variations in interest rates or notifications of missed or delayed payments is simple with EmailSMS. The system integrates easily with your CRM or customer database to enable automated scheduling of important reminders.
Speed up balance enquiries with email to text
Rather than requiring customers to call in for enquiries about their account, using an email to SMS solution allows financial institutions to implement a self-service process, where customers can request key information such as balance updates via SMS at their convenience, with no wait times.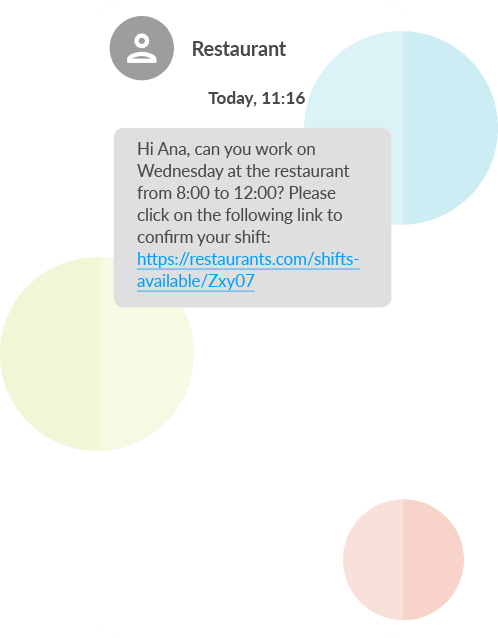 Email to SMS for Workplace
Email to SMS isn't just an ideal solution for customer communications, it can also improve the immediacy and deliverability of internal messages, allowing you to connect with employees in real-time, wherever they are.
Email to SMS alerts and updates
SMS messaging is ideal for quickly distributing work-related alerts or updates, from important meeting times to new customer enquiries. Employees can also reply instantly if they have questions or need clarification.
Use SMS for shift scheduling
Misunderstandings or mishaps in scheduling shifts can lead to significant knock-on effects, such as unnecessary costs, service reductions or even store or office closures. Using email to SMS messaging to send out schedule reminders to employees is an effective way to minimise lateness or no-shows.
Email to text employee communication
With a daily barrage of work emails to sift through it's easy for important messages to get lost in the noise. Using EmailSMS helps ensure vital memos or notifications are seen by your employees and can be acted on immediately.
Why Choose Soprano for Your Email to SMS Solution?
Our EmailSMS solution has been designed from the ground up to make each stage of the process as simple as possible. There's no need to implement new systems, and no additional support is required from your in-house IT teams—everything runs through our SMTP API.

Easy to implement
EmailSMS is a web-based application with an intuitive, user-friendly portal that allows you to log in to the system to tweak settings, assign users and view reports.

Easy to use
Messages are composed, sent and received within their existing email client, whether you're using Gmail, Outlook or another provider.

Easy to connect
Your recipients will get the information they need delivered straight to their messaging app, with a familiar notification letting them know a new text has arrived.
Get Started with Email to SMS Messaging
Frequently Asked Questions (FAQ)
Can I send a text from my computer?
Yes—it's as simple as sending an email. With Soprano EmailSMS, the complex technology is all in the background. From the user's point of view, it's just like using email—you open up Gmail, Outlook or your preferred client, compose your message as normal and send it.
Can I send a mass text from the computer?
Yes—it's just as easy as sending a one-to-one message, except the recipient will be a list rather than a single recipient. EmailSMS integrates with your existing CRM or database, so you can quickly set up bulk messaging by choosing recipients from your contact list, and easily send your email to SMS text.
How can I integrate the service with my email provider?

It's simple. EmailSMS uses an SMS to mail gateway to integrate with your existing email service, converting outbound emails to SMS, and inbound text messages back to email for a seamless user experience. Using your existing email interface means users don't need training on how to send a text through email.
Can I integrate your platform with my systems?
Yes, Soprano Connect has been designed so that you can enhance your IT systems by adding communication capabilities, for this reason, we have our API that supports multiple protocols so that you can easily and quickly integrate your IT systems.
Start sending SMS with your email
Our diverse client base includes companies of all sizes, from large publicly traded corporations to independent companies, and spans a wide selection of verticals, including government, healthcare, finance, education, retail, manufacturing, and logistics.
Get in touch with us today to discuss how your organization can get started with Email to SMS messaging.