SMS Messaging Service for Business

SMS MOBILE INTERACTIONS
From any web browser or mobile device, you can engage a large list or group of recipients using broadcast two-way SMS messages.

SMS CAMPAIGN MANAGEMENT
Manage and control your SMS messaging campaigns with the sophisticated administrative options and easy management of lists, consent and processing.

CONTROL & REPORTING
Get information in real time about your SMS text messaging campaigns, assign message fees to specific cost centers, and schedule automatic reports.
Start using our Business SMS Platform
Our SMS platform is paired with our trusted CPaaS solution to maximise open rates and customer engagement. Text messaging has been proven to be one of the most direct and effective communication methods with customers, patients, citizens and employees.
SMS is key in business communications for its immediacy and consistency – Text messages are opened, on average, within three minutes of being received. Fill out the form to receive personalized information.
SMS platform features and capabilities
Send up to 1 million SMS interactions per campaign

Use multiple sources as recipients of SMS campaign (lists, groups, contacts, copy and paste)

Send SMS interactions with personalised content

Apply filters to recipients based on white lists and/or blacklists

Process SMS responses through Basic Bot based on keywords

Schedule bulk SMS campaigns for single or recurring sending with a time limit

Store campaigns for later launch, use as a template or delete

Generate graphic reports in real time during SMS campaign execution

Pause, cancel and resume controls for SMS interaction campaigns

Send bulk SMS campaigns segmented by number of records and time interval

Create recipients lists with multiple variables and include those variables as part of the SMS campaign report

Send SMS from the computer

Send business texts through our secure business SMS platform to ensure customer data is safe and secure

Trackable links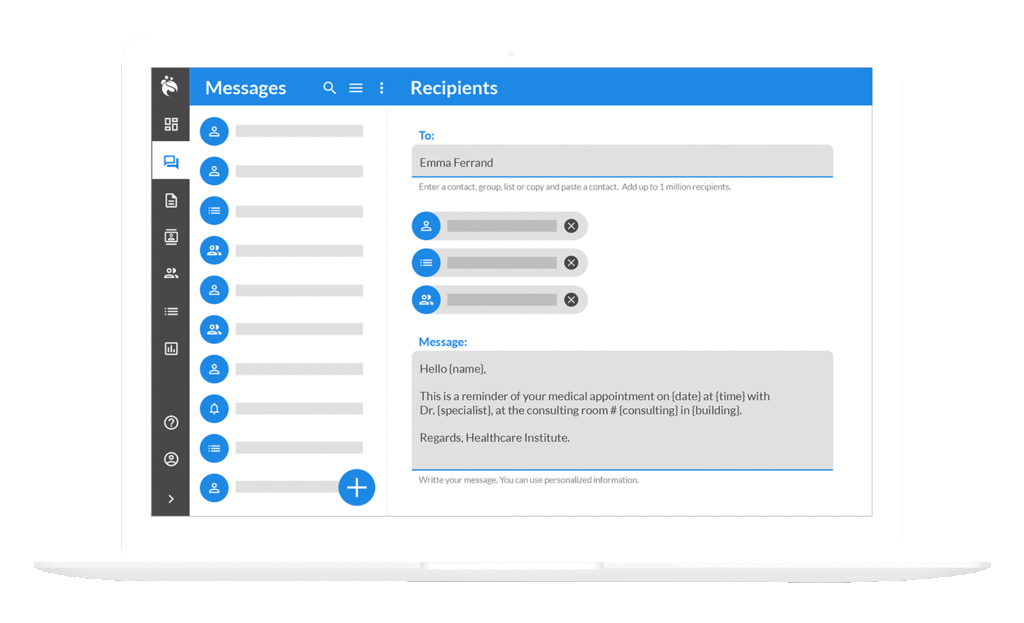 Businesses are successfully using SMS to support their marketing, operational and security efforts. The wide range of features and capabilities that SMS offers means this channel can be utilised in many ways, across a variety of industries.
The Benefits of Using an Online Text Message Service
SMS provides businesses with a way to engage with their customers, patients, citizens or employees directly to their mobile phone quickly and efficiently.
Text messages have much higher open and engagement rates than email and allow for the customer to reply directly. So many marketing emails simply go unread in crowded inboxes, whereas sms marketing offers a direct approach that is far more likely to not only get a customer's attention, but their engagement as well.
Mobile communication is becoming increasingly important. Your customers and employees expect the ability to engage with your brand in their favourite channel. Our solution not only allows you to send in bulk directly from the platform, you can also automate messages, so they are triggered automatically.
Take advantage with our proven SMS Messaging platform:
Appointment reminder and confirmation
Update notification
Payment approval messages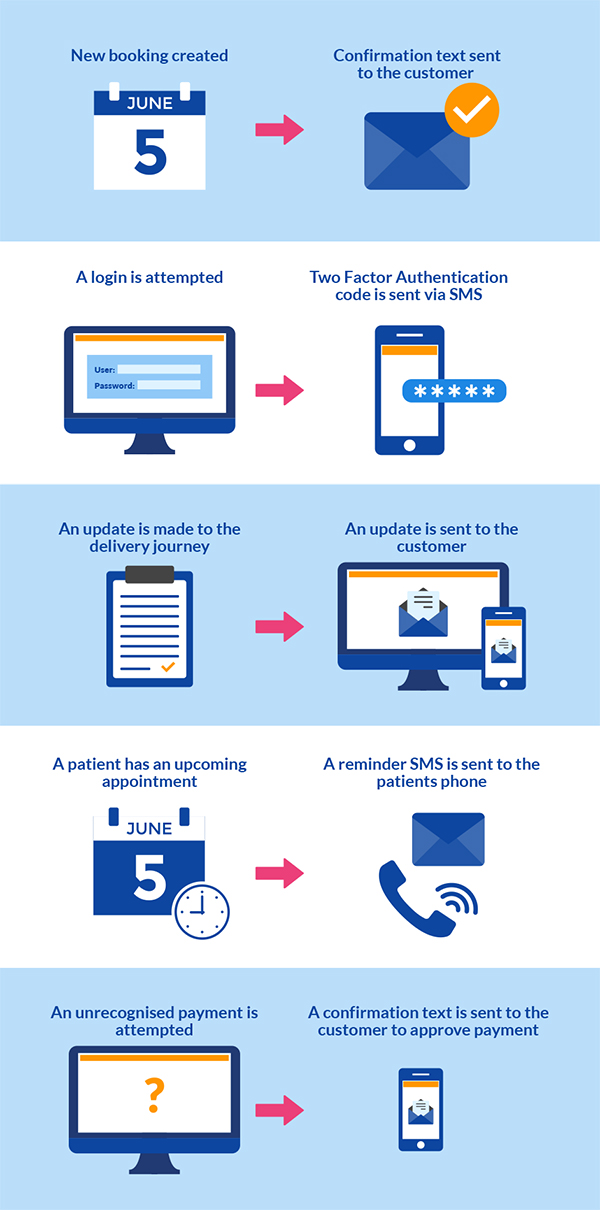 Advantages of S

MS messaging service
Embed SMS directly into existing applications
Our communication platform enables businesses to easily embed communications, including SMS directly into their existing applications. This allows businesses to streamline communication-heavy business processes and to achieve some early successes in their digital transformation efforts.
Reach customers on their preferred channel
Most organisations need to communicate regularly with customers, patients, citizens, or employees and with so many channels to choose from, it's often a bit of a minefield. Text messages are sent directly to your contacts' mobile phone and most messages are opened in under 3 minutes. SMS is proven to increase engagement rates, meaning you're more likely to improve relationships with customers and hear back from them when needed. 
Helping budget and resource go further
Eliminating the need for your employees to manually send reminders, notifications and updates can drastically reduce the time spent on administration tasks.
Once SMS is integrated into your CRM or platform, when an action takes place such as a new order or an upcoming appointment, a text message will automatically be triggered. This can be used to replace or fill gaps in call centres or admin teams.
Automating the entire process ensures faultless communications and can save your business thousands in overheads.
Increased customer satisfaction
90% of your customers already expect consistent, trusted interactions via the communication channels they know and love. SMS allows businesses to reach their customers and employees directly to their favourite device and makes it quick and easy for them to respond if needed. By ensuring quick and simple communication channels, customers stay engaged and satisfied.
Reach your contacts, every time
Customers, employees, patients and citizens are constantly inundated with marketing and sales messages and their inboxes are bursting at the seams. It's important to stand out from the crowd to ensure you're heard.
Reaching out to your customers via SMS ensures your message will be seen instantly. Whether you're sending an urgent notification, a two-factor authentication code or an appointment reminder; you can be confident it will reach your contact quickly and safely.
Reduce the space for human error
When communicating with customers, especially in large businesses the space for human error can be massive. Spreadsheets and tick boxes showing who has been contacted ahead of appointments or to confirm orders can get messy and it requires a lot of manpower.
Employing a solution to send text messages online and allowing the platform to automatically send bulk SMS means they are never missed, and your employees have more time available to focus on other tasks within the business. 
Make missed appointments a thing of the past
Sending automatic confirmations and reminders to customers or patients has been proven to drastically reduce 'Did Not Attend' rates and no-shows, saving your employees time and wasted resource.
You can configure the solution to automatically send a confirmation via any channel when a booking or appointment is made in your current CRM. The tool can then send out reminders closer to the appointment date alongside a quick, easy way for the contact to cancel or reschedule their appointment.
Let your marketing be heard
Our CPaaS solution can be used as a SMS marketing platform for you to send text online to your customers promoting your latest products and services. Send bulk SMS or automate messages depending on customer activity using our SMS API to ensure you send bespoke messages depending on your customers wants and needs.
SMS Messaging Service to Boost Communications
Build and integrate SMS APIs and applications quickly and easily using our unified SMS messaging platform. Our documentation is direct, clear and very easy to understand. You won't believe how quickly you can integrate our SMS API.
Fill out the form to start using our SMS platform for businesses.
SMS Communication Platform Resources
Learn and download resources about SMS messaging and get insights about how to get started with our CPaaS Soprano Connect Platform. 
Using SMS alongside CPaaS
The Need for CPaaS in the New Normal
COVID-19 has exposed gaps in digital strategies for many businesses, with 66% of businesses admitting they felt the pandemic exposed weaknesses in their digital strategy (AppDynamics by Cisco).
It's more important than ever for organisations to update their strategies to serve the new needs of their business and their customers, and this is exactly what we're seeing.
74% of businesses signing off digital projects in weeks rather than years and 66% of these companies implementing projects that were previously deemed unnecessary which shows the urgency of having a digital presence in the new normal (AppDynamics by Cisco).
34% of <$1bn revenue companies and 63% of >$1bn revenue companies plan to increase spending on employee communication tools and collaboration technologies going forward (451 Research study) which raises the question – is your business prepared for the new way of working?
Reaching your customers and employees digitally is more important than ever in the new normal. Soprano Design commissioned a report with 451 Research which discovered some major behavioural changes in the way businesses are planning to communicate and collaborate.
This white paper discusses these changes in detail and illustrates what products and services organisations are planning on investing in post-COVID-19.
No-code SMS solutions – Ready to deploy
Get started immediately with our pre-built SMS solutions and applications. Send text messages with our online text message service.
Our in-house developers can help you with integrating SMS into your existing CRMs or internal platforms, or how to integrate SMS API in WordPress or other widely used platforms like ERP or CRM.
Integrate SMS into your IT systems with our platform. We provide a wide range of programmable low-code APIs and no-code protocols, so that your organisation can achieve SMS integration quickly. Create various value-added services for customers and employees by integrating APIs with existing software. Some of the supported protocols are REST, HTTPS, SMPP, SMTP, and WSDL.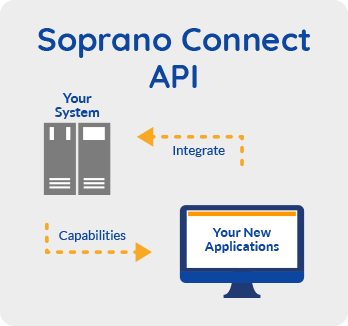 FASTER INTEGRATION OF SMS
Integrating Soprano Connect in your software is fast and easy. The SMS Gateway documentation is clear, and easy to understand. The low-code implementation allows to create new services and reduce the time-to-market.
SMS AUTOMATION AND WORKFLOWS
Communicate directly with your customers from your own CRM or ERP. Save resources with automated mobile messaging workflows to handle inbound and outbound SMS.
SECURE AND FASTEST DELIVERY
Designed for low latency and high availability, our leading SMS API service is a trust-worthy way to reach customers and employees around the globe. Soprano Connect SMS gateway API is tuned to enable high-volume SMS to be delivered in seconds.
The Soprano Design API provides a set of endpoints that can be used through any programming language. Our support team can help you with our low-code API and provide you with a sample pack to get you started as quickly as possible. Our documentation provides a set of code snippets to make the SMS sending easier.
The SMS API is a part of omnichannel communication. Soprano Connect CPaaS integrates support for RCS, WhatsApp for Business, voice, email, and IP messaging within the same API package.

Authenticator
Management and logic to generate temporary SMS passwords that can be used for 2nd-factor authentication (2fa). Authenticator is a ready-to-use solution and is easily integrated into the customer e-commerce application or remote access infrastructure.
Interactive SMS Messaging
Extend the use of text messaging service as an interaction channel by embedding a URL into the content of an SMS that will redirect the recipient to a microsite to obtain extended and even personalised information.

Inbound SMS Bots
Provide operational logic that enables inbound SMS messages to automatically trigger decision tree logic and pre-defined actions based on keywords, with storage capacity based on the options provided.

RapidAlert for SMS Incident Management
Use SMS for business continuity to notify recipients during an emergency. Deploy this rapid response tool to respond quickly. Perform complete lifecycle management of emergency situations and maintain business continuity for your employees during critical events.
How Companies Use SMS Service
At Soprano, we see our customers across a variety of industries globally using SMS solutions for many different purposes. Our customers send text messages individually to contacts or they often send bulk SMS to cover a large audience.
Appointment and reminders
Appointment confirmations

Scheduling system communications

Appointment reminder software

Appointment amendments or alterations
Security and Compliance
Two factor authentications
Secure communication platform
Sending and receiving sensitive documents
Maintaining compliance and privacy controls
Updates and Confirmations
Dispatch and delivery updates and confirmations
Booking confirmations
Contact centre communication
Billing confirmations
Education and Awareness
Student engagement
Charity outreach
Government awareness programmes
Surveys
Urgent  notifications
Crisis management
Worker safety
Patient notifications
Banking security notifications
SMS Marketing and sales communications
CRM updates
Promotional SMS marketing services
Lead nurturing
Sales outreach
Internal Communication
Remote work communication
Workplace transformation
Employee satisfaction and wellbeing
Internal staff communication tools
Soprano Connect is a leading communications platform-as-a-service (CPaaS) profiled by Gartner in their 2019 CPaaS market guide.
We send over 6 billion mission critical messages per year, from over 4.5 million active users. Our customers include over 25 Global Fortune 500 companies. Soprano products are used actively by global top-100 companies, leading financial institutions, and large government agencies in four major world regions. Soprano's award-winning engineering and innovation has resulted in a powerful cloud-based enterprise platform that powerfully integrates IP, SMS, MMS, voice, and location into a seamless secure business mobile messaging experience.
Soprano are heavily focused on providing a solution which gives you high engagement rates and results. We have a team of experts based worldwide ready to help you with your business requirements.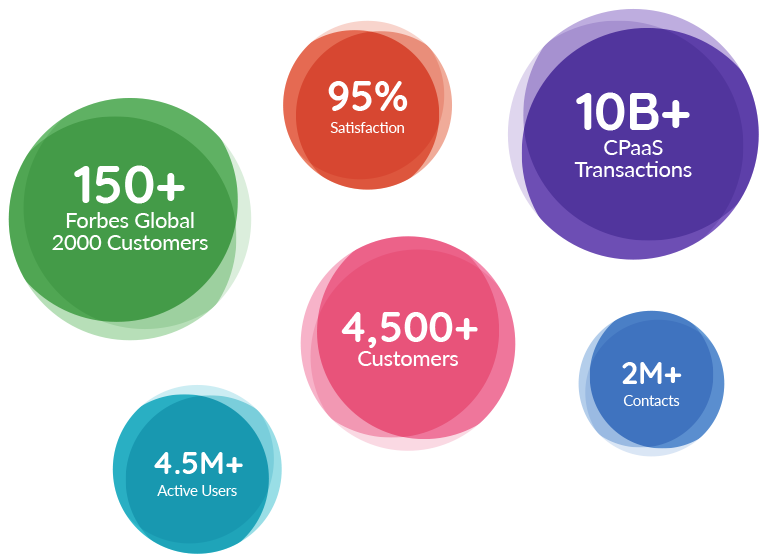 Soprano Connect's Customers
Soprano Design have nearly 4000 customers globally across APAC, EMEA, LATAM and the US.
Our customers range from large corporations to independent companies across every industry possible including Government, Healthcare, Finance, Education, Retail, Manufacturing and Logistics.
Get in touch to discuss how to get started with SMS.