IP Messaging – Benefits and Evolution in 2022
Integrated Business Mobile Messaging deployed in a secure environment
Secure mobile conversations
Secure mobile conversations are clearly marked with a padlock icon. All data within these conversations is encrypted, sent over a secure channel, and managed by patent-pending RSA 2048-bit asymmetric key encryption with unique keys for each device.
Additional mission-critical mobile security features include a PIN-protected app, remote wipe, and vanishing messages.
Keep reading to learn more about the productivity benefits SOPRANO GAMMA offers, or return to all GAMMA features
Strong encryption
Pin-protected app
Vanishing messages
Remote Wipe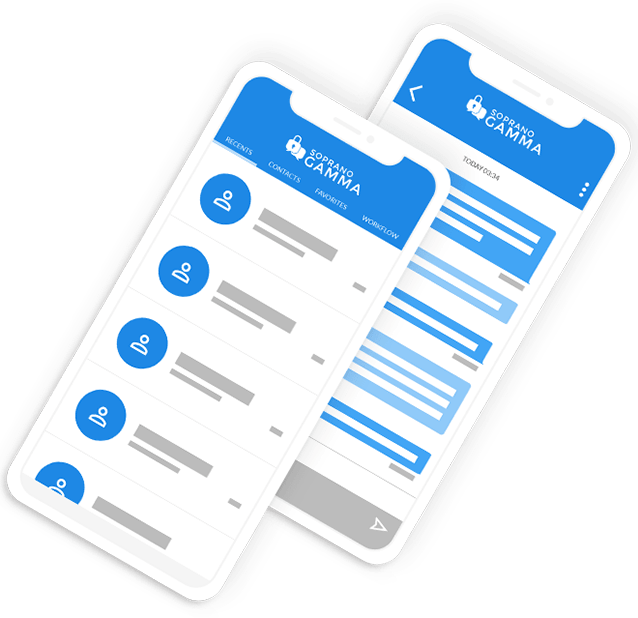 Industry Compliant Encryption
Soprano GAMMA protects your data at rest and in motion
DATA IN MOTION
With encryption on, all P2P data is encrypted before it is sent and the channel is also encrypted during transmission.
TLS encryption secures the data channel during P2P transmission.
An AES-256 encrypted key secures the P2P data content.
Unique RSA 2048-bit asymmetric keys for each P2P message.
A PIN-protected app ensures secure key management.

DATA IN REST
With encryption on, P2P encrypted message content is only stored on the recipient's mobile device.
Message content is stored in the mobile device's OS space.
An AES-256 encrypted key secures the P2P data content.
Stored content on the device is encrypted by a unique encryption key.
Each key requires a unique, self-chosen, non-stored 4-digit PIN.

Data Security
Get enterprise security features that go beyond industry-recommended encryption best practices.
PIN-protected mobile chat app.
Remotely wipe the data from any device.
Message expiry controls enable "vanishing messages" after a defined period of time.
GAMMA secure messaging features

COLLABORATIVE TEAM MESSAGING
Create lists and groups to communicate among your team with group or individual P2P messaging capabilities, and turn on SMS escalation to provide last-mile coverage.

ADVANCED APP ENCRYPTION
GAMMA messages are securely hosted and delivered over a private and encrypted channel utilizing the latest asymmetric key encryption for secure data in motion, 

DATA AUDITS AND MESSAGE LOG REPORTING
Fully auditable and compliant communications designed to provide organisations with full visibility of messages and logs through sophisticated reporting capabilities.

EMBEDDED MOBILE WORKFLOWS
Automate manual or time-consuming business processes by introducing powerful system integration with custom mobile forms to enable embedded apps & workflow messaging.

PIN-PROTECTED APPLICATION
PIN-protection adds another level of mobile device security which helps to protect your proprietary data within the IP Messaging app, in the event that your phone is lost stolen.

ACKNOWLEDGEMENT
Modern internal business communications require acknowledgement at a glance of which messages have been sent, delivered, opened and read. View message status in the mobile messaging app or in the admin portal.

API SYSTEM INTEGRATION & AUTOMATION
Integrate mobile alerting and broadcast messaging into your existing IT systems. Or, create powerful mobile workflows using mobile forms and location-based options that support business process optimisation.

VANISHING MESSAGES & REMOTE WIPE
Vanishing messages are set to expire to ensure your private information is only viewable for a short period of time, and remotely wiping messages is a security safeguard for protecting your corporate data.

ADMIN CONTROLS & REPORTING
Enterprise admin capabilities allow real-time reporting, data retrieval, and data archival capabilities, facilitating full organisation-wide visibility and admin control.