Engage your Visitors with Google Business Messages
Let your Customers Reach You From Where They Are And At Any Time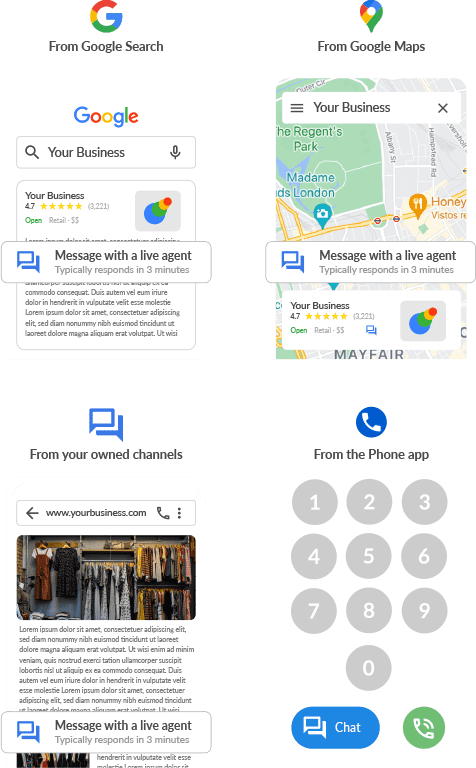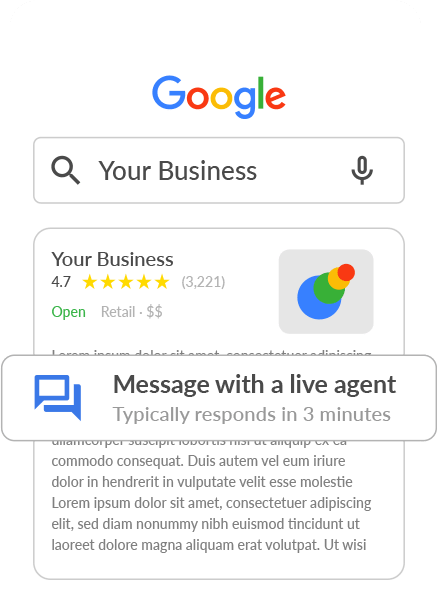 What is Google's Business Messages
Google Business Messaging is a mobile conversational channel that allows you to chat with your customers from Google search results, Google Maps, Ads, and even your own brand website. This real-time conversation can use AI (bot automation) or live agents to respond to your prospects in real-time.
Did you know that more than 5.5 Billion searches occur every day?
Combining the different Google entry points, GBM presents a fantastic opportunity to engage your customers with a relevant conversation on different stages of their customer journey; from Discovery, Research, Purchase, Support, to Retention and Advocacy.
Meet your customers when they are looking for you:
When they are looking for answers through Google Search
When they are looking for where to go through Google Maps
When they are looking to buy your product through Google Ads and Search
And when they need your help reaching you through your own website
5.5 Billion
Searches occur every day at Google.
67% of consumers
.Would rather message a business than speak to a person
75% of consumers
 Prefer to engage brands through private, asynchronous messaging.
Google's Business Messages empowers your brand
Deliver timely, and engaging experiences in the moment your customers need help and wherever they are. Become more relevant and interact directly with your prospects from Google Search, Google Maps or across your corporate messaging system.
Connect from Google
Google Business Messages and Soprano Connect CPaaS platform proves a smart automation and human connection to better support and engage customers. No more customers and leads without response.
Connect through the right channel
Engage with customers across the channels of their choice in their moment of need and create a distinctive customer experience to become the standard for your industry.
Drive Business Value Adding GBM to your Communication Mix
Google's Business Messages enables you to deliver seamless experiences to your customers at the right moment of need, and in the place of their choice.
By adopting a smart digital communication solution, you will elevate the customer experience and create a long-lasting relationship with your customers.
Delivering personal and positive interactions will help your brand stand out from the crowd, creating an authentic human connection.
Furthermore, driving business value with authentic experiences will increase loyalty, sales, and customer satisfaction, differentiating your brand and creating a powerful way to align your brand with your customers' needs.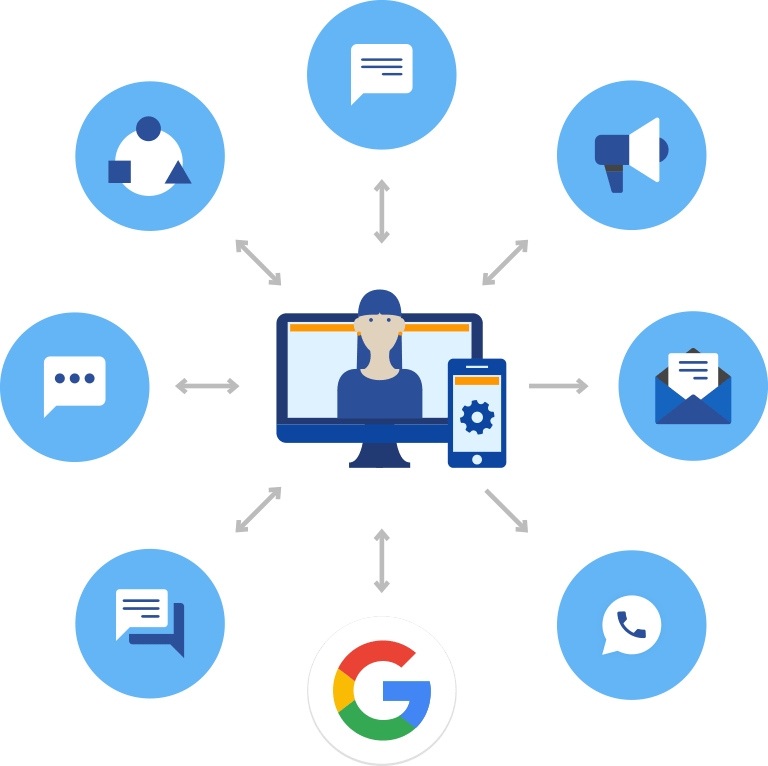 Benefit from GBM Opportunities Across Industries
Differentiate your brand and deliver an authentic customer experience with Google's Business Messages. Take a look at some of the use cases that your company can benefit from:

Healthcare & Government
Product/service offer
Purchase confirmation
Pricing quote
Book calls
Appointment scheduling and booking

Financial Services
Service offer
Apply and create new accounts
Transfer funds
Manage insurance policies
Incident alerts

Retail
Purchase assistance
Talk with an expert
Personalization
Promote offers
Schedule in-store visit

Logistics
Package tracking
Change delivery preferences
Find pickup points
Check delivery status
Reach Customers Where They Are, When They Need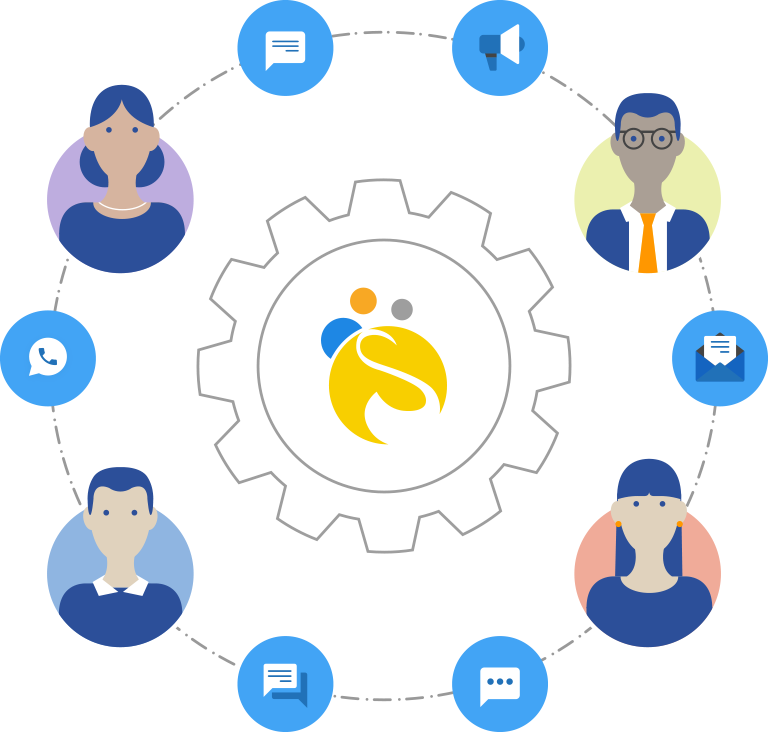 Combine Soprano Connect with GBM Easily and Boost your Business Communication
In an overstimulated communication world making it easier for your customer to reach out to your brand is more critical than ever. Being able to communicate with them on their prefer channel it harness incredible power and business benefits.
Soprano Connect combines SMS, Email, RCS, Voice, WhatsApp for Business, IP and now Google Business to cover each one of your customer communication needs.
Delight your customers, drive business results, and built a foundation of trust to give your brand that competitive advantage that will help you succeed.
Create an effective and comprehensive multi-channel messaging strategy for your business and reach your customer in the right moment, and in the right way. Take advantage of the strengths of each channel and the power that comes from their combined forces.
A New Opportunity to Connect and Engage
75% of consumers now prefer to engage with brands using a conversational channel. Google Business Messages can help your brand to reach your customers and connect with them with their preferred communication choice. Take a look at Google's introductory product video. 
Report: Building a Retail Customer Engagement to Improve Sales
Frost & Sullivan research shows that businesses that accelerated their digital transformation strategy were able to pivot from in-person customer interactions more easily to online and digital interactions. Our ongoing research shows advanced communications technologies aided many
retail organizations in the challenges of 2020 – particularly a challenging holiday season. Key strategies to support these goals included:
Migrating to Digital Channels: a 2020 Frost & Sullivan survey showed 30 percent of respondents plan to enhance their e-commerce capabilities while 29 percent were seeking to improve client engagement and customer experience capabilities.
The Right Tools: Nearly 80 percent of IT decision-makers surveyed had familiarity with Communications Platforms as a Service (CPaaS) and programmable communications via flexible APIs.
Growth across Channels: Frost & Sullivan's survey reported significant usage today or plans to utilize programmable communications in the future, across nearly all digital channels served by APIs, including email, messaging, and video and voice capabilities.
Soprano Connect is a leading communications platform-as-a-service (CPaaS) profiled by Gartner in their 2019 CPaaS market guide.
We send over 9 billion mission critical messages per year, from over 4.5 million active users. Our customers include over 150 Global Fortune 2000 companies. Soprano products are used actively by global top-100 companies, leading financial institutions, and large government agencies in four major world regions. Soprano's award-winning engineering and innovation has resulted in a powerful cloud-based enterprise platform that powerfully integrates IP, SMS, MMS, voice, and location into a seamless secure business mobile messaging experience.
Soprano are heavily focused on providing a solution which gives you high engagement rates and results. We have a team of experts based worldwide ready to help you with your business requirements.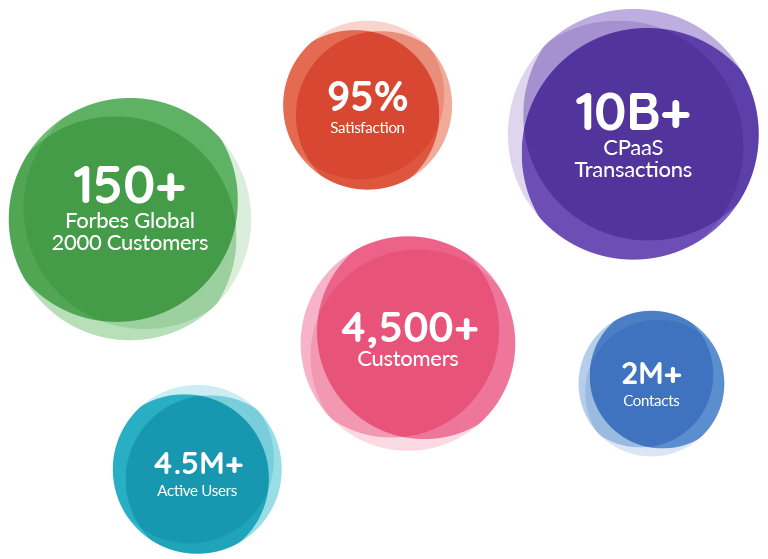 Soprano Connect's Customers
Soprano Design have more than 4500 customers globally across APAC, EMEA, LATAM and the US.
Our customers range from large corporations to independent companies across every industry possible including Government, Healthcare, Finance, Education, Retail, Manufacturing and Logistics.
Get in touch to discuss how to get started with Google Business Messages.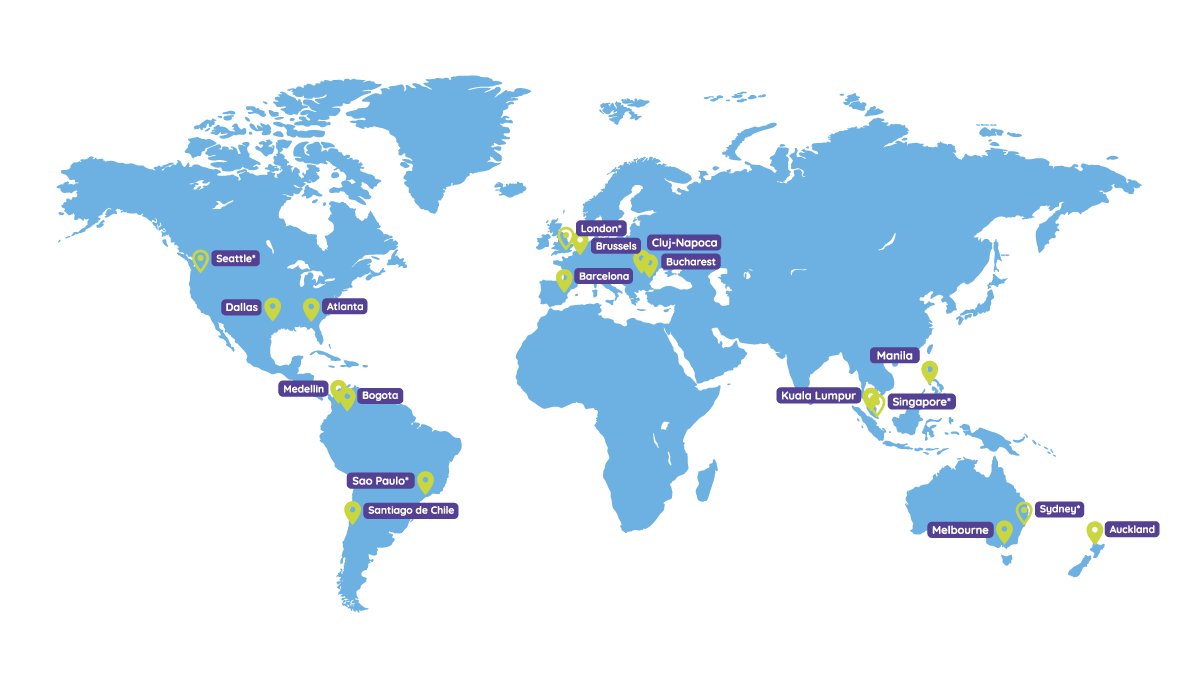 Soprano Connect is a leading communications platform-as-a-service (CPaaS) credited by IDC as a "Major Player" in CPaaS and by 451 Research as a "CPaaS Vendor to Watch" in 2021.
Soprano Connect is a leading global CPaaS solution, proudly featured by