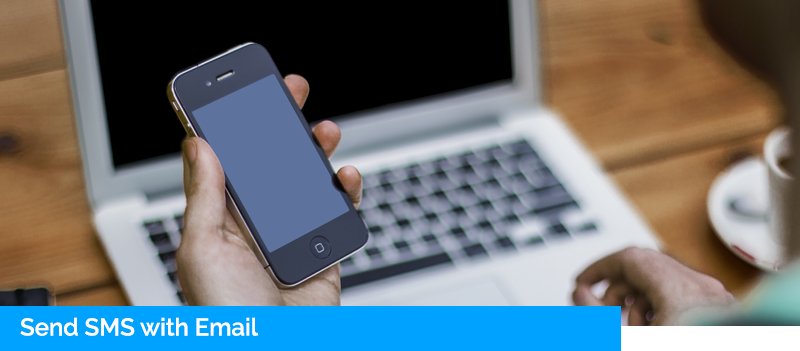 Sending business text messages has never been easier with SMS for email.
Rather than logging in to online platforms, anyone in a business can connect with customers and staff directly by sending SMS directly from their email client or software application.
The Benefits of SMS
SMS has been proven to facilitate direct and timely communication with both staff and customers no matter where they are or what they are doing.
SMS messaging is a communication effort that best cuts through the clutter and is almost always registered by the receiver.
Some of the benefits of SMS include:
Cuts costs by replacing expensive calls with quick and convenient SMS messages
Send broadcast SMS campaigns quickly and easily to large distribution lists
Saves time and boosts employee productivity with rapid one-to-many communications
Reduces business response times
Easily integrates with your existing business applications, databases and software systems for maximum impact
If you are looking to find ways to send SMS from email, here we share exactly how it works and demonstrate just how easy it is!
Send Text Messages from Email
Turn your email into a text message at the click of a button.
Soprano Email to SMS is an extension to our Soprano Connect CPaaS Platform, and is a very easy and accessible communication tool for anyone interested in sending an SMS message from a standard email account. Users can virtually use any computer or device with email access to send SMS messages.
Rapidly generate and send SMS messages to individuals as well as to a large list of contacts simply by sending an email
There are no software installation, plug-ins or configuration changes
Simply pay per SMS based on volumes
Send SMS messages from any device that is capable of sending emails
Send SMS messages to individual people or contact groups using an email address
Receive SMS replies directly into your email inbox
Integrate your address book for all Outlook SMS interfaces
Email to SMS allows businesses to easily use their existing desktop email program or email system to send SMS messages to customers and staff.
Sending SMS via email enables daily communication that is more efficient that brings a higher response rate than sending an actual email.
Get Started
Cut costs, save time and boost productivity by sending SMS direct from your email.
Boost your communication and keep information flowing.
Ready to get started? Contact us to speak to a member of our team.