Engage Your Customers with Soprano WhatsApp Business Messaging
Build your brand with customers in their preferred mobile channel
Introducing Soprano WhatsApp API for Business
Engage with the WhatsApp community of 1.5M+ active mobile users

RICH INTERACTION
Create new powerful brand experiences for your customers. The Soprano Connect platform can be used to achieve scale into your WhatsApp community, with configurable templates for bulk messaging, 2-way decision-tree tools for scripted conversations and easy management of lists and consent.

CONTROL OF USER EXPERIENCE
Soprano WhatsApp Business API is tightly integrated into the Soprano Connect interaction platform, combining one of the world's most powerful management and administration solutions with WhatsApp, one of the world's leading mobile engagement channels. Leverage the platform's powerful campaign management controls, policy enforcement capabilities and real-time monitoring of interactions.

ENGAGEMENT
Enable more meaningful interactions with your customers by introducing your brand in a mobile channel where they prefer to engage. Begin to offer WhatsApp Business as a new mobile channel wherever you already offer email, SMS, voice and other channels for engagement. 
Envision the Future With Soprano WhatsApp Business API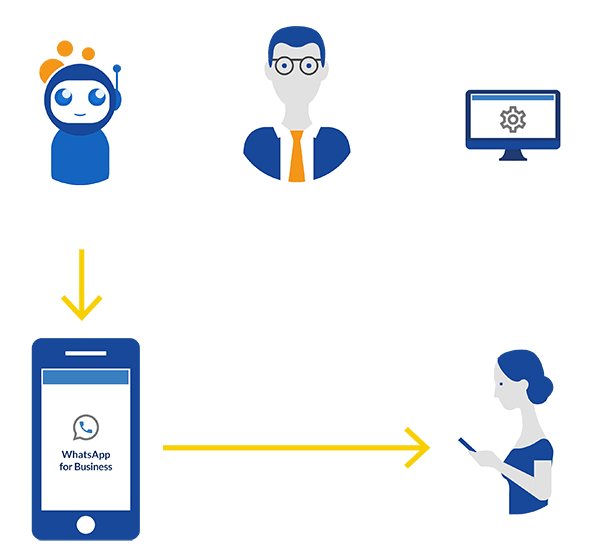 'Verified Business' account to show your users that they can trust the phone number of your business account on WhatsApp.
You can bring your own number to WhatsApp Business solution – either mobile, landline, or toll-free.
You can easily integrate you IT systems through our REST-based Template API.
Share and receive texts, weblinks, and customize your message to users on WhatsApp.
Initiate business to end-user conversations via pre-approved Message Templates with the power of customizable variables.
See exactly when messages are delivered, read and behavioural data.

Enable Meaningful Conversations in WhatsApp
Deliver the right information to the right person through our WhatsApp Business channel. You can increase the confidence of your customers by delivering notifications such as:
Confirmations
One Time Passwords (OTP)
Appointment Reminders
Product status updates
Problem resolution notifications
Schedule changes
Reservation confirmations and updates
Security alerts & delay notifications
Payment updates and reminders
Emergency alerts

Create Bi-Directional Interactions
Through our WhatsApp Business channel you can deliver and receive relevant information to and from your customers. For example:
Confirm, cancel or reschedule appointments
Facilitate customer satisfaction surveys
Request help desk ticket status
Request product status
Customer service workflows
Connect With Millions of WhatsApp Users With Our WhatsApp API
Soprano Connect can accelerate your WhatsApp integration into your brand's mobile strategy. Soprano Connect is a feature-rich and offers low-code or no-code API capabilities so your organization can achieve rapid integration into WhatsApp Business without the need for additional development work.