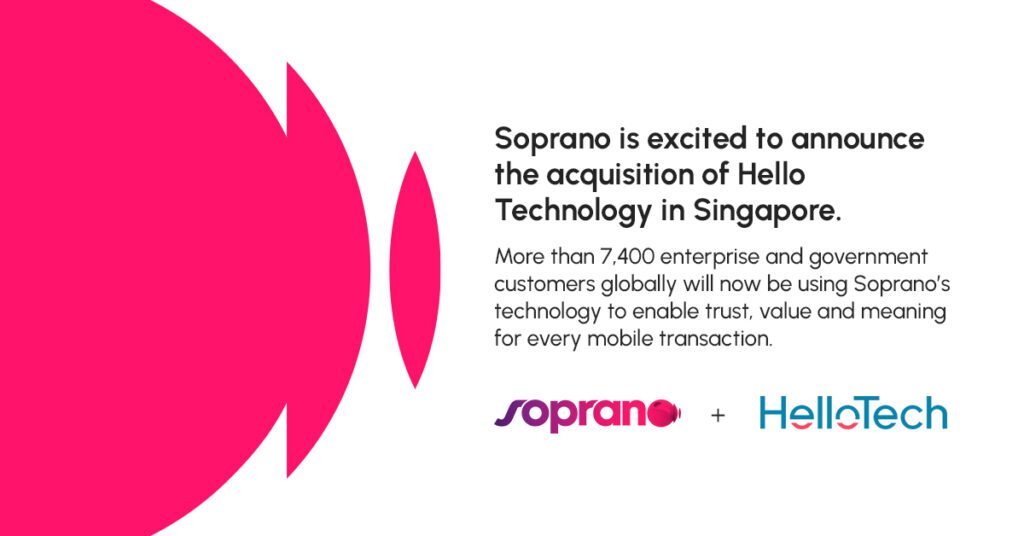 PRESS RELEASE
Sydney, 18th April 2023
On 17th April 2023, Soprano Design, a global leader in the fast-growing communications platform as a service (CPaaS) market, announced it had completed the acquisition of mobile messaging company Hello Technology headquartered in Singapore.
Soprano's Founder and CEO, Richard Favero, said "This significant acquisition ensures Soprano continues to unleash the communication potential of our enterprise and government customers using the best mobile and AI communications technology. Soprano has always solved the most interesting communication challenges in this digital transformation world. With the addition of Hello Technology, Soprano is now even better positioned to meet the increasing demand for innovative enterprise and government communication solutions and technology. This positive momentum is crucial at a time when meaningful engagement and trusted mobile interactions have become an even more important form of currency for businesses around the world."
Like Soprano, Hello Technology has focused on enabling businesses to automate their communications with customers via a simple, reliable, and frictionless environment to deliver more meaningful and productive interactions. Hello Technology has established strong relationships with its customers who have needs that align well with Soprano's capabilities and mission.
Kevin Yang, Founder and CEO of Hello Technology, says "We are incredibly excited to join the Soprano Design family. It is a very positive development for our customers, our team and our company".
The acquisition of Hello Technology further solidifies Soprano's position as a top-10 CPaaS leader globally, and enhances Soprano's operational resources, product capabilities, quality of service and footprint to improve project success and assure data security in the APAC region. Soprano adds Hello Technology's 600 million interactive mobile messages to their own, putting Soprano on a path to exceed 15 billion mobile messages per year in 2023.
Further, with this acquisition, more than 7,400 enterprise and government customers globally will now be using Soprano's technology to enable trust, value and meaning for every mobile transaction. Over 70% of Soprano's business is conducted outside Australia, in Asia, North America, South America, and Europe.
The move signals to enterprise and government organisations that, in the digital transformation world in which we operate, Soprano remains committed to improving customer and employee experiences:
Ongoing, targeted investment into innovative, interactive messaging automation and communications capabilities using the latest mobile and AI technology available.
Commitment to differentiate through a combination of robust international connectivity to mobile devices, access to the innovative Soprano Connect portal and the utilisation of a unique security and compliance toolset geared for large-scale deployments.
Hello Technology's strengths in the A2P messaging services and enterprise and carrier grade SMS connectivity will augment Soprano's strengths in enterprise messaging platform, administration tools and advanced messaging applications. The combination builds a more complete CPaaS solution stack and further differentiates Soprano as one of the few organisations in the world able to support large, complex, and truly global communications deployment with a full menu of communication APIs and integration capabilities with a robust, enterprise grade toolset for network reach, scale, security, compliance and service quality.
According to Richard Favero, "This exciting acquisition aligns with our ambitious growth strategy of investing in interactive messaging capabilities to help us prepare for a future where truly immersive and personalised experiences are the norm". This transaction comes on the back of Soprano's acquisitions of Ubisend in the UK in 2022, and Silverstreet in Malaysia in 2020.
Soprano remains interested in acquiring other businesses that align with our strategy to deliver trusted mobile interactions via our powerful cloud-based mobile communication platform to companies and governments around the globe.
It is business as usual for both entities and their people during this exciting period of enormous opportunity, growth, and alignment.
About Hello Technology
Founded in 1997, Hello Technology is the premier market leader in A2P messaging services in Singapore with enterprise-grade and carrier-grade SMS connectivity. The group also provides wholesale / bulk SMS packages to wholesale / indirect customers with carriergrade SS7 SMS connectivity sending well over half a billion messages per annum.
About Soprano Design
Founded in Australia in 1994, Soprano is an award-winning global communications software firm that delivers trusted mobile interactions via its powerful cloud-based mobile communication platform, which has revolutionised the way enterprises and governments around the globe engage in a mobile context. Soprano serves more than 100 of the world's Forbes Global 2000 firms across banking, healthcare and retail on five continents, as well as prominent government organisations in the same locations. Over 70% of Soprano's business is conducted outside Australia in Asia, North America, South America and Europe.
Soprano's flagship solution, Soprano Connect, leverages artificial intelligence to unleash the communication potential of our enterprise and government customers. Our technology, processes and people, design and use the latest mobile and AI technology to design communications that assure positive emotional experiences for customers and citizens to improve customer and employee experiences.
Our technology offers a full menu of low-code or no-code APIs for omni-channel communication and global connectivity to mobile devices. Soprano Connect improves project success and assure data security in this privacy and digital transformation world, further differentiating us in the CPaaS marketplace by providing the compliance, security, policy management, and analytics capabilities that large firms require.
Media Contact:
Please direct any questions to media@www.sopranodesign.com.