Virtual Customer Communication: How to Enhance Your Digital Engagement
Learn how effective engagement drives an emotional connection between a business, its customers and its employees – all of which leads to greater business success.
Category:
Mobile Messaging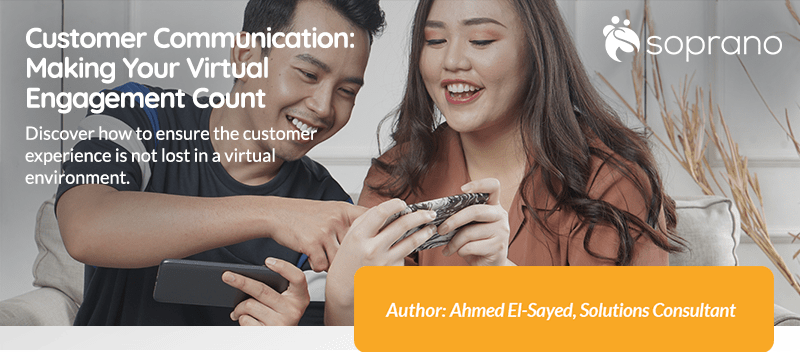 Virtual Customer Communication is crucial to reach an effective engagement, an emotional connection between a business, its customers, and its employees, which leads to tremendous business success.
Highly engaged employees contribute to better customer service, which is an important component of customer engagement. In turn, customers who are highly engaged with a brand buy more of their product, promote it more heavily amongst their own networks and demonstrate greater loyalty.
Modern businesses now face the challenge of engaging customers and employees in a digital world. Increasingly, virtual engagement is replacing face-to-face interaction. Workforces are becoming more remote and customer experiences are going online.
Mastering virtual communication with the right tools and execution is key to ensuring you don't lose that all-important customer engagement and employee connection in a virtual environment.
THE BARRIERS OF VIRTUAL CUSTOMER COMMUNICATION
COVID-19 has demonstrated the impact of remote working on traditional customer engagement methods.
From a business perspective, we are missing out on leads that would usually be generated through casual meetings with prospective or existing customers. There are no physical gatherings or events held for employees or customers, leaving many feeling isolated.
Additionally, it's no easy feat finding the right time and platform on which to engage customers, because so many are busier than ever taking care of their families and loved ones as well as business.
The reality is virtual workforces are also more difficult to engage. For example, much of the valuable internal communication and feedback that happens by default when colleagues are together in person is no longer available.
Fortunately, however, many of these challenges can be circumvented with the right tools and virtual engagement strategy.
Mastering your virtual engagement strategy
Successful virtual communication conveys the message you want to convey to your specific audience, at the right time, through the desired platform.
Overcoming the challenge of creating and maintaining effective virtual engagement comes down to:
Humanising your brand and the message that your product conveys.
Personalising communication with your customers and employees.
Creating useful content that provides value.
Determining the channel that your customers prefer to use for communication with you (SMS, email etc.) and using this to offer efficient and effective two-way communication.
Encouraging, acknowledging and embracing the feedback you receive from customers via your chosen two-way channel.
How Soprano's solutions help companies enhance customer engagement
Soprano provides a variety of solutions to help companies optimise their virtual customer engagement strategy.
These include: