Email Messaging for Marketing and Relationship Management
Use A2P email messaging to engage and interact with your mobile users
What Our Platform can do for Your Organization
We provide a Trusted Mobile Interactions Suite

INTERACTIONS
The email A2P messaging channel enables you to improve the interactions of your company with customers and employees at scale. The Soprano Communication Platform provides an easy-to-use portal and API to allow you to communicate with many recipients at the same time by email.

CAMPAIGN MANAGEMENT
You can easily manage and control your campaigns with multiple administrative options and manage lists , consent and processing.

CONTROL AND REPORTING
You can set user permissions and campaign reports through our platform. Get information in real time, assign message fees and cost centers. Generate and schedule automatic reports to evaluate the success of your campaigns.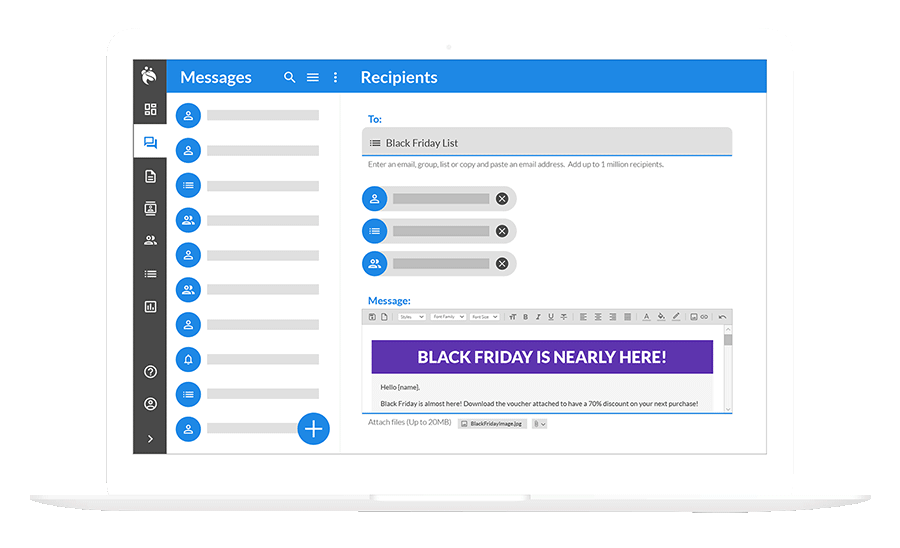 Email Platform: Key Features and Capabilities
Create recipient lists with multiple variables and utilise them in the  campaign report.
Send up to 1 million email messages per campaign.
Use multiple sources for recipients of email campaigns (lists, groups, contacts, copy and paste).
Personalise email messages.
Filter recipients based on white lists and / or blacklists.
Attach files, up to 20MB per campaign.
Schedule email for single or recurring campaigns with a time limit of execution.
Automate Opt-in / Opt-out through links within the body of the message and manage lists within the platform.
Save campaigns to launch in the future, use as a template or delete.
Access real-time reports of the email campaign performance.
Create engaging emails using the HTML email editor to design, edit and preview your templates.
Pause, cancel and resume controls for email campaigns
Segment email campaigns by number of records and time interval.
How Mass Email Campaigns can Help Your Organization
Marketing
Send personalized or generic special offers to your consumers. Attach a discount voucher to the email or a PDF with more information.
Customer Relationship
Deliver timely and reliable information to all of your customers, such as changes in schedules, price changes, new products, among others.
Payment Reminders
Send payment reminders with defined amounts, expiration dates, etc. by email to your customers.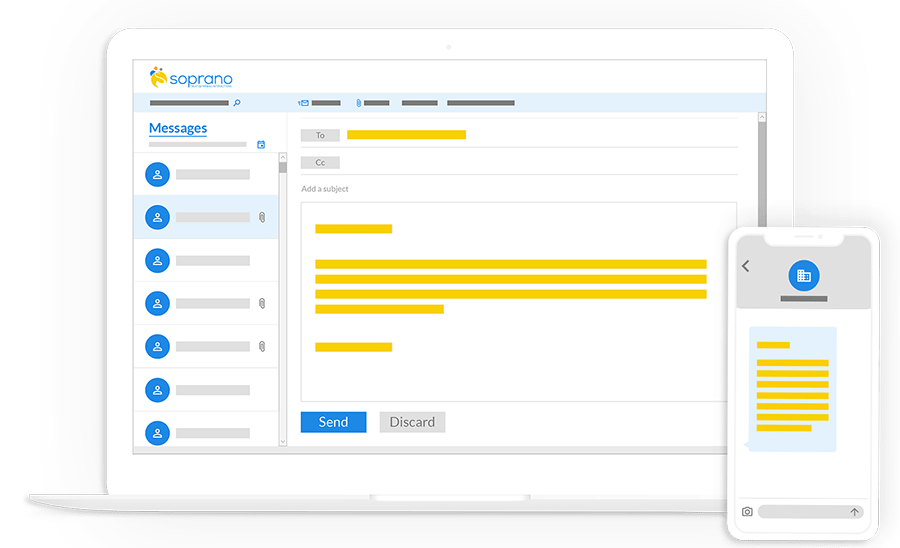 Send SMS directly from your email with Email2SMS
Use your web or desktop email program to easily send SMS interactions to your customers and / or employees with our email to SMS functionality. This will provide the practical environment of the email but using SMS.