Voice Messaging complete guide
Discover all you need to know about voice messages, IVR, text-to-speech, and more.
How many hours does your staff spend making phone calls? Or how many complaints have you received from customers who have tried to contact you without success?
Your customers are expecting more from your side. They want your business to be there for them where, when, and how they want – from getting information to research o purchasing a specific product. You must be there.
That's why you are now searching for voice messaging, trying to implement a new communication channel that helps you boost customer experience and engagement.
You are in the right place. In this guide, we will explain to you all you need to know about voice messages, IVR, text-to-speech, and more. Because we know that digital transformation is here to stay and that to survive, companies need to improve how they interact with their audiences.
Did you know that a third of customers say they would potentially switch to another brand after just one poor customer service experience? You just can't make them call you and spend hours on a voice call to solve a problem or get the information they need.
That's not effective for both you and your customers. Voice messaging is the right solution for communicating in a quick, effective, personalized way. Ready to learn more? Keep reading.
Voice messaging, also known as Voice Broadcast Messaging (VBM), is a communication technology that allows businesses and governments to send automated voice messages in bulk.
Forget about dialling manually each number or spending hours calling your customers one by one. Voice messaging allows you to send pre-recorded messages to your audiences in a couple of minutes.
Most common voice messaging services involve IVR or text-to-speech (We will explain more about them later!). You can also personalize the message and interact with the recipient through the numeric keypad of their phone, for example, to enter a number to choose an option or enter a sequence of numbers belonging to an ID.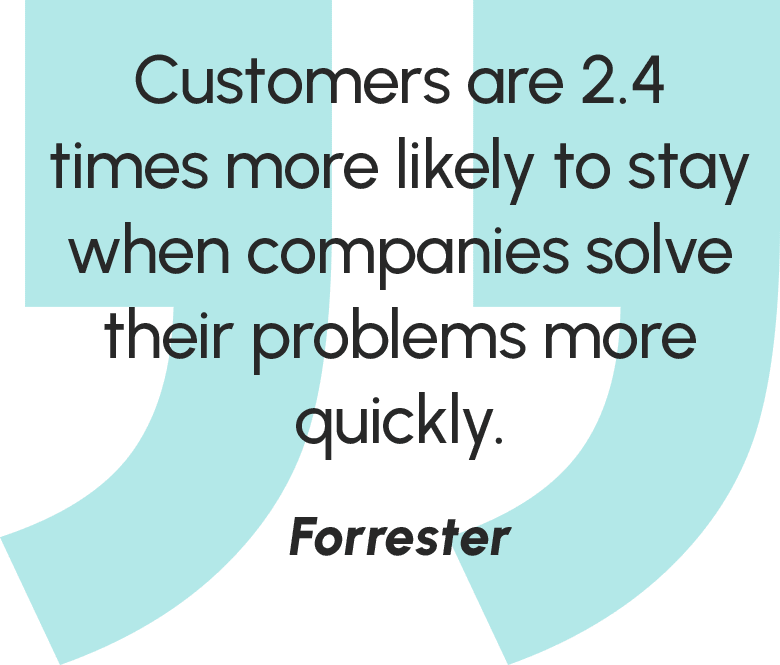 Why integrate a Voice Messaging system?
We are sure that one of your primary concerns right now is how to improve your customer experience. If not, you should start thinking about it.
According to Zendesk, 52% of customers make a special effort to shop for brands they are loyal to. CX drives engagement and satisfaction.
How can businesses do that? With an effective communication strategy.
But there are indeed some challenges. Every communication channel has its cons and pros. SMS has character limits; Emails have a low open rate compared to SMS; WhatsApp it's not globally accessible.
If you are using phone calls, you probably know that call centres are super expensive to run. When we talk about voice messaging, we go beyond simple phone calls.
Voice communications bring value to your business by helping you navigate all those challenges.
It's accessible
You can send automated voice calls to every mobile phone globally. It doesn't need to be a smartphone.
It's cost-effective
With a response rate of 90%, you can be sure that almost all your customers will listen to your message.
It's efficient
Thanks to IA, your customers can find the answers to their questions by themselves without the need for any human intervention. This self-service that voice technology allows improves both productivity and engagement.
Considering that 90% of consumers want to receive consistent interactions across multiple channels, we recommend you think of voice messaging as an alternative to SMS or email rather than using it to complement the communication channels you are already using.
By integrating two o more channels into your communication strategy, you can deliver your customers a consistent omnichannel customer experience.
Benefits of Voice Messaging
According to research, 59% of customers expect a business to be available via a voice call. That means that most of your customers want you to send and receive voice messages from brands.
A voice messaging system can bring value to your business by getting your message out effectively. It provides a direct communication channel by enabling companies to broadcast voice messages to thousands of recipients all at once.
Make the difference. Allowing your customers to interact through an innovative communication channel will generate high impact and loyalty.
Boost your reputation. Voice messaging gain popularity the last few years thanks to digital assistants such as Alexa from Google and Siri from Apple. Most people even don't want to text anymore, they want to talk.
Improve Customer Experience. You have more possibilities to engage with your audiences by interacting with them in the channels they prefer. Voice it's about having conversations, which not only is efficient but also makes your brand feel personal and human.
Get customer insights. Every interaction your customers have with automated voice calls is captured to find insights and help them during their journey at a later point. How many times have you called customer service and had to say the same speech to different live agents again and again? Forget about it. With a voice solution, your staff will already know what your customers are looking for.
Take efficiency to a higher level. Artificial Intelligent will help your customers find information, purchase and research by themselves and quickly. In the meantime, your staff can focus their time and efforts on other valuable issues.
Become global. No matter where or what telephone your customers have, everyone can call and receive phone calls whenever they want. Expand your calling experiences around the globe!
Low efforts from your side. Most voice solutions work with communication APIs. That means you don't have to invest money and efforts in developing infrastructure. APIs can integrate into your existing IT systems and CRM to start working quickly. 
How does Voice Messaging work?
In this busy and fast-paced world, nobody has time to wait on hold in a queue. Also, nobody has the patience to answer too many questions to find a simple answer. That's why choosing the right automated voice messaging system is key to avoiding customer frustration.
You should find an efficient system which allows you to create a simple but powerful experience. These are some voice messaging key functionalities:
Text-to-Speech: This voice functionality allows to write a text and send it via voice. A good voice messaging system should allow businesses to personalize the message, for example, by calling the customers by their names or invoice number. Also, some voice providers incorporate Automatic Speech Recognition in text-to-speech messages and enable automated passwords to be repeated over secure lines to customers.
Pre-recorded audio: Is the possibility to deliver pre-recorded audio to your customers and employees when they answer the call. It's a good option to deliver a more "human" experience and make your customers feel it more personal.
Interaction Voice Response (IVR): Thanks to Interactive Voice Response, you can give your recipients the possibility to interact with you during an automated voice call. For example, they can use their telephone keypad to choose an option or enter numerical data.
Voice API
API (Application Programming Interface) is a technology software which allows different applications to work together. With APIs, you can embed communication capabilities into your existing IT systems and CRM without no development from your side.
People use APIs all the time – developers know that – but the rest do not even notice it.
For example, when you are sending instant messages via WhatsApp or Facebook, you are using an API. When Google ask you about your location, it's a geolocalization API that makes that work. Also, when you are looking for cheap flights on a website and it redirection you to the airline portal.
Most CPaaS providers have low-code communication APIs that allow seamless integration to different mobile channels capabilities without any technical knowledge.
That means you don't have to invest in a team of developers to create conversational experiences. A Voice API is a particular software designed to add into existing systems voice capabilities such as text-to-speech, pre-recorded audio, IVR, and password delivery.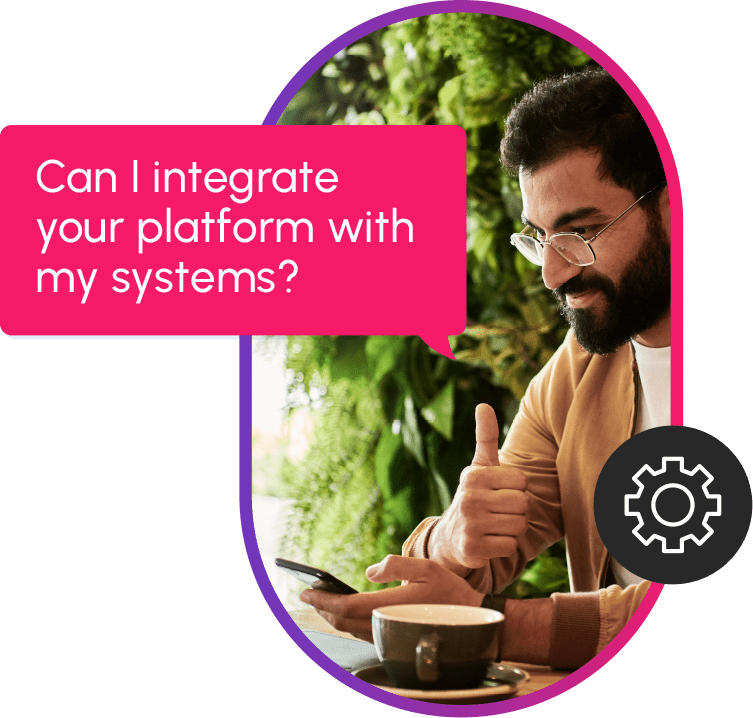 How Does Voice Broadcasting compare to other communication channels?
There are many communication channels to choose from. Knowing which one is the right format at the right time for the right business outcome can be tricky.
Our Communications Platform as a Service (CPaaS) solution enables you to integrate real-time communication channels into your existing web and mobile applications. With CPaaS, you have the flexibility to reach users on their preferred channels at a time that's most convenient for them.
Voice Messaging use cases
How didn't receive an automated voice call with important information just when you need it? Voice broadcast is so flexible and easy to use that many industries can take advantage of it.
Combined with other mobile communication channels, such as SMS or WhatsApp, voice can boost productivity and customer engagement. How? By automating tasks like sending due-date payments, reminders, special offers, and more.
Here we will explain the top automated voice messaging use cases your customers will love:
Send generic or personalized offers: Build relationships with customers and improve engagement by sending generic or personalized voice calls to share special offers, encourage loyalty, and more.
Offer Easy Appointment Management: Send personalized text-to-speech voice calls that provide essential appointment details, like date, time, and appointment location. Enable the recipient to easily confirm, cancel, or reschedule via IVR.
Prevent fraud: One-time passwords (OTPs) through a text-to-speech voice call prevent fraud and improve business security. Voice OTP use case is a great option for authentication because the audio can be repeated as many times as you indicate to ensure the recipient understands.
Increase Accessibility: Ensure compliance with accessibility regulations, including the ADA Requirements on Effective Communication, by providing communication channels that meet government-mandated accessibility requirements.
Get Quick Customer Feedback: Our integration APIs make it easy to survey recipients about the service they receive by generating a voice + IVR call from within your IT system (CRM, ERP).
Provide Helpful Reminders: Send generic or personalized voice calls to remind recipients of upcoming payments, expiration dates, and other important details.
Share Emergency Plans: To be effective, emergency plans must reach those affected quickly and clearly. Communicate an incident instantly and accurately and let people know what actions to take.
Also, thanks to voice capabilities enabled via AI, businesses can use voice to:
Validate identity
Deliver alerts and notifications.
Facilitate product research.
Confirm order submissions.
Provide customer support for routine inquiries or problem resolution.
Why Soprano is the best voice messaging provider?
As a global CPaaS provider, at Soprano we developed a cloud-based communication platform designed to be flexible and scalable. It works alongside and integrates seamlessly with the communication systems you have in place today and allows you to customize your voice messaging campaign to fit your exact needs.
Our trusted Mobile Interactions Suite integrates smoothly with your current systems to enable you to deliver automated voice messages, improve engagement, and effectively manage campaigns.
Our automated voice messaging solution allows our customers to build, direct, receive, and design responses with no code in a single platform. While competitors' APIs require developers to create and maintain the voice messages, Soprano's API is created in-app, so it launches faster by reducing the amount of coding required.
Interactions
Our automated voice messaging system provides an easy-to-use communication channel that seamlessly complements your existing channels to enhance interactions and improve engagement. Send high-volume voice call campaigns from any web browser to thousands of call recipients all at once.
Management
Our intuitive administrative tools help you effectively manage voice messaging campaigns, lists, consent, and processing quickly and easily.
Options
We know that flexibility is important when you need to send mass voice call campaigns. Our voice solution provides options like text-to-speech, pre-recorded audio, and password delivery by case-sensitive differentiation.
Our Voice API also works with Natural Language Processing (NLP) and AI to listen and recognize a person's speech and decipher their intent beyond words. That allows businesses to interpret users' needs and deliver them to the right agent if necessary.
Soprano's solutions also take advantage of various channels that clients can interact with without waiting on hold, improving their experience with your business. For example, you can send an outbound voice message to a customer and, during the call, move the conversation to SMS. Also, clients can switch to a different mobile communication channel like RCS o WhatsApp instead of staying waiting on the call.
This asynchronous experience boosts customer experience and service because there will never be no calls or waiting on hold.