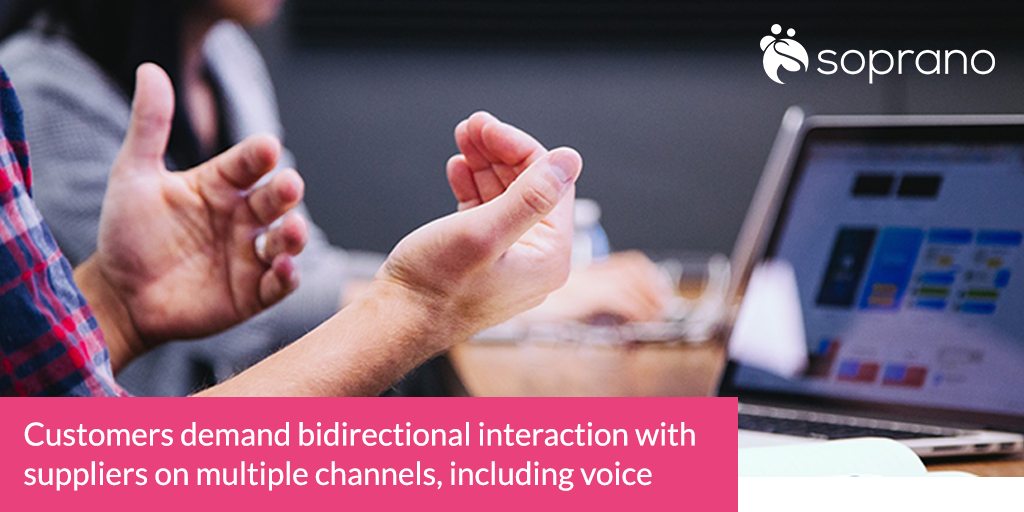 Consumers demand bidirectional interaction with their suppliers on multiple channels. Business communication usually begins with the consumer, but you can also generate significant interactions in the opposite direction. With bulk voice call, businesses can add an innovative, direct, personalized and efficient channel to communicate with their customers. Let's find out more.
Voice broadcast messaging can be used as an alternative to email or SMS communication but it can also be used to compliment the channels you're already using.
90% of consumers want to receive consistent interactions across multiple channels.
Advantages of bulk voice call
Generate a high impact on the recipient by allowing them to interact through an innovative communication channel.
Increase the trust in the company by delivering meaningful information in a timely manner and by allowing the recipient to interact immediately.
Improve the reputation of the business by offering a new channel, in a world where omnichannel is demanded.
Improve the consumer experience.
Reduce operating costs in making manual calls to deliver and / or collect information from consumers.
Bulk voice call key funcionalities
Bulk voice calls can offer a wide variety of features depending on how it has been implemented within an omnichannel communication platform.
These are the key functionalities of voice messaging as an enterprise communication channel:
Text-to-Speech: This is the ability to write a text that, when a call is made is delivered by voice. Within a well-implemented platform, personalization of the message should be allowed, meaning that the message can contain unique data for the recipient such as a name or invoice number
Pre-recorded audio: A Voice channel allows you to deliver a pre-recorded audio to the recipient at a when they answer the call. The main advantage to this is that it is a "human" voice that delivers the message.
Interaction through the numeric keypad (IVR): Within an automated Voice call, there is the possibility for the recipient to interact using the telephone keypad. This can be used to allow the recipient to choose an option or to enter some type of numerical data such as an ID or code.
Bulk voice call use cases
Bulk Voice calls can be used in many different industries when communicating with existing clients, potential customers or internally with employees.
These are some key ways companies use enterprise Voice messaging:
Confirmation, cancellation and rescheduling of appointments: Accurate appointment information can be delivered to recipients quickly and efficiently using Voice. Appointment dates, times and locations can be shared, and it also allows the recipient to confirm, cancel or request rescheduling right there and then
Customer relationships: Generic or personalized Voice calls can be created to share special offers, to encourage loyalty and to build relationships with customers
Satisfaction surveys: Voice calls can be used to survey customers who have recently used your product or service, allowing them to rate the service through the telephone keypad.
Anti-fraud: Voice can be used to send One Time Passwords (OTP)
Payment reminders: Voice calls can be used for payment reminders, clearly defining amounts due and contract expiration dates
Emergency plans: Emergency plans must always contain communication channels that reach those affected quickly and clearly. Voice can be used in bulk to communicate an incident instantly and accurately and to let people know what actions to take
How to send bulk voice call?
Omnichannel platforms allow businesses to reach out consistently across all channels and they also allow customers to reach the company using their channel of choice without affecting the quality of service they receive.
It's important to ensure this type of channel is properly managed, as with all communication channels. In order to see positive results, you must ensure you're always providing accurate and meaningful information to the right person meaning the recipient has made it clear that they would like to receive communications from you via this channel.
Soprano Design have been providing corporate mobile communication to businesses for 25 years. We understand the importance of providing an Omnichannel platform for organizations to establish Trusted Mobile Interactions with their consumers and / or employees. Our CPaaS platform has functionality for SMS, Email, IP Messaging and voice meaning you can use all channels in sync, together.
Our automated voice messaging solution includes all basic functionalities and we've also added extra key functionalities that massively increase its potential.
Soprano's long-term strategy is to promote the digital transformation of companies using attractive communications and channels so that their consumers and / or employees can interact. We support our customers every step of the way.
For more information or to discuss your organization's requirements, please contact our team.