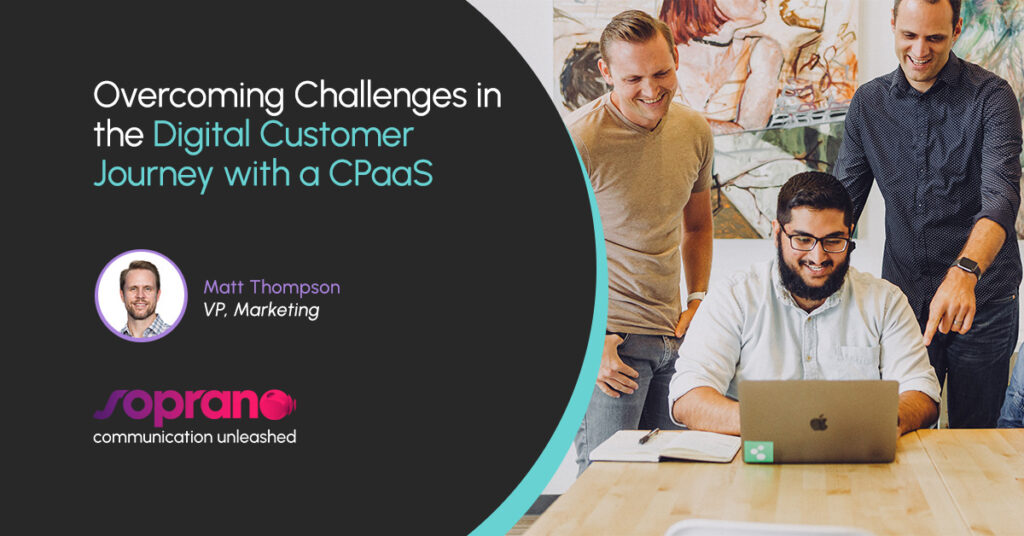 As technology has become more diverse and complex, so too have digital customer journeys. Brands now interact with customers, and customers with brands, on all manner of communication channels and devices, which, while exciting, has seen a greater array of customer journey challenges arising than ever before.
What exactly are these challenges, and how might a brand go about navigating them? Let's take a look.
The risks of applying traditional thinking to digital customer journeys
The big difference between today and yesterday is you need to consider how a customer wants to be engaged. If you're thinking about how to design a mobile customer journey, begin with where you think your customer would prefer to have a conversation. If you don't know the answer to that question, you need to ask them. If you can work that out the customer will be far more likely to engage with you.
If they don't want to talk to you on the phone then you probably shouldn't call them. On a mobile device, a one minute tutorial video might be a faster way to communicate with them than a text conversation. An integrated interaction is going to deliver a better experience (and can remain in real time) than an interaction where your products must be manually looked up or discovered.
Mobile devices present a way to have a meaningful, trusted engagement with a customer that builds a real relationship. The reverse can also be true: if the engagement isn't particularly meaningful, or not in the mobile environment a customer prefers, trust can erode.
The challenges of connecting with customers on mobile devices
The challenges on mobile devices haven't changed much in recent years. Some of the big remaining challenges on mobile are around security, privacy and compatibility.
Security: There are things that customers would happily do more on mobile devices if they could be confident of mobile communication security. Voting in elections is a good example.
Privacy: If privacy could be guaranteed, things like talking to doctors via a mobile device instead of in person would become more commonplace. One thing we will be watching carefully following this pandemic is the adoption of mobile tracking applications. These are very useful in helping virologists and healthcare officials isolate outbreaks, but they also present privacy concerns for participants.
Compatibility: There are some mobile capabilities that require better compatibility across mobile network operators (MNOs) and device manufacturers before they can become a reality. Rich Communication Services (RCS) and products like Apple Business Chat and WhatsApp Business are technologies that would vastly improve the customer experience, but have so far failed to explode due to an inability for MNOs and device and operating system providers to develop compatibility.

This lack of compatibility has seriously increased the costs and has fragmented the experience for both brands and customers. The current state of play means I might have to communicate with Coca-Cola in one place and Pepsi in another, even though I'm trying to have a similar interaction with both.
Choosing a CPaaS that can overcome mobile challenges
A robust CPaaS platform can help you overcome not only the challenges mentioned above, but others you may not have considered, including permissions management, consent, routing and archiving.
You'll want to partner with a CPaaS provider that has a proven track record working with large, public enterprise companies and government organizations, because they'll bring rigor and sophistication to the CPaaS platform at both the front and back end.
Large banks and healthcare organizations, for example, are required to adhere to regulatory, internal compliance and security standards, and they often take their partners through careful security and compliance reviews.
CPaaS platforms that have gone through these validation processes while supporting the needs of their customers can offer a comparatively quicker and more trusting path to brands wishing to build an engaging mobile customer journey, while also achieving the desired and necessary privacy, compliance and security standards.
The Soprano Design solution
Soprano Connect is Soprano Design's proven CPaaS platform. It currently supports major banks on four continents, one of the world's largest healthcare organisations, and has enabled complex communication solutions, integrated omni-channel solutions in logistics, Internet of Things (IoT) and mobile marketing activities for Forbes Global 2000 and Fortune 500 firms.
Soprano Connect is built on a promise of enabling trusted mobile interactions for its customers, and is sold independently in 13 countries and in partnership with major MNOs including AT&T, BT, Vodafone, Orange, Telstra and Starhub. Customers who choose Soprano Connect enjoy a leg up in terms of innovation, as the product supports a wide range of communication use cases.
Like almost all modern tech challenges, those presented by mobile customer journeys can be solved with a smart solution. A CPaaS represents just that, provided you choose it wisely.