CPaaS Providers: Why Should I Choose Business-Led over Developer-Led?
As the importance of customer and stakeholder engagement increases, so too does the importance of communication platforms as a service (CPaaS). In this piece we hear from a number of Soprano's resident experts, who share their knowledge on the two main types of CPaaS – developer-led and business-led – and offer clarity on the whats, whys and hows of each.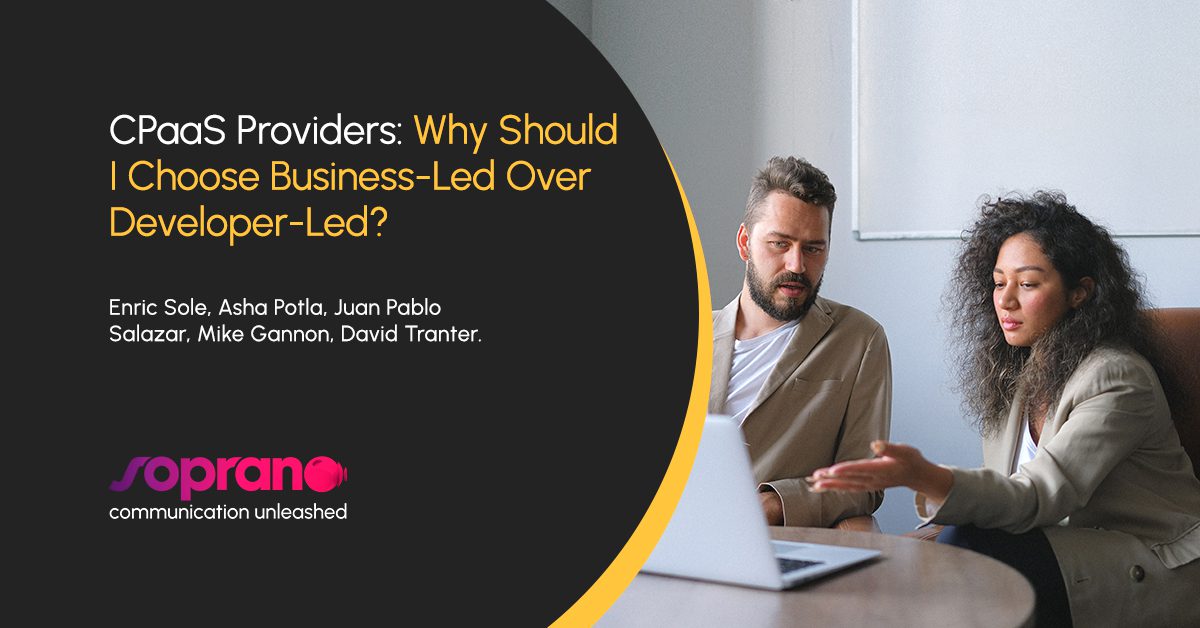 Within the communication platform as a service (CPaaS) world, providers can be placed in two main groups:
Dev-led CPaaS: Those that use APIs to purely provide integrated access to these platforms.
Business-led CPaaS: Those that not only provide access and use through APIs, but also provide automation and a web suite, with little to no coding.
Dev-led CPaaS vendors who provide access via API integration limit the ability of companies to use their services. They demand an investment of technical, human and financial resources, and the existence of an IT system that must be integrated into the communication platform.
What happens if a company does not have a system to integrate, or lacks the necessary human, technical and financial resources? These platforms simply do not provide solutions to communication problems. If anything they bring new problems.
A business-led CPaaS, on the other hand, allows any type of company, no matter its size, shape, knowledge or sector, to access and use its services.
I recently spoke to some of our internal experts at Soprano about the differences between developer-led and business-led CPaaS providers, in order to paint a clearer picture of exactly what each is, how each works, and who the customers of these respective providers might be.
What are the differences between dev-led and business-led CPaaS providers?
Enric Sole, VP of Sales for the EMEA region
"Basically, dev-led CPaaS providers demand that you build and control everything yourself. A business-led CPaaS platform on the other hand is largely managed for you. This frees you up to optimize its usage, making you more likely to produce the results your company needs."
Asha Polta, Director of Product Management
"Businesses who choose dev-led CPaaS vendors tend to develop their own logic within their business applications. Businesses-led CPaaS vendors, on the other hand, allow an organization to streamline their communication processes by focusing more on leveraging platform capabilities and application add-ons.
"Since the business logic resides within the business-led CPaaS platform, a business doesn't need to invest money and resources reinventing the wheel. They can simply leverage the platform via the portal or can automate their communications by integrating their business applications with low code or no-code APIs, ultimately achieving their digital transformation goals."
Mike Gannon, Global Product Owner of API Products
"When there's a developer-led internal project with a specific communication problem to solve, the developer will understandably select a dev-led CPaaS provider that fits their project best. But if an organization allows this to happen over and over again, senior business leaders will eventually realize they have a tangled mess of providers.
"This is often an organic process that begins at the startup or SME stage, when autonomy is high and internal processes are low, but as the organization grows into a large enterprise, the consequences of this CPaaS mess begin to bite. At these later stages, shifting to a business-forward CPaaS approach can see these platforms consolidate under a single supplier."
Who should choose a dev-led CPaaS provider? Who should choose a business-forward provider?
Enric Sole, VP of Sales for the EMEA region
"Tech startups and other high-tech companies should pursue a dev-lead CPaaS provider, while business-forward CPaaS providers tend to be for brick-and-mortar companies looking to understand CPaaS opportunities and best practices.
"With a business-forward provider, which usually includes a CPaaS integrator and a consultant, you'll get insight on best practice, and will be more likely to capitalize on the endless possibilities of CPaaS: reduced costs, and increased revenue, loyalty, margins and more!"
Asha Polta, Director of Product Management
"The speed of technological innovation means that it is impossible to keep up on your own. Major CPaaS providers leverage the latest technologies, granting users new ways to engage with their customers.
"The main difference between dev-led CPaaS vendors and business-led CPaaS vendors is that dev-led focus more on providing technology, tools and applications that make developers' lives easy, while business-forward CPaaS vendors focus on the development itself and solving customer problems.
"This means that businesses with deep technology expertise tend to go with dev-led CPaaS vendors, as this decision is driven primarily by technology goals rather than business goals. Smaller and more agile businesses with less in-house expertise, on the other hand, choose business-led CPaaS vendors.
"Business-led CPaaS providers are leading the way in educating businesses on how they can leverage digital transformation to engage their customers in a more meaningful, trusted and engaged way, which will increase customer engagement, satisfaction and ultimately sales. They help businesses solve their communication problems, rather than simply developing IT systems that allow the business to do it themselves.
"In my opinion businesses should always choose business-led CPaaS vendors rather than go with dev-led CPaaS vendors. Why? Businesses are almost always better placed when they focus their efforts on solving business problems, rather than focusing their efforts on developing the technology that allows them to solve business problems."
David Tranter, Director of UK and Ireland
"Dev-led CpaaS providers fit well with dev-led companies who develop and sell software solutions as their main area of business. Business-led CPaaS providers suit any organization where software development isn't the primary focus, as these organizations recognise that CPaaS is not their core skill set. These organizations often require far more from their CPaaS solution than dev-led companies, needing it to interact with many parts of the organization."
If in doubt, choose business-led
The great advantage that a business-led CPaaS solution offers is that it is designed to adapt to the needs of the company, rather than a company having to adapt to it. With development taken care of, implementation times are greatly reduced, as are the need for specific tools and skills. Add in low- or no-code automation capabilities, and business-led solutions begin to look like the Holy Grail of CPaaS technology.
That's exactly what we've aimed to deliver with our business-focused CPaaS solution, Soprano Connect. It is designed to adapt to each sector, each company, each agency and each use case. Connect provides a perfect balance between 100% integration access, web suite and automation with no or low encryption, and we see it as representing the future of CPaaS – one that is innovative, exciting, and far more equitable.