How To Ensure your Mobile Communication Security And Why is Important
Communication Security is an absolute must for businesses. We've seen several breaches tied to mobile messaging across the world recently, all of which have very negative (often ruinous) effects on the organisations they target. It needs to be treated just like any other aspect of your cyber-security. Here is why mobile message security is a business imperative, and the basic measures you can take to ensure yours.
Category:
Mobile Messaging
Subject:
CPaaS Platform, Secure Messaging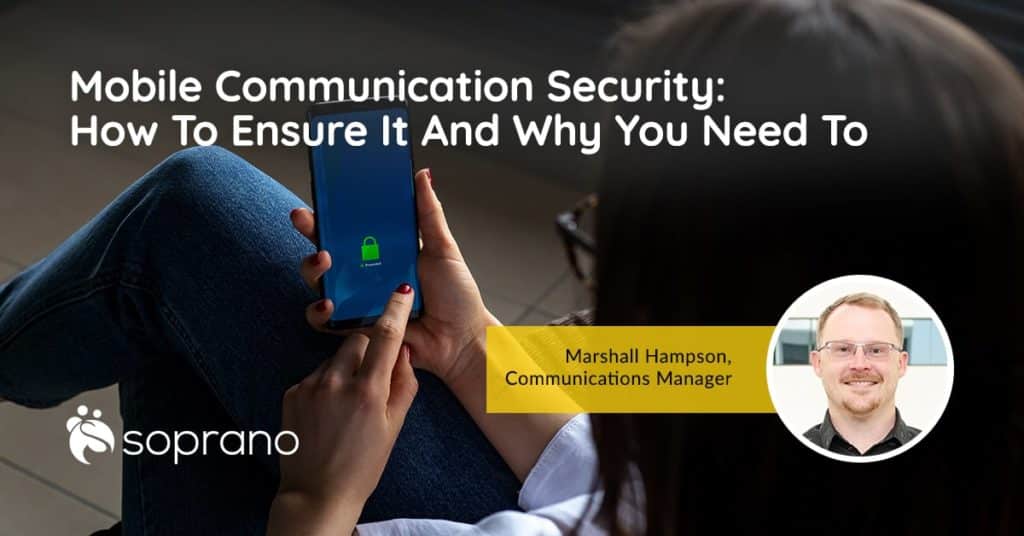 The unfortunate reality is that no matter how strong your business security is, you're always at risk of a cyber breach. I've worked with the cybersecurity industry for many years and I've seen some exceptionally skilled hackers in my time.
However, there are numerous measures a business can take to drastically reduce their chances of being an easy target of a cyber-attack, and this includes paying strong attention to data and communication security.
The damaging effect of mobile-related cyber breaches
We've seen several breaches tied to mobile messaging across the world, including some of our own competitors, in the last few months. Such breaches have very negative effects on the organisations targeted.
The immediate effect is the interruption or complete halt to mission-critical applications, leading to loss of revenue, trust and engagement. And in the long term, the damage can be vast and destructive. Both the mobile message creator and deliverer will see these negative consequences.
A non-quantifiable effect is the immediate and lingering reputation damage. Now customers, partners and the public can't fully trust your brand. On top of that comes massive security fines, cyber insurance costs (if you're lucky enough to have insurance!) and/or a further loss of revenue from long-term harm to your business brand.
Mobile Communication Security is a baseline, not a nice-to-have
The industry has done a much better job in the last few years of making sure users feel safe. It's not a perfect world and may never be, but making the job hard for the hackers is the end-goal.
As things like the GDPR and CCPA regulations came in, consumers started to learn where their messages, data and information was being held and how it was used. Now, people expect message security. It's not just a nice-to-have, it's a baseline.
Consumers, especially patients, need to make sure their communications are private, and/or they understand exactly how the data they are sending and receiving may be used.
A few tips to protect your business
I've often heard from some of the best hackers out there that companies forget to secure the basics. Every business should start with securing all the basics and work their way up towards all the endpoints.
For example:
Don't trust every single cybersecurity vendor to solve your problem
Secure things like firewalls, endpoints, servers and devices
Encrypt devices, messages and data
Train people on cybersecurity
If you're wondering why we're talking about security more broadly than just mobile messaging security, then you need to remember your business is only as secure as your weakest link.
Any external companies you partner with should follow the same standards of cybersecurity that you do, and all GDPR requirements. Getting cyber insurance is highly advisable too.
Finally, it's important to begin penetration testing by hiring hackers to try and hack you. If they can't or have a REALLY hard time doing so, you'll know you've built a secure infrastructure, mobile message security included.
Soprano takes care of your data and mobile Communication Security for you
Soprano is a global brand, with great data sovereignty, transmission, encryption, access control and hierarchy procedures in place for mobile messages. This builds a solid foundation for the superior communication security needed and expected from consumers.
We pride ourselves on having the latest ISO certifications, but as we've learned in the last few months, our industry can come together to build an even stronger and more secure community.
For more about message security processes and how Soprano can help your business stay secure, visit: https://www.sopranodesign.com/security/.