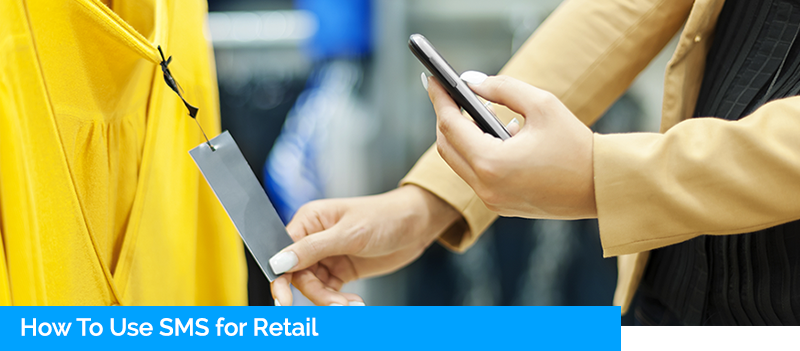 The humble text message, SMS has been with us over 2 decades.
SMS is proving itself as an effective enterprise tool. It addresses all the needs – it's on every device, it's ubiquitous, it's immediate, people respond to it, and it provides higher engagement with key stakeholders.
With 98% of text messages being read within the first few seconds of being received, SMS is a reliable solution for retailers to reach customers and employees.
Here we share 3 ways to use SMS for your retail business.
1. Location-Based Offers
Interested in a method to maximise your sales? Of course you are!
Welcome to the next generation of consumer engagement – send SMS alerts to reach customers when they are close to your retail store with a tempting offer to lure them to make a purchase. Consumers are much more likely to buy when they are aware of deals close to them.
Select an SMS solution that offers geo-targeting functionality so you can send relevant and targeted offers based on your customers' profiles.
2. Fill Shifts Faster
Did you know that SMS is a more efficient staffing solution?
Whether you need more staff for a busy period or to find someone to cover a sick employee, SMS is more effective than calling people individually or sending emails.
Automate your staffing process by creating your messages, templates and worker group lists in advance, send automatic text messages as shift offers to candidates, track confirmations and declines and send SMS reminders to those awarded the shift.
Most importantly, when selecting an SMS staffing solution for your business, make sure it integrates with your existing HR systems. Worthy options enable you to integrate SMS into your business with minimal disruption.
3. Manage High Volume SMS Marketing Campaigns
There is very little point in implementing a business SMS solution that doesn't provide an intuitive management platform.
Create opt-in SMS programs, mobile coupons, and discount offers to one or many contact lists. Automate and manage SMS campaigns online, upload and add contacts as well as create templates in advance. Use SMS to notify customers of important account information and even allow customers to use their mobile devices to update their own contact information.
Finally, ensure you have full visibility on your efforts through powerful reporting. Track and measure the success of your SMS campaigns and improve performance with real-time reports.
Start Using SMS for Retail
So there you have it – 3 ways you can use SMS for your retail business.
A good mobile messaging solution should help you reach your key stakeholders quickly, integrates with your existing systems and is easy to use and manage.
At Soprano, we offer SMS business messaging solutions for retailers and merchandising organisations that integrate with IT systems. Our software platform delivers message volumes in excess of 50 million mission-critical messages a month worldwide, handling volume spikes whilst maintaining low message delivery latency and high platform availability.
Discover our SMS solutions for your retail business.