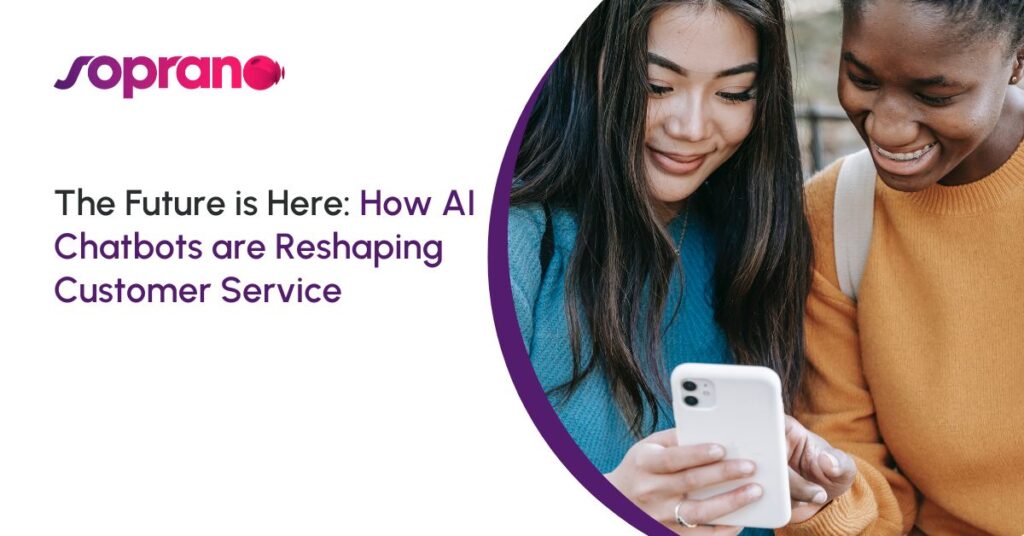 Customer service departments are under a huge amount of pressure to do more with less. Conversational AI technology – in the form of chatbots – is increasingly being introduced by businesses, to enable their customer service teams to automate repetitive tasks and provide a seamless customer experience.
According to Netomi, more than 65% of people have higher expectations for customer service today than three to five years ago.
Customers are demanding a more personalised customer service experiences across various digital channels and the traditional communication channels of phone, email are no longer enough. They are looking for simply to use digital channels that work best for them – live chat, social media, and messaging apps – to have their enquiries answered in real time.
Here is when Conversational AI chatbots come in.
Business leaders are demanding growth and improved efficiency across the organisation. AI chatbots are a scalable, interactive and cost-efficient customer service channel and can therefore enable customer service departments to deliver their departmental goals against the broader business objectives.
By leveraging conversational AI chatbots, you can stay ahead of your competition, meet the expectations of your customers and deliver exceptional experiences across a range of digital channels.
The Future of Customer Service
Imagine a world where your customers receive personalised, effective, and relevant interactions every time they interact with your organisation. A world where your business uses advanced technologies driven by artificial intelligence, analytics, and automation to provide a consistent and outstanding customer service experience.
According to research, by 2023, 45% of Global 2000 B2B and B2C enterprises will include personalisation in context-based customer engagements using AI, big data, and conversational computing technologies.
What does this mean for your organisation? How can you stay ahead of the curve and deliver the personalised experiences that your customers expect?
According to Salesforce customer service is a consumer priority. They report that 48% of customers have switched brands for better customer service, and 94% say good customer service makes them more likely to make another purchase.
Technology is changing the definition of good customer service experience. Just five years ago, few customers would have expected to communicate with businesses over SMS or messaging services from their mobile phones. Now, consumers want to use those applications in all areas of their lives, including customer service communication.
Consumers are seemingly more open to proactive outreach – whether being invited to join a customer loyalty program or being reminded about an appointment – if those reminders, confirmations and invitations are being communicated in their preferred channel.
Delivering personalised experiences can be challenging. The same report shows that 73% of customers expect companies to understand their unique needs and expectations, yet 56% say most companies treat them like a number rather than an individual.
Balancing customer expectations for personalisation and speed also presents customer service teams with a challenge: How to increase productivity without burning out customer service agents. Automation of common tasks and enquiries can alleviate this challenge.
Process automation has now been integrated in nearly four-fifths of service organisations, but is especially prevalent in high-performing teams. Saving time on low value tasks is the most apparent benefit for automation users, followed closely by connection with other departments and error reduction.
Artificial intelligence (AI) is increasingly being introduced as an important element of a customer service toolkit. The share of service decision-makers who report using AI has increased by 88% since 2020, from 24% of respondents to 45%. Artificial Intelligence can gather key information for agents and automatically recommend next steps, helping organisations to deliver more personalised and relevant interactions with their customers.
The future of customer experience is full of opportunity and potential for companies that embrace change, adapt to evolving customer expectations, and use advanced technologies to provide outstanding, personalised service.
Keep reading to find out how Conversational AI technology can enable change within your company.
Advantages of AI chatbots for customer service
Launching a customer service chatbot can help to deliver against the organisational goal: How can we engage with our customers more effectively?
By utilising a chatbot, many of your customers will find their questions addressed by the responses provided and will be less likely to require further support.
Improved customer satisfaction resulting from faster service via automation will in turn, free up your customer service team to invest more time on the cases that require more attention. This will enable your organisation to improve its customer service reputation and ultimately drive future leads due to positive interactions with your brand.
Chatbots for customer service are efficient
Many queries that customer service teams handle are repetitive, forcing teams to copy/paste the same answers day after day.
With a chatbot, the customer can ask questions using natural language and receive an automated answer instantly, freeing up your teams to work on high-value interactions.

Chatbots make you always available
83% of customers expect to interact with someone immediately upon contact and to resolve complex problems through one person.
Prior to chatbots, the ability to provide a 24/7 customer support network was limited only to corporations with sufficient budgets. Chatbots provide round-the-clock support, improving customer satisfaction and retention. They can also handle enquiries in multiple languages, improving accessibility for many more customers.

Chatbots allow you to escalate your customer service
Using traditional customer service methods during periods of high demand requires additional resources – more staff, more desks, more hours.
Chatbots can handle 1,000s of customers contacting them at a single time. As your business grows, your chatbot can keep up with demand without increasing resources.
40% of web users don't care if they are served by a bot or a human agent as long as they get the customer support services they need.

Hubspot
AI chatbots vs Live Chat: Which is Better for Customer Service?
AI chatbots are an improved, automated version of live chat technology, which historically have required multiple resources, agents and time to manage. Chatbots can automatically and more efficiently answer the same questions your customer service agents receive through live chat.
Chatbots can be trusted as the go-to source of easy-to-access information, answering FAQs instantly. From time to time, your chatbot might be asked an extremely complex or deeply emotional question. In these situations, having a live chat agent on hand to be able to step in provides a streamlined experience for the customer.
Looking for chatbots for customer service? How to choose the right provider for your organisation
As a well-established and global communications-as-a-service (CPaaS) provider, Soprano includes AI chatbots as part of their end-to-end communications solution. This enables our customers to introduce AI chatbots into their overall communications strategy.
We believe that Soprano's Conversational AI Solution contains all the very best features of any AI chatbot platform: RPA features to improve AI chatbots' processes, multilingual capability and the ability to connect to any third-party software, channels and data sources. It also contains live-chat and ticketing features and Soprano's own proprietary natural language processing service.
The whole solution is presented in a no-code, easy-to-implement and user-friendly software and includes an additional layer of functionality specifically designed for large organisations. Authorised users can administer and manage their regions, teams, business units, staff and clients to self-develop, deploy and maintain solutions at scale.
Our product can also be white-labelled and deployed either on-premises or on the cloud (AWS or other), and is entirely driver-based. Our conversational AI platform is so configurable, modular, and extendable that we believe it can be tailored to all of your business needs.