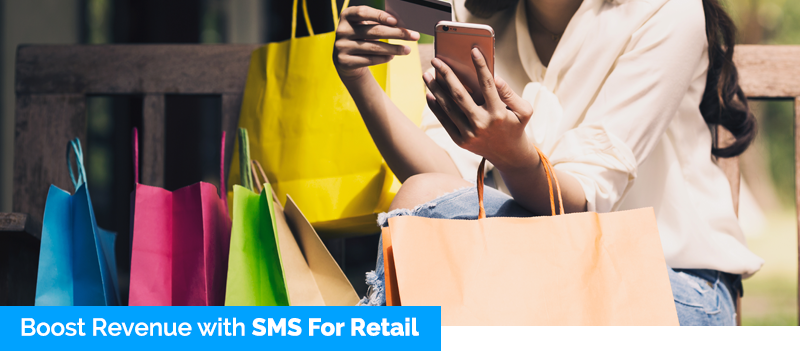 Today no bricks & mortar retailer can survive without an online presence, especially when price-conscious customers are seeking out online discount codes to reduce costs.
Recently a large retailer noticed that they were generating a high rate of cart abandonment from lower-priced merchandise. After analysing this further, they discovered that the main reason for abandonment was delivery cost.
To address this they utilised their stores all over the country, offering customers free collection from a store of their choice if they purchased their item online. Whilst this reduced the number of carts being abandoned, this was only the start of their journey to maximise sales – by turning to the power of a simple text message.
How Integrated Messaging Benefitted The Retailer
The retailer integrated SMS messaging using an API into their in-store delivery system. A text message was sent to the customer notifying them that their purchase was ready for collection and would be held in that store for 23 days.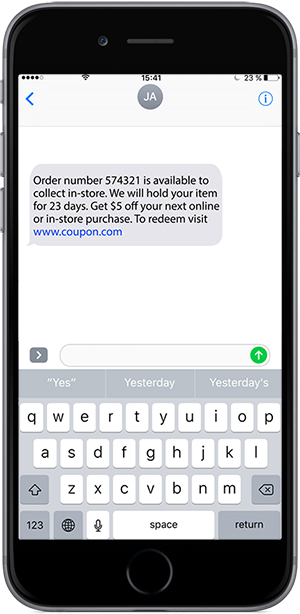 Making it easy
As the retailer tracked the customer journey they noticed a rise of uncollected goods within 23 days. So they sent another reminder text after 18 days to notify the customers that they only had 5 days to collect in-store. This simple reminder reduced the number of uncollected products to just 5%. This is because 97% of SMS are read within 3 minutes and have a higher success rate than email. The retailer was also able to optimise their storage space and add new merchandise to their product inventory.
Increased sales
Data showed that whilst picking up the products they'd ordered online, customers would browse around the store and in complement their purchases with additional goods and accessories. To further increase revenue, the retailer launched an offer providing a $5 discount off of their next purchase, which was delivered by SMS. Customers would click on the URL link in the text message to redeem the coupon. Additionally, they also included a promotional coupon with the SMS reminder on the 18th day with $10 off of their next purchase. The combination of a simple SMS reminder and a promotional coupon had a positive effect towards the retailer's bottom line.
Upsell opportunities
The retailer continued to innovate by proactively suggesting products that would complement their purchases. Offers were mixed with high-value items in an effort to upsell products. Implementing these type of upsell offers via text message gave a significant boost to the retailer's revenue figures.
And the final part of the customer journey was that the day after a customer redeemed a coupon in-store, they were sent another text message with a time-bound '$5 off your next purchase' offer which they could either redeem online or in-store.
The key success of this retailer was that they successfully bridged the online customer journey with the in-store experience by sending SMS messages at the right time to engage the customer and tempt them towards additional purchases with an appealing offer.
Ready to start maximizing your revenue potential with integrated messaging? Discover how our mobile enterprise solutions can help.