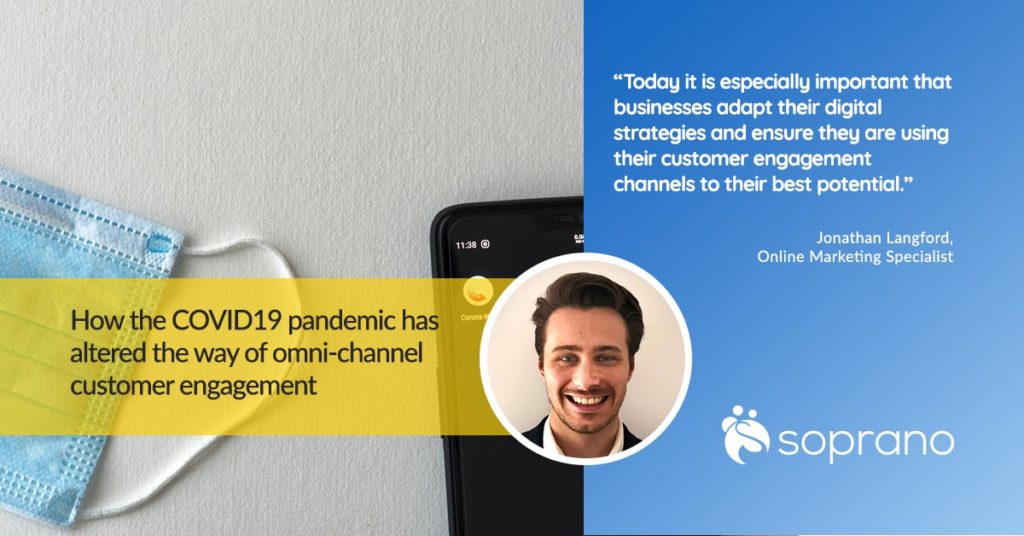 Learn why its important to avoid customer frustration
Research by CMO Council shows us that 73% of customers are getting frustrated when their core needs are not being met, and they cannot escalate to a traditional channel. If their needs are not met, consumers are often considering to move on and spend their money elsewhere. It seems that with the impact of COVID19 customers are using digital channels more and more, although with the new normal, they are often getting frustrated when the have exhausted the use of email, text, web, social and chatbots, and cannot escalate to a live person. Today it is especially important that businesses adapt their digital strategies and ensure they are using their customer engagement channels to their best potential.

Improve your omni-channel customer engagements
It's important that businesses strengthen their digital omni-channel customer engagement so that consumers can digitally and seamlessly self-serve while always having the option to escalate to traditional channels such as a live agent, if and when needed. Research by CMO Council explains that 65% of consumers feel that brands have not been exceeding expectations during the COVID19 pandemic. Businesses must implement CPaaS customer engagement channels in order to provide consumers with the best user experience when dealing with their brands.

Deliver improved customer engagement
In today's age, especially with the impact of the global pandemic, it is more important than ever to be where your consumers are. Statistics show that 87% of consumers find it frustrating when having to repeat themselves in multiple channels. The fact that consumers interact with a variety of communication channels on a daily basis, means it is vital that businesses offer seamless, personalised omni-channel customer engagement and experience throughout every channel of engagement. It is important businesses focus on implementing these core attributes to their business strategies to avoid customer frustration and brand abandonment.

Giving your customers the best experience
Great experiences help businesses earn more than just sales, they also build relationships. Customer experience should be at the top of every organisations check list. Research by Salesforce states that 85% of business buyers believe that the customer experience a business provides, is as important as it's product or service. A business could have the best product in the world, but without a great customer experience, this product will likely fail to generate high sales. This has become especially important during the COVID19 pandemic, as consumers are buying online more than ever. It is important organisations have well implemented customer engagement channels, and easy user experience when navigating around their website.

Make your Virtual Engagement Count
Virtual engagement is replacing face-to-face interaction. Workforces are becoming more remote and customer engagement is going online. This means that it is vital that businesses master virtual communication with the right tools ensuring they don't lose that all-important omni-channel customer engagement and employee connection. Salesforce Research shows that Text/SMS, video chat and messenger apps like WhatsApp, made their debut on the list of customers' 10 most preferred channels in 2020. This means that organisations need to be at the fore-centre of these customer engagement channels. Ensuring that when consumers need to get in contact, they have a seamless way of doing so.
How Soprano can help businesses avoid customer frustration with CPaaS Customer Engagement
Soprano Connect is Soprano Design's proven CPaaS platform. It currently supports major banks on four continents, one of the world's largest healthcare organisations, and has enabled complex communication solutions, integrated omni-channel solutions in logistics, Internet of Things (IoT) and mobile marketing activities for Forbes Global 2000 and Fortune 500 firms. Soprano Connect is built on a promise of enabling trusted mobile interactions for its customers, and is sold independently in 13 countries and in partnership with major MNOs including AT&T, BT, Vodafone, Orange, Telstra and Starhub. Customers who choose Soprano Connect enjoy a leg up in terms of innovation, as the product supports a wide range of communication use cases. Like almost all modern tech challenges, those presented by mobile customer journeys can be solved with a smart solution. A CPaaS represents just that, provided you choose it wisely.