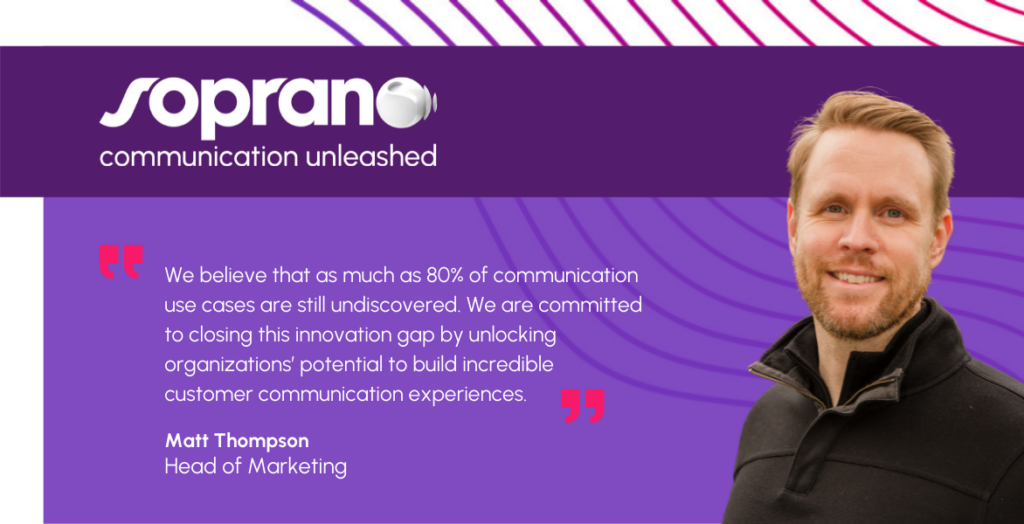 Communication has the power to transform the world for individuals, businesses and the governments that serve them. But as the world becomes more complex and changeable, communicating well is getting harder.
As organizations come to rely more on technology to help them communicate, it begs the question: are we realizing the full benefits of communication or are we getting further away from the kinds of connections people seek?
That's why, after 28 years of solving complex communication challenges for our customers, we're ready to take the Soprano brand to the next level—and we're excited to formally announce our new visual identity and renewed commitment to solving the challenges of tomorrow.
Pioneering the future of meaningful communications
We've honestly had a blast being the 'brand-behind-the-brand' for the top global governments, healthcare organizations and businesses—and we're proud to be a trusted partner to some of the world's most visionary businesses and mobile network operators.
Our rebranded visual identity reflects our historical greatness while showcasing a new energetic style, culture, and passion. By reorienting our internal values to align to a customer-centered approach, this moment represents a great opportunity to stand out in the CPaaS industry and reach even greater heights with our current and prospective customers and partners.
With a new strategy that articulates our ability to decode our customers' communications ambitions, we're dedicated to enabling our partners to realize true value for their customers. We've been an industry pioneer, but it is through a what-have-you-done-for-me-lately world and solving our customers' needs of the future that our new brand will thrive.
We know that communication can be a strategic advantage, and that communicating brilliantly can be challenging for organizations. But we also know there's so much more opportunity to be identified and unlocked—that's why our mission isn't just to release the full potential of CPaaS technology, it's to release the full potential of communication itself.

We're committed to closing the customer communications gap
Our CPaaS industry is gaining steam, and in the market we all pride ourselves on delivering technology built for the future of communications, but the industry as a whole still struggles to paint a truly exciting picture of the future.
Several CPaaS analysts have estimated that around 80 percent of communication use cases haven't yet been conceptualized. The only way we unlock that 80 percent is by unlocking organizations' potential to build incredible customer experiences, and Soprano is committed to closing this gap.
We understand that technology promises much; but without the right insights driving actions, businesses are struggling to unlock the full potential of it. And the reality is that—amidst an oversaturated market of brand messages—customers, employees, and citizens are beginning to feel distanced by the mechanical, impersonal way they receive information from the organizations they trust.
We believe that the right communication, in the right place, at the right time, can enable a brand to build more trusting relationships with its customers, fostering loyalty and growth. And as we move into this new phase with a renewed vision, we're excited to lead in innovating the way businesses engage their customers in a meaningful way.
Soprano holds some of the world's largest communications deployments across multiple verticals and there's still so much more work to do as the world desires to connect in more meaningful ways.
Thank you to all our employees, customers, and partners for being on this journey with us. We're proud of where we've been, and we're excited for where we're going.