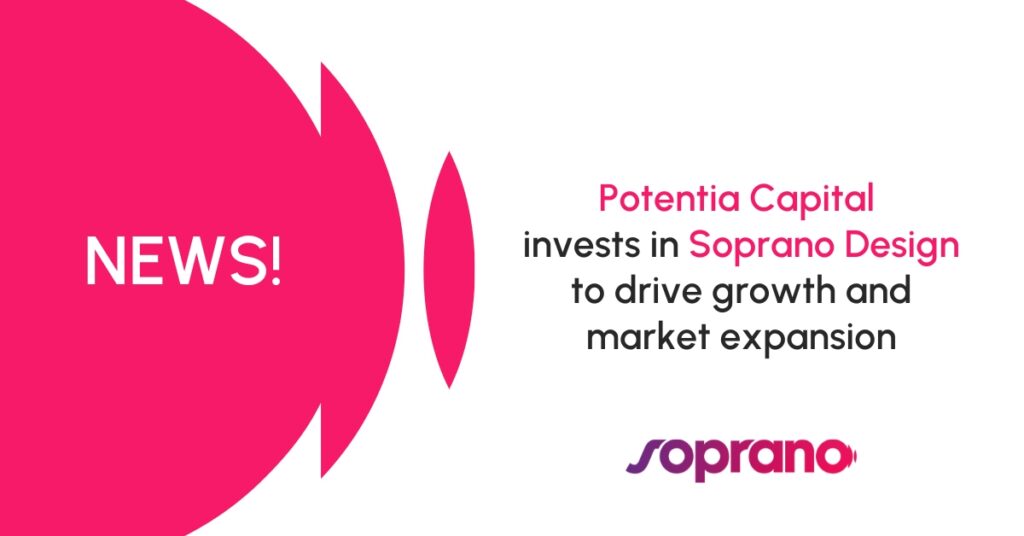 Potentia Capital ("Potentia") invests in Soprano to drive growth and market expansion.
Soprano is a global communications platform as a service (CPaaS) that unleashes the potential of over 4500 enterprise and government customers who want to create positive emotional experiences for their customers and citizens using the latest mobile communication technology and Artificial Intelligence
Potentia has significant experience with enterprise software companies and Potentia's Andrew Gray and Amit Chand will join the Soprano Board
Soprano, a leading Australian founded and headquartered global communications platform as a service (CPaaS), has today announced that Potentia Capital has invested in the business.
Soprano enables enterprise and government organisations to unleash the power of connected and contextual communication. Soprano supports collaboration where, in a world of connected devices, a new generation of programmable communication services are created by leveraging AI, 5G and data profiling. Soprano software delivers smarter, more intelligent and contextual communication and hyper-personalised social interactions.
Soprano connects enterprise applications and IoT devices, with customer data to provide positive emotional experiences with citizens and customers while delivering trusted and contextual communication to machines.
Soprano offers the full range of communication channels including: SMS, over-the-top messaging (e.g. Whatsapp), rich communication services, voice, chatbot and email. Soprano's customers benefit from highly efficient and timely communication with their end customers driving productivity into business processes.
Soprano was founded in 1994 by Dr Richard Favero. Richard has always believed the future is clearer when inspired by customer aspirations. In turn, Soprano software is elegant and makes it simpler and more cost effective to do what customers want over a long period of time better than its competitors. Soprano serves 4,500 clients around the world managing more than 10 billion interactions/messages per annum.
Dr Richard Favero, Founder and CEO, said "Soprano has been fortunate to have supportive long term shareholders since incorporation . As an organisation that has maintained our leadership position in technology and innovation we are confident that Potentia will be an excellent partner to support our ongoing market and product expansion. Potentia has significant experience with enterprise software companies and I look forward to working with the Potentia team on accelerating growth and continuing to improve our offering to enterprise and government clients."
Amit Chand, Investment Director at Potentia Capital, said: "We are very excited to support Soprano in its next phase of growth. We have tracked the CPaaS sector over a number of years and have been highly impressed by Richard and the broader Soprano management team. They have built an exceptional product that serves Tier 1 customers around the globe and has significant scale. We think the company has significant potential and with our proven track record in driving growth and building competitive advantage we look forward to supporting Soprano continue its leadership position."
Potentia's Andrew Gray and Amit Chand will join the Soprano Board as Directors.
Soprano was supported by HSF. Potentia was supported by Johnson Winter Slattery and EY.
About Soprano
Soprano Design unleashes the communications potential of our more than 4500 enterprise and government customers. Our technology, processes and people design and use the latest mobile and AI technology to design communications that assure positive emotional experiences for customers and citizens.
Our technology improves project success and assures data security in this privacy and digital transformation world.
Soprano provides global connectivity to mobile devices, access to its Soprano Connect portal to manage the delivery of communications and leverages artificial intelligence to improve customer and employee experiences.
Over 70% of Soprano's business is conducted outside Australia in Asia, North America, South America and Europe
Soprano's flagship product, Soprano Connect, is an award-winning CPaaS platform that helps customers to strategically integrate email, SMS, voice, conversational AI, IP messaging and social channels such as RCS, WhatsApp and Google Business Messages into a seamless secure omni-channel business mobile messaging experience. Visit sopranodesign.com for more information.
About Potentia Capital
Potentia Capital is an Australia and New Zealand middle-market technology specialist investment firm. Potentia focuses on making investments in Australian and New Zealand headquartered middle-market technology businesses. Potentia's investments span software, tech-enabled services and technology companies focusing on proven business models. Potentia raised a $458m Fund 1 in 2019 and is currently investing its $635m Fund 2 raised in 2022.