Soprano Design is now qualified to provide secure mobile messaging via government information and communications technology (ICT) contracts in Queensland, Australia, via the Chamber of Commerce and Industry Queensland's QAssure program.
A bit more on QAssure:
"QAssure is managed by CCIQ – Queensland's peak business body – and the Queensland Government.

QAssure is the first step in the revised GITC accreditation process, and also seeks to easily connect qualified ICT suppliers with public and private sector organisations seeking their services.

Our approval is not given without considerable checks and balances. Only ICT suppliers that are credible and fit for purpose are accredited. As a result, our QAssure tick of approval gives vendors confidence in the quality and service they'll receive from the businesses we list."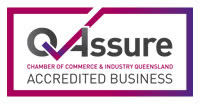 Our products form the only accredited solution for Queensland government that provides encrypted mobile messaging, workflow messaging with forms, and location-enabled messaging with system integration.
SOPRANO MEMS is used today by over 1,000 government and enterprise customers around the world for enterprise mobile text messaging. The platform is deployed as a proven, scalable, carrier-grade software system with a demonstrated ability to handle volume spikes and maintain low SMS and MMS message delivery latency and high platform availability.
We've also recently added Soprano GAMMA, a highly secure, agency-grade mobile messaging app that delivers secure messaging over IP while preserving SMS capabilities for global reach. GAMMA keeps the best capabilities of consumer messaging apps while embedding and securing critical business processes and workflows.
Want to take advantage of the new accreditation to leverage encrypted mobile messaging technology for your agency? Check out our supplier details on the QAssure website, then take a look at our secure messaging for government.