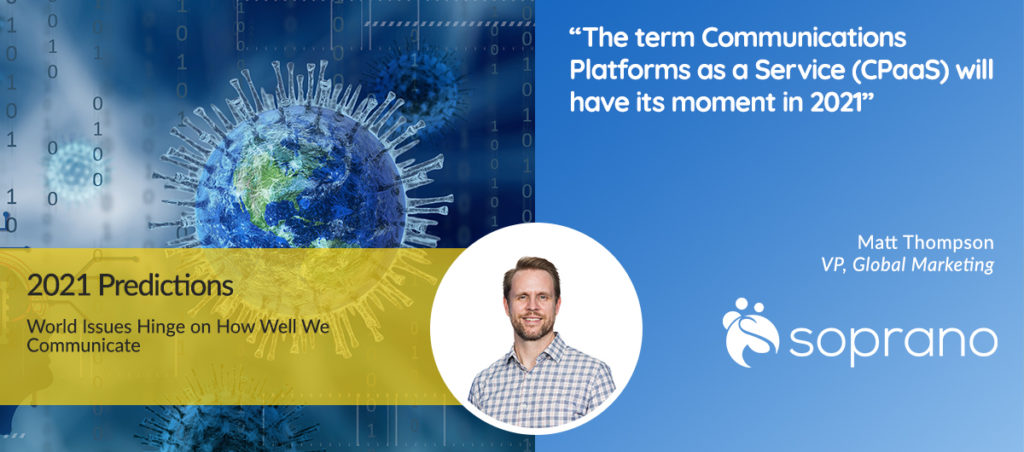 Last year was an impossible year to predict – delivering huge health, civil and business challenges on a scale the world was not ready to handle. Aside from finding innovative ways to 'keep the lights on,' COVID also presented a chance for people and businesses to pause, reflect and think more deeply about the future they wanted to build.
Looking ahead, what does 2021 hold for organizations in what remains to some extent, an uncertain world? Here are enterprise messaging trends that Soprano expects to resonate over the coming year.
The term 'CPaaS' will become a common industry term
The term Communications Platforms as a Service (CPaaS) will have its moment in 2021, similar to how the term 'Internet of Things' (IoT) had its moment a few years back when it finally unlocked the imaginations of buyers who were mystified by previous labels such as M2M (machine-to-machine) or telemetry to describe powerful applications such as Smart Homes and Smart Cars.
For years, buyers of communication technology have been challenged to find their way to the best adapted and market-leading solutions. The terminology such as application-to-peer (A2P), communication API or enterprise messaging or were either too generic or too obscure for them to feel confident they had really found their way to the best available solutions for their needs.
In 2021, buyers and suppliers of communication technology will finally coalesce around the term 'CPaaS' to describe the multi-channel mobile messaging capabilities they are seeking, and the term 'CPaaS' will begin to yield very good guidance for buyers searching online search engines, making inquiries with analyst firms, designing communications into their integration projects and creating innovative mobile communication solutions.
New types of Emergencies Will Speed Up Communication Tech Investments for Enterprises
From a business operations perspective, emergency preparation has quickly moved up the priority list for businesses. The global-scale health scare is a major factor, but 2020 also brought climate-based tragedies to increasingly large population sizes and new pockets of civil unrest.
Businesses will seek communication technologies that have proven to be capable of implementing best practices for business continuity planning, such as tactics used for weather emergencies, service disruptions, route redirects, building evacuations, and more.
In these situations, there is very little time to gather up lists of recipients, write messages, get policy and legal approvals and other activities for smooth coordination to maintain operations.
Firms that have a communications tool that can be set up in advance with lists, messages, policy approvals, etc., will have an advantage and data shows that the damage caused by an incident is drastically reduced with proper preparation and efficient, orderly communication during a crisis.
Education & Awareness Programs Will Increasingly Benefit From Mobile Communication
Mobile messaging is the quickest, and often the most effective way to send critical information from a sender to a recipient. Mobile enables recipients to opt into their trusted sources for information and educations, whether it's receiving messages from an agency or healthcare provider or an entertainment brand, and people are more receptive to the information and instructions contained within the messages from the organizations they seek themselves.
Savvy organisations will increasingly turn to CPaaS channels such as SMS, Voice messaging, WhatsApp, and other mobile social channels, not just to deliver their products, services and programs, but also will use these CPaaS channels to run ancillary education and awareness messaging around those same products, services and programs.
For example, across the world, countries have already made some early mistakes on distributing the COVID vaccine. Mobile messaging can play a critical role in educating participants in the process on the supply and demand side and can be used to build trust in the vaccination process and programs.
Mobile reminders can ensure the second dose of certain vaccines is administered within the specified timeframe, and automated voice and text messages can be used for promoting public health and wellness programs.
Similar tactics will be leveraged in other industries that have been accelerated by the pandemic, such as telemedicine where it is needed for educating patients and doctors on how to prepare for a productive video medical appointment.
Blockchain will begin to be integrated with Communications technology
Blockchain has been successfully deployed for cryptocurrency and has been adopted in the finance industry, but 2021 will be the year where Blockchain crosses the chasm into communication technology.
The driving factor will be identity, at least initially. Blockchain enables new ways to ensure that the details of personal identity are not required for user authentication, which means a person's personal identity can be provided to trusted entities and then accessed via blockchain authentication by other entities without those details being passed along.
Other use cases for blockchain are emerging. For example, Ernst & Young have begun using blockchain for patient tracking in healthcare with the COVID vaccine distribution.