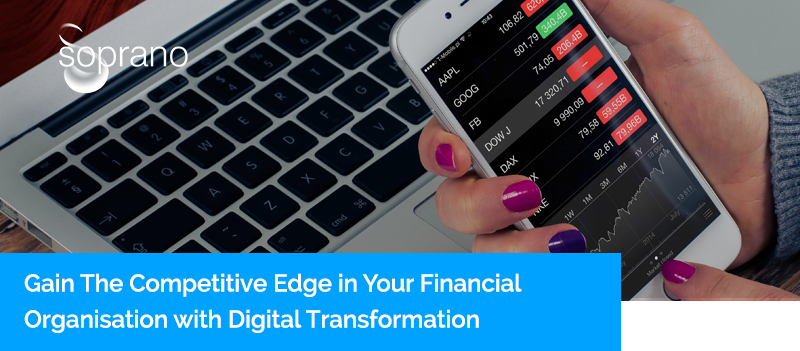 To stay ahead in the cut-throat financial services industry, firms need to digitally transform or they will perish.
By embracing digital transformation, financial institutions can improve their overall performance, both in productivity and revenue.
At Soprano we believe a successful digital transformation strategy aims to provide more meaningful interactions with employees, customers and other key stakeholders. We call each of these interactions a Moment of Truth, a pinnacle moment that seeks to engage and add value to communications.
That's why we created a suite of interactive messaging tools for finance firms to digitally transform. Here are 3 ways that our digital transformation solutions are being used across the globe by financial institutions.
1. Loan Origination Workflow Automation
One of Spain's top banks sought to improve their loan retention rates. Their call centre would manually call customers and the bank just wasn't seeing the results in the time frames that they wanted.
Step forward Soprano's multi-channel interactive messaging solutions. By deploying our omni-channel solution, the bank was able to reach the customer directly, enhanced the unique Moment of Truth and improved their retention rates faster than before.
The bank was able to reduce their reliance on the call centre, improve efficiency and increase the end-to-end-loan processing lifecycle.
2. Consolidating Customer Communications
An Australian finance organisation came to us for help with their fragmented communications. They had a variety of tools in place which did not interact meaning some customers were bombarded with messages from different channels.
Soprano provided the firm with a dedicated platform to consolidate their communication practices into one omni-channel enabled platform.
By utilising intelligent APIs, the platform seamlessly integrates with all communication systems to provide a consistent and coherent message to customers.
3: Conduct Customer Financial Health Assessments
A leading US insurance business needed a solution to efficiently conduct customer financial health assessments to accurately determine which of their services was best for them. Previously these had been paper based and were often prone to errors, inaccuracies and took several days to process.
That's when Soprano's Interactive Messaging solution stepped forward. By deploying a rich and engaging HTML form that was responsive for any mobile device, the finance firm was able to ask customers to input their details directly and feed it straight bank into their internal systems for processing.
Rather than health assessments taking several days, it was completed much quicker and meant the customers could receive relevant services when they needed them.
Together, we can explore use cases of your own to discover how digital transformation solutions can help you to create more meaningful moments of truth with your customers. We want to help you gain the competitive advantage, are you ready?