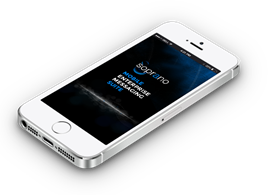 We've just released SOPRANO GAMMA 2.0, the next generation of our award-winning, encrypted enterprise mobile messenger.
The 2.0 release incorporates a couple of really exciting new capabilities: enhanced group chat and interactive messaging.
Group messaging is a must-have feature for any enterprise mobile messaging app. With group chat, GAMMA users can mute conversations and monitor other participants' actions (like opens, views, and answers).
The new interactive messages do several neat things:
Add button-based and menu-driven interaction
Increase speed and accuracy of input
Reduce common mistakes from mobile keyboard typing
Open up workflow use cases like system requests, confirmations, and event triggering

SOPRANO GAMMA 2.0 also includes developer tools that give businesses the power and flexibility to build their own custom forms tailored to their business needs, with API integration into existing systems and workflow processes.
Ready to get started? Drop us a line and we'll set you up.