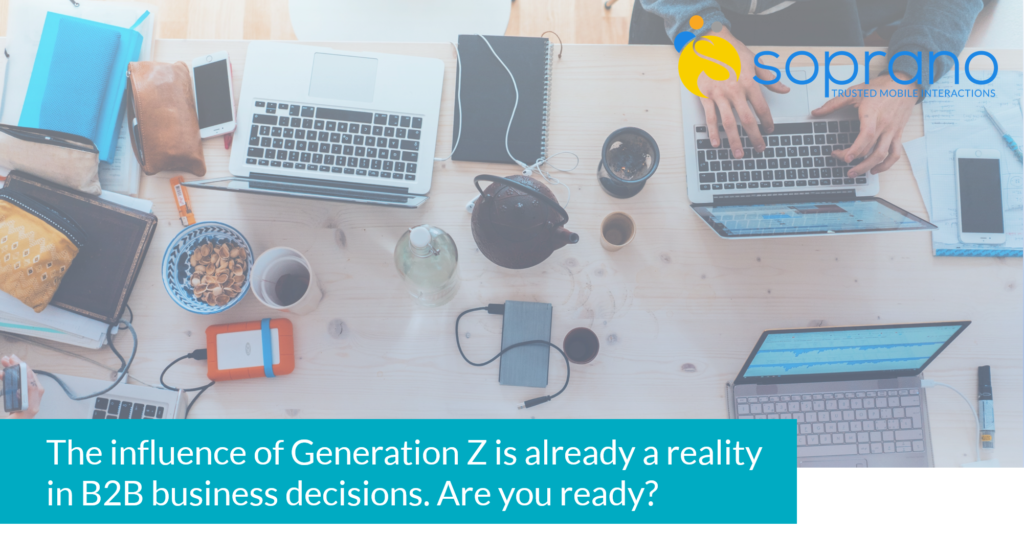 Generation Z (born 1998 to 2008) grew up in a digital world and now that they're starting to enter the workplace, they're bringing a new demand for omnichannel buying experiences.
Gen Z is the new generation for businesses to impress and gain loyalty from. It's been found that brand coverage, social media presence and brand personality is much more important than the ease and speed of purchasing for these buyers.
It's crucial for businesses to act now and start to master the omnichannel experience. This shift isn't just for Gen Z, but also for those who are influenced by them. This younger, more tech savvy group are directly influencing the way older family members shop too. So, by capturing their requirements, you're also meeting the demands of your older customers.
Making the move to omnichannel messaging will positively influence your other target groups too. When a consumer views a consistent message across multiple channels, they tend to increase their purchase intent by 90% and their perception of the brand increases by 68%.
Are you ready for Gen Z?
Experts say, Gen Z prefer a seamless omnichannel shopping experience. As your customers have more choice than ever, it's important to zone in on exactly what closes the sale.
Brands need to be developing personalised, targeted campaigns that meet the expectations of a more digitally immersed generation. This new group of buyers prioritise flexibility of communication when choosing a supplier, which means that any glitches or difficulties along the customer journey could mean saying goodbye to the sale.
Gen Z shoppers jump between devices and platforms, so a unified and consistent approach is needed. The key is to ensure your prospect or customer can pick up a conversation with you on any platform, at any time, without any difficulty.
Tension and frustrations occur when this younger group feel like the brand they're invested in doesn't personally know them and their needs. Unrelated, untargeted campaigns are a disaster waiting to happen for your lead nurturing efforts. Make sure every text, email and social interaction has a purpose and relates to the customer.
Gen Z influence is already a reality in B2B purchase decisions
This shift is already a massive reality in the B2C world but if you're a B2B business, you may think Gen Z's are years away from influencing your business decisions – but this is far from the reality. This new generation started trickling into the workforce back in 2016 and they're already starting to move into decision-making positions thick and fast. When you pair that with the shift towards more flattened organisational hierarchies, it places Gen Z workers slap bang in the middle of your B2B target audience.
By 2020, Generation Z will make up 40% of the US population and will have a spending power of US$143 billion.
How to get ready for Gen Z with omnichannel
Matt Thompson, Global Product & Marketing VP at Soprano Design, has shared his thoughts on the shift towards omnichannel. He said, "Companies across the globe continue to grapple with how to digitally transform and provide a connected customer experience. Soprano's new omnichannel solution provides next generation businesses with the ability to reach and interact with their customers in the most engaging way possible, giving companies the assurance of delivery and efficient reach to enrich the customer's experience."
"People no longer purchase products and services, but experiences. The mounting pressure to innovate is pushing businesses to embrace digital transformation and our omnichannel offering provides them with the perfect solution for better customer conversations."
Learn more about omnichannel and how it's helping other businesses snatch the competitive advantage.