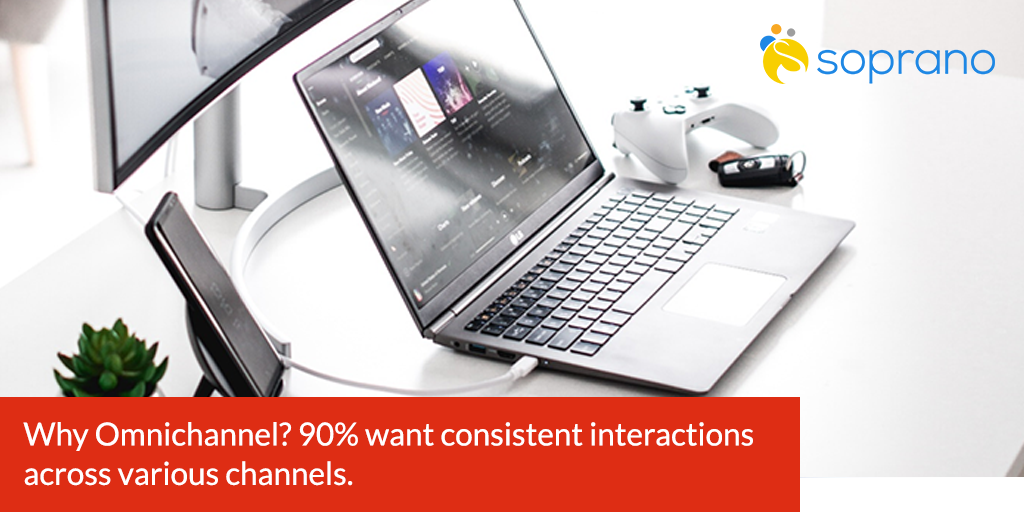 Whether in work or play mode, technology is becoming more integrated into our everyday lives. Our shopping, working and researching habits are constantly adapting as new technology is discovered and developed.
How many accounts do you sign into each day? Counting social media, sales and marketing platforms and apps to manage your workload, I guess at least ten. Wouldn't it be easier if we could condense a lot of these into one? An omni channel communication platform does just that. It collaborates several tools and creates a complete, all-rounded approach to your business practices.
Not only does an omni channel communication transform the way you work, it's also what your customers are screaming out for.
By 2020, the demand for an omnichannel customer experience will be amplified by the need for perfect customer interactions. 90% of customers already expect consistent interactions across various channels.
Rewind just 5 years and customers were much easier to pin down to one platform or device.
61% of customers have struggled to easily switch from one channel to another when interacting with customer service. We need to start meeting customers on the devices and channels they're already on; whether that's Twitter on their tablet, SMS on their Apple watch or email on their mobile phone.
What is an omni channel communication?
An omnichannel communication platform is a multi-channel approach to marketing, selling and serving customers in a way that creates an integrated and solid customer experience. It ensures no matter how, where or when a customer reaches out, you're available.
Most businesses are still investing in multi-channel experiences for their customers. Meaning they have many ways to communicate with their customers, but the different platforms don't speak to one another to form a seamless, consistent messaging experience. 87% of customers think brands need to put more effort into providing a seamless experience and with the speed technology is advancing at, businesses need to be embracing omnichannel now.
Soprano's omnichannel platform provides the ability for organisations to increase loyalty with customers, employees and partners by creating engaging, interactive experiences through the most popular communication channels such as SMS, IP, MMS, email, voice and social media.
Capturing your prospects, leads and customers on the channels they enjoy using means you're more likely to receive a positive response and improve on your relationships. Plus, if they decide to switch channels mid-conversation, that's not a problem. Interactions by email, SMS, social media, voice and IP are all stored and managed in one place, meaning you can create seamless, personalised experiences.
Increase retention rates by 56% with an omni channel customer engagement platform
Companies with extremely strong omnichannel customer engagement have been found to retain on average 89% of their customers, compared to only 33% for companies with weak omnichannel customer engagement. Soprano's omnichannel platform allows businesses across the globe to reach their customers on several digital channels, all from one place. With over 25 years' of expert experience within the messaging and communications industry, Soprano are well-placed to be carving the way for the future of communications.
Omnichannel communication benefits in a nutshell
Increase engagement by reaching customers in real time on any device, in any location
Improve the customer's experience by reducing how often they need to enter information
Provide clear and consistent information across key marketing channels
Gain insight into the full 360-degree customer journey
Foster interactivity with direct and personalised customer communications
Increase brand recognition
Combine marketing data and create streamlined business reports
Soprano's long-term strategy is to drive companies' digital transformation using engaging communications to enable people to interact whenever and wherever they prefer. We support our customers every step of the way.
For more information or to discuss your business requirements, please get in touch with our team.