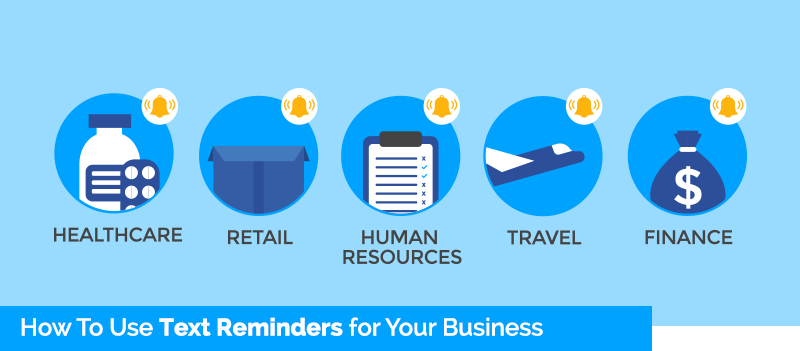 Reminding your key stakeholders has never been faster or easier with SMS reminders. Say goodbye to time-consuming manual phone calls and emails that go unread; our SMS platform enables you to automatically notify customers of upcoming appointments and remind them of actions you want them to take.
Using sophisticated Communication APIs, SMS reminders can easily be integrated into your existing CRM, calendar and scheduling systems to enhance performance. 
How to use SMS reminders
Organisations from different industries can take advantage of an SMS platform to send text reminders. Let's look at some use cases from retail, healthcare, banking, and human resources.
SMS reminders for Healthcare: Use SMS notifications to remind patients about their medication and reduce the costs of manual phone calls. Ex. "Your prescription is due to renew in 3 days. Would you like us to prepare this for you? Answer Y/N".
SMS reminders for Retail/Logistics: SMS notifications can help you reduce failed delivery attempts and reduce call centre load. Ex. "Thank you for rescheduling your delivery. We will now deliver your parcel on 21 June."
SMS reminders for Human Resources: SMS notifications increase operational efficiency and reduce the time spent to source staff for a shift. Ex. "Are you available to work on 5 June from 12:00 pm 06:00 pm? Respond Y/N".
SMS reminders for Travel: Use SMS notifications to remind travellers of their bookings and increase engagement by reaching your customers in real-time. Ex. "There's been a change to your flight booking.Your sheduled flight time has changed from 18.10 pm to 18.30 pm."
SMS reminders for banking: SMS notifications help banks to reduce the number of account defaults and the costs of debt collection for outstanding payments. Ex. "Your account is approaching its credit limit. Please make a payment by visiting www.paynow.com".
SMS Reminders Infographic

Do you want to learn more about how to apply SMS to your business communication strategy? Our team would love to talk with you.