Why Effective Emergency Communications Are a Business Imperative
With many organizations still failing to deploy effective emergency communications and suffering large losses as a result, I would like to share Soprano's RapidAlert tool - an exceptional solution for organizations of any size. You can read all about it in my article.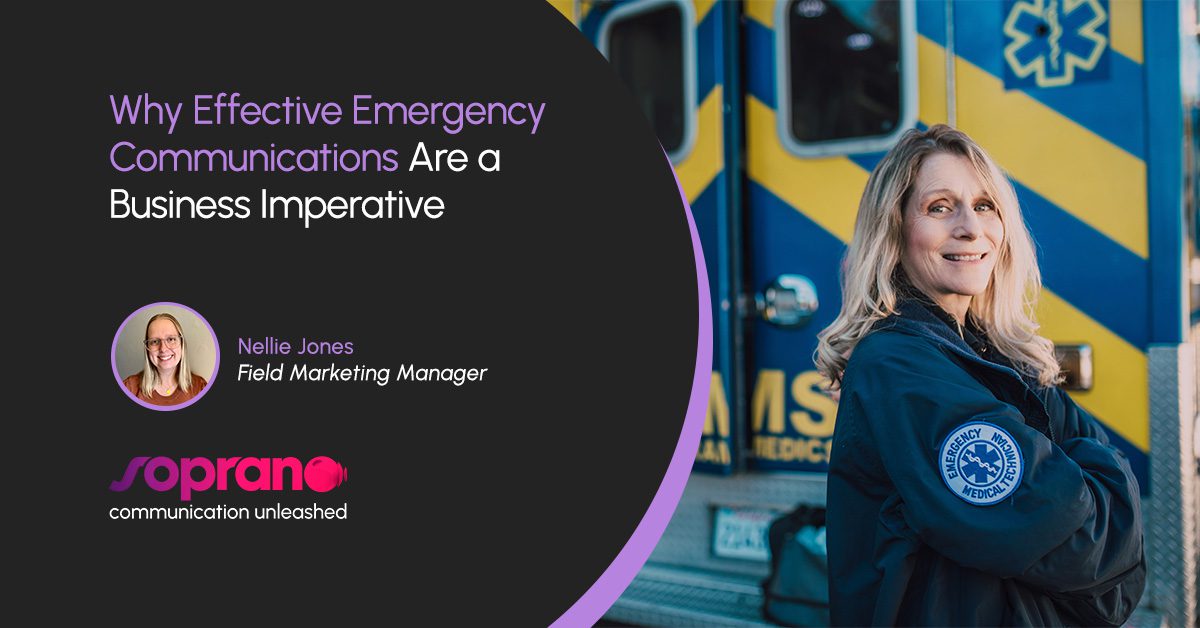 Every second counts when an incident strikes – be it a public relations issue, an operational disaster, or a global pandemic. Organisations must be able to respond quickly and inform citizens, employees and customers about what is happening and what they should do to minimise negative impact.
The problem with many emergency communication systems is that they rely on just one channel, for example, SMS. However, not everyone has access to the same communications platforms, so it's imperative that emergency communications account for all communication channels.
They must be delivered via SMS, WhatsApp, voice message and email to ensure the message is getting to everybody.
During the global pandemic, emergency communications were brought into the spotlight. Messaging about public safety around COVID-19 required quick and efficient distribution.
Now, in an era where information is constantly demanded and expected at the click of a finger, businesses must realise that they also need emergency communications systems ready to go should anything happen that their employees or customers need to know about immediately.
The main challenges of emergency communications
Organisations commonly struggle with the following:
● They don't have an effective emergency communications system ready in place. This means that in times of unexpected crisis, there is a last-minute rush to figure out a way to communicate with many people fast. It usually leads to an ineffective solution that doesn't reach all the people intended.
● No safe and secure platform from which to send out emergency communications. Without a trustworthy platform, they may choose not to send out messages as they aren't able to share confidential information. By sharing it with an insecure platform, they risk leaking private consumer or employee data.
● No way to monitor the responses that come back from recipients. Without reporting capabilities that can record respondents' questions or requests for additional information, it isn't easy to ensure that the message is conveyed effectively.
RapidAlert: The emergency communications tool businesses need
Soprano Connect's emergency communications tool for businesses, RapidAlert, is easy to use and offers all the functionality and customisation that multi-departmental organisations need.
RapidAlert is an advanced incident management and business continuity solution that enables users to be prepared and send timely messages using customisable, pre-defined templates.
It enables your business to improve its response time to incidents (to reach employees or customers), alert your incident management staff with different information simultaneously, and record whether messages are sent, delivered and responded to.
If you are hit with a business or operational incident, RapidAlert allows you to reach your employees quickly to help reduce the severity of an incident and minimise any damage to reputation, revenue, and key stakeholder relationships.
RapidAlert features boost your emergency communications:
Rapid SMS broadcast.
Real-time reporting.
Tracking responses and incident management.
'Are you OK?' SMS solution to verify safety.
Escalation – if someone doesn't check in or sends a distress message back, you can escalate messages to other people, like security or responders, to ensure that person's safety.
Targeted template-driven alerts to recipients.
Establishing lists of 'standby' teams for incident management.
Creating separate groups of volunteers as additional recipients (Incident Management and Team Coordination).
Best of all, it's all delivered via sophisticated online administration that can be accessed from any web browser.
Soprano has an established track record of successful implementations with businesses of all sizes. Let us help you be prepared and ready to deploy emergency communications as soon as needed. You can find out more about RapidAlert here.