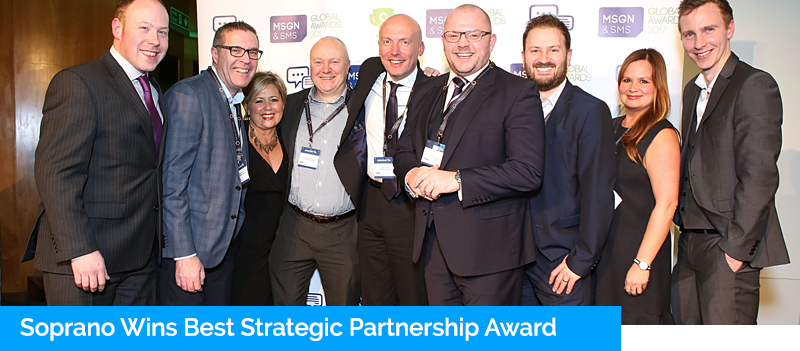 Creative image licensed Capacity Media
Committed to excellence in enterprise mobile messaging and SMS communications, we are delighted to announce that Soprano has won the Best Strategic Partnership award at the 2017 Messaging an SMS World Awards
The awards recognise the global achievement and success of messaging vanguards over the last 12 months. After a competitive shortlist process, Soprano was nominated for two awards; the Best SMS Enterprise Product and Best Strategic Partnership.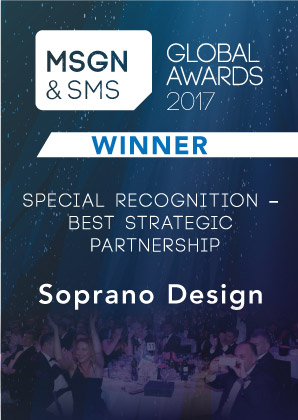 Soprano's software is differentiated in the marketplace because of its flexibility to conform to a mobile network operator environment and its ability to support high-volume, hierarchical and complex deployments for enterprise and government.
Soprano's MNO partners include several of the largest enterprise MNO sales teams in the world. Soprano's mobile messaging technology is used by over 1000 enterprise and government institutions globally, including over 30 Fortune 500 companies.
Soprano accelerates the platform onboarding and training with a consultative selling model essential for achieving complex enterprise mobile messaging deployments. Soprano's encrypted mobile messaging solutions can be installed into the MNO's cloud or integrated via MNO APIs.
Our global sales account managers are locally present in each region, which accelerates carrier sales team training efforts and the delivery of Soprano enterprise SMS solutions to enterprise and government customers. We continuously invest in MNO support placing dedicated regional operations and sales personnel in offices located around the world, that can deliver 24x7x365 premium support.
Soprano offers a highly evolved MNO go-to-market package that includes white-label product collateral, user guides, developer kits, API support documentation, and sophisticated online help tools ready for carrier branding.
We are humbled and proud to be recognised by the Messaging and SMS Awards. Our sights are firmly targeted towards further future growth within Communication as a Service as well as advancing our efforts within programmable APIs, secure encrypted enterprise communications, and business continuity management.