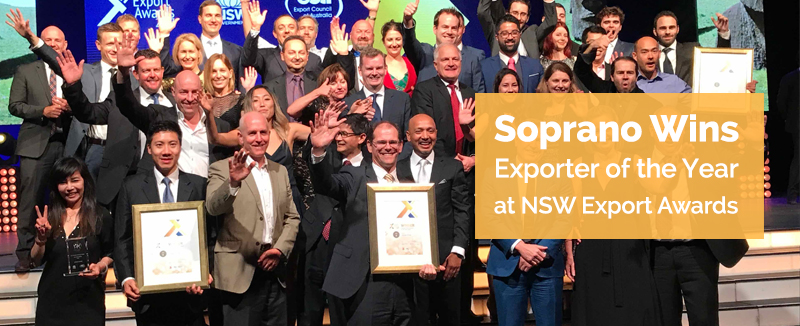 Soprano has won the New South Wales State Export Award, qualifying as a national finalist for the prestigious Australian Export Awards for the third year running.
The awards, granted by the NSW Government and the Export Council of Australia (ECA), recognise excellence in the export of goods and services from Australia across a range of categories.
A global leader in enterprise mobile communications, Soprano initially picked up a state award in the Digital Technologies category. The big win came after Soprano was named the overall New South Wales winner as Exporter of the Year, having been selected amongst all 12 national category award winners.
Winning Exporter of the Year qualifies Soprano for the national 55th Australian Export Awards, a national program where overall winners from all states and territories compete for an Australian industry award.
Every year companies invest hundreds of millions of dollars to better understand and serve their key stakeholders. In our fast evolving economy, digital interactions and mobile interactions in particular are becoming the preferred and most effective means of real time interactive communication to these stakeholders.
In the face of worldwide security threats, global businesses turn to Soprano for certified secure and efficient mobile communication solutions. Whether it's checking on the safety of remote field workers or implementing a business continuity plan, Soprano's enterprise SMS solutions help businesses to communicate with the right person, at the right time.
Our trusted partnerships with 13 mobile network operators has enabled us to expand to 5 major global regions, including: Asia, Australia, Europe, North America and South America.
Today, over 70% of Soprano's revenue comes from export sales. Our mobile messaging technology sends over 2 billion messages each year and is used by over 1,000 global enterprise and government institutions.