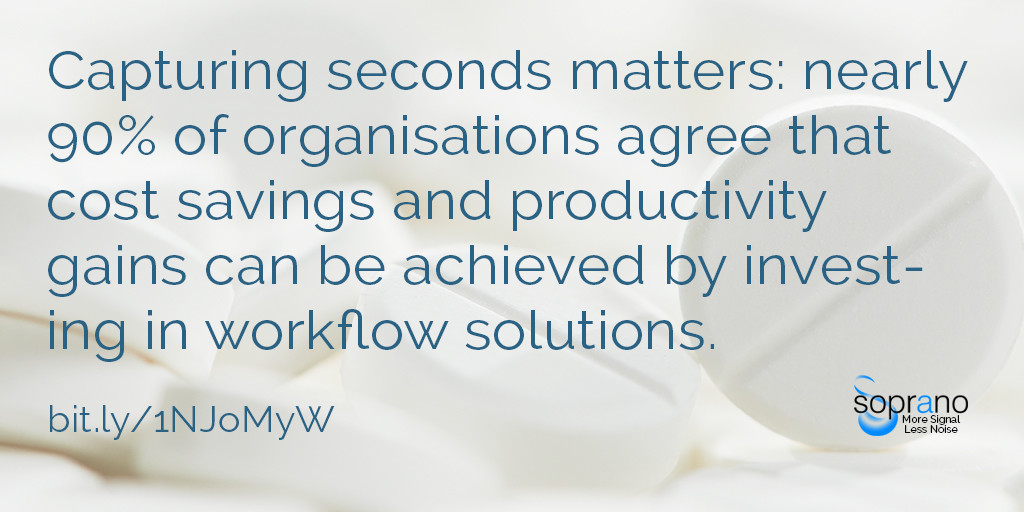 According to a 2012 Medscape/WebMD survey, "33% of doctors spend over 10 hours a week on paperwork and administration." That's time you're not spending with patients.
Paperwork isn't the only place doctors, nurses, and other healthcare employees are inefficient. Effective communication in healthcare seems to be eluding us. Just three common healthcare workflows cost hospitals in the United States around $1.75 million per year:
"Patient Admission: Admitting one patient takes about 51 minutes, of which an average of 33 minutes (65 percent) is wasted due to inefficient communications.

Emergency Response Coordination: Coordinating an emergency response team takes an average of 93 minutes per patient. Of this time, an average of 40 minutes (43 percent) is wasted due to inefficient communications.

Patient Transfer: Transferring a patient to another facility or home care/hospice takes about 56 minutes, of which an average of 35 minutes (63 percent) is wasted due to inefficient communications."
Healthcare Inefficiency across Organisations
It's important to be aware of broader trends in healthcare efficiency. The amount of paperwork that needs to be completed in today's healthcare facilities gets a lot of press, but patient care is suffering even more—and over half of respondents said that their pagers are the main source of inefficiency.
The two graphs below illuminate the extent to which healthcare organisations are affected by workflow inefficiency.
Where are healthcare workflows inefficient, and why does it matter?
Take a look at the results of a 2014 Ponemon Institute study below. Ponemon surveyed 400 healthcare workers in the U.S. regarding the workflows they commonly use and their effectiveness, and the results clearly link poor workflow outcomes to their inefficiency.


As the second graph shows, pagers were by far the largest cause of inefficiency for healthcare workers.
Unfortunately, if you're still using a pager, you're not the only one. Many healthcare employees are reporting frustration and inability to perform their jobs efficiently or increase efficiency due to out-of-date and out-of-touch equipment.
The below graph illustrates the cost drivers of inefficient workflows for your organisation. To get a feel for how you're performing, calculate minutes wasted for each workflow, estimate the cost of each wasted minute, and then multiply that cost times the number of inefficient workflows in your organisation.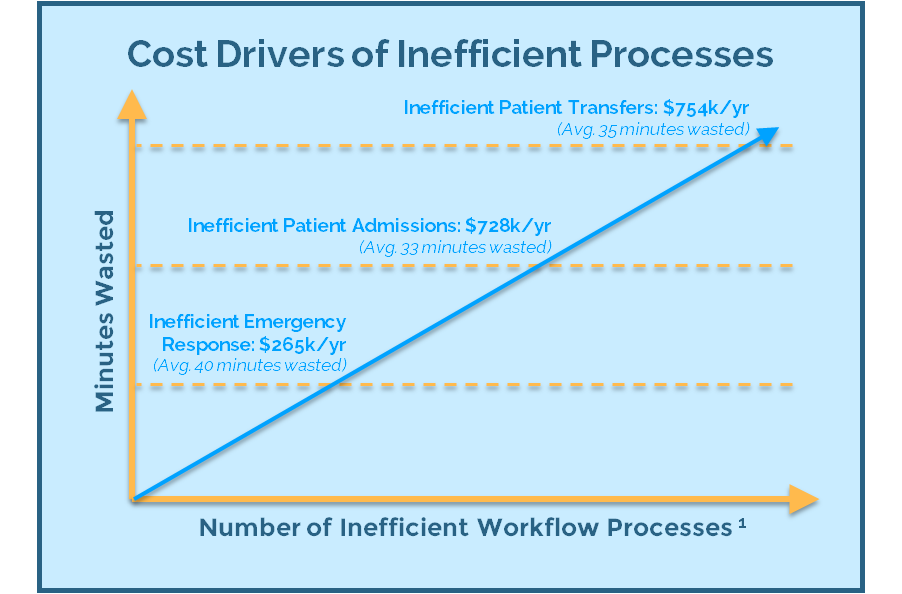 It's easy to see how even small inefficiencies can add up, but how to fix them? Download the free Soprano whitepaper How to optimise workflows with mobile messaging: A guide for healthcare organisations and we'll show you how to analyse your workflows and add healthcare secure messaging to improve efficiency.