Public Safety Alert Solutions for Government: Connecting People When It Matters Most
The world is changing, and the effective use of digital technologies is paramount to delivering information efficiently and rapidly to citizens. Connect people when it matters most.
Category:
Enterprise Solutions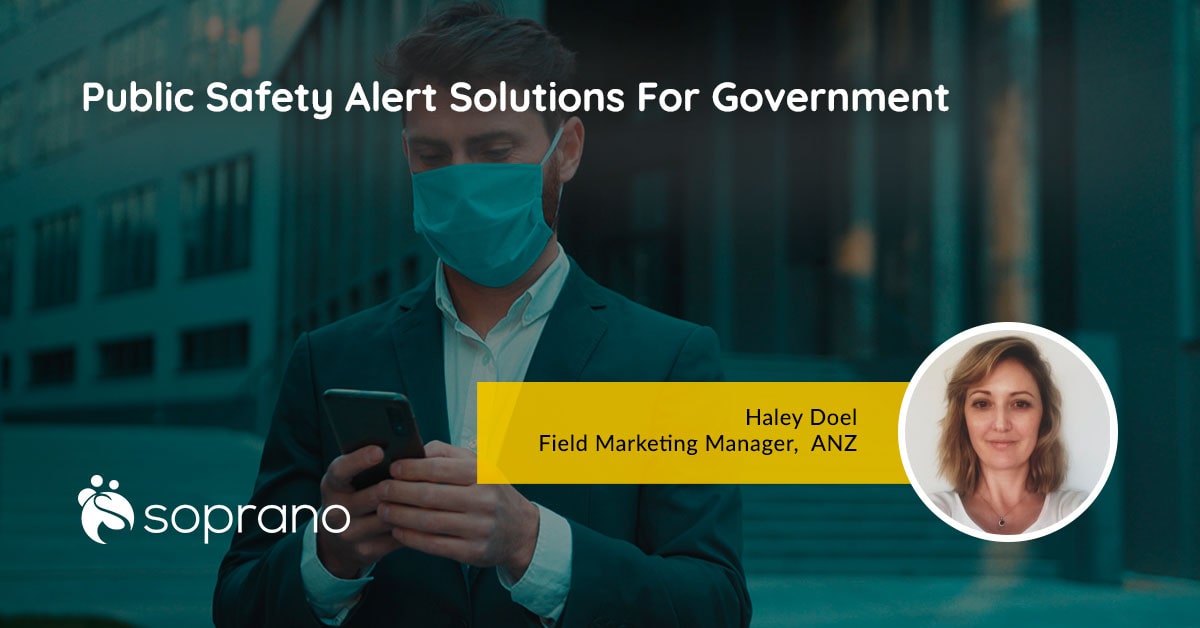 Government institutions today face the challenge of keeping up with technology advancements, as well as pushing through the confines of existing limitations to convey messages to the public effectively.
It is therefore crucial for governments to find ways to simplify and improve response times, and leverage private and secure channels to communicate important information to its citizens.
Digital transformation for Government is vital and will change and improve how government does things for you. Governments must fast track to meet the ever-changing needs of individuals, communities and businesses across the globe. As the speed, adaption and pace of technology transformation speeds up, governments recognise they need to quickly deliver the digital capabilities and services expected by all groups.
The need for safe, fast, and reliable digital solutions
As evidenced by the onset of COVID-19, countries across the world have had to adjust rapidly to new, unprecedented realities.
But it is not only the pandemic that brought to light the need to reexamine government-to-citizen (G2C) communications. Recent events such as the Australian bushfires and others have brought to light the need for governments to adopt an effective, secure, and streamlined communication system.
In these cases, digital technologies have provided a quick and efficient solution. But it has been equally essential for governments to maintain a high level of trust with citizens and guarantee that confidential data is protected.
Security and safety are paramount
When it comes to public safety alert solutions for government, a high level of trust must be maintained with citizens—important and sensitive data must be kept private and secure.
Soprano's Secure Messaging solution, for example, is an encrypted platform hosted in an industry-leading private cloud data center with enhanced privacy controls that ensure data is protected, minimizing the risks and high costs associated with service disruptions, data loss, and reputation damage.
The Soprano platform can provide governments with a sophisticated enterprise messaging control center that is configurable and designed to give the right access to the right people.
Customer data privacy is secured using HTTPS or FTPS for enhanced data transport security and with security enhancements for existing systems that use mobile messaging for two-factor authentication and one-time passwords.
Soprano Connect has solutions—with everyone in mind
Effective communication is key to overcoming the challenges faced by governments and enterprises in connecting employees, customers, and supply chains, and enabling business continuity. At the center of this is the trust that must exist for citizens to participate in meaningful ways.
Soprano's public safety alert solutions for government enable interactive two-way messaging to accomplish this goal. Our whole-of-government CPaaS solution provides governments with the ability to consolidate their existing G2C services onto a single communications platform to better engage with their citizens.
And because governments and financial service sectors must comply with the country's accessibility laws, they must ensure that everyone can access critical information and communication to avoid discriminating against consumers with disabilities.
To meet this requirement, Soprano offers a multi-channel CPaaS solution that can provide alternative channels for government agencies to reach those customers or citizens who may be hearing or vision impaired and require the option of voice or text channels, enabling them to reach all communities and citizens and deliver critical information to everyone.