Omnichannel Customer Experience Maximises Customer Engagement
Omnichannel marketing provides customers with a completely seamless and integrated shopping experience, from the first touchpoint to the last. It is key to delivering a consistent and engaging customer journey with your business.
Category:
Mobile Messaging
Subject:
Digital Transformation, Mobile Marketing, Omnichannel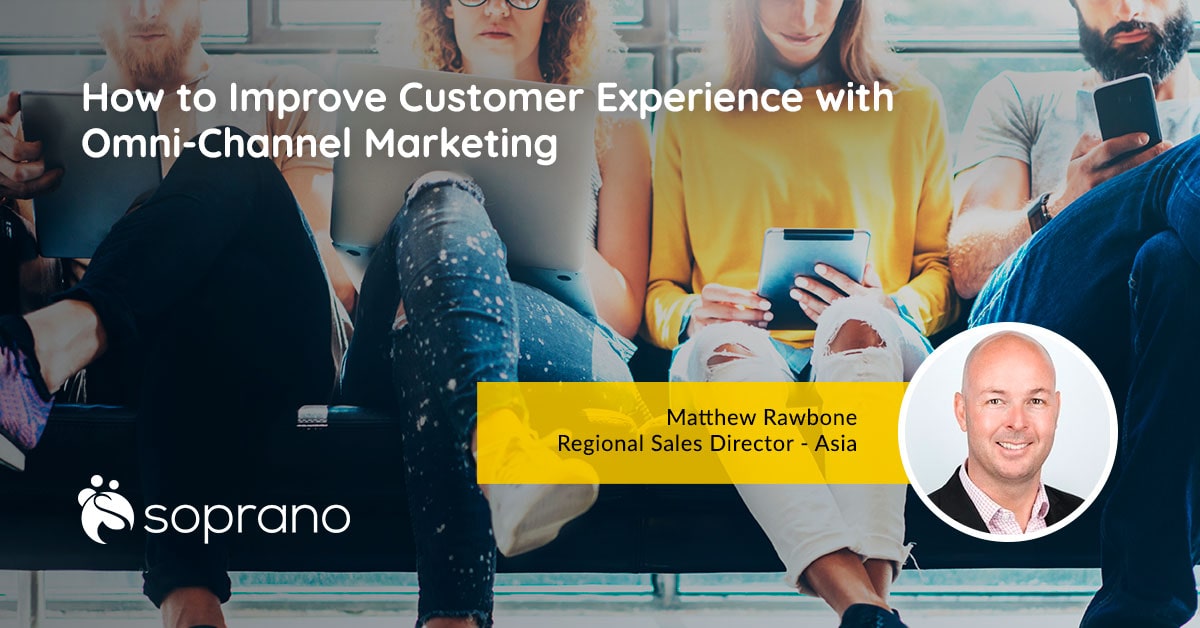 Omnichannel is a term that can mean different things to different people.
Here at Soprano, we define omnichannel as a mindset for communication and taking the right information to the right channel at the right time, for the right outcome. These days, there are so many channels available to organisations for interacting with and engaging customers.
The traditional channels such as retail stores, email and online websites are still just as important as ever, but there is real potential in the newer mobile channels such as RCS, WhatsApp, Viber, SMS, and Voice messaging, which have exploded with potential in recent years. Many organisations are not even aware of the full potential of what today's modern mobile channels can offer.
Omnichannel, if applied as a mindset for customer experience, aims to provide customers with a completely seamless and integrated experience, from the first touchpoint to the last.
It is very important for businesses to be proactive in their engagement with customers, and communicate in relevant, effective and consistent ways. With an omnichannel approach, each channel works together to create a unified message, voice, and brand for the company.
Reaching people – and being reachable by them – via their preferred channel makes it easier for them to stay connected to you. In this way, omnichannel marketing enables you to better maintain engagement with your audience, which, combined with rich interaction, gives you the ability to really please your customer.
The benefits of an omnichannel customer experience
When executed correctly, the benefits of an omnichannel strategy are extensive. These include;
Better Customer Engagement.

Better data collection and analysis.

Better customer segmentation, better campaign designs and targeting.
Greater synergy across all departments and channels.
Better brand visibility.
It is all about how you manage the relevant channels and control the flow of information – if you have too many options it can get confusing and become difficult to respond.
You also need to have guidelines in place to ensure you have consistent engagement that inspires your customers.
Maintaining consistency is key
Everyone who is part of the customer journey in an organisation needs to understand the goals and objectives of the omnichannel initiative, and be passionate about delivering against these.
Once everyone is on board, the strategic plan is to build a coherent, aligned experience across multiple platforms.
Further to this, an omnichannel approach must be supported by robust, sophisticated software. The tools are easy to use, but they can create complicated user journeys, so it is essential to deploy a software solution that is well designed and constantly updated in order to ensure consistency in delivery.
This requires input from a variety of developers who specialise in different technological areas such as SaaS, user interfaces and APIs.
How Soprano's omnichannel solutions transform customer experience
At Soprano Design, we are strongly focused on widening our supported channels, enhancing our software, and delivering a flexible, easy to use omnichannel platform that allows our customers to create their desired flows.
Recently, we delivered our own omnichannel marketing campaign that created a very pleasing user journey for our customers. We gave recipients the option of signing up for a loyalty/fidelity card and then choosing their preferred channel of communication (SMS, Voice Messaging, WhatsApp, RCS, E-mail, etc). Once selected, we ran a bot-driven survey to capture the subscriber's preferred interests so we could better adjust the offers we sent them weekly.
The campaign was a huge success, and our customers discovered a new way of reaching their own customers that they had never explored before.
Soprano Design is always looking at industry trends and pursuing the goal of satisfying our customers. For more on the services and solutions we offer, head to our CPaaS page.