RCS Messaging Platform for Enterprises
Key Features and Capabilities of RCS
Rich Communication Services (RCS) The future of text messaging is here
RCS is set to become the new standard in communications. With SMS already established as one of the most effective and engaging tools, the upgrade to RCS will open many doors for business communications.
Making in-app payments, sending huge files, and the ability to connect to software through APIs are just some of the big changes coming to the world of text messaging, bringing the technology up to speed with existing messaging apps like Facebook Messenger, WeChat, and WhatsApp.
Trustworthy partners
Soprano is an official partner of Google RCS Business Messaging. This allows our clients to trust in our ability to work with the most cutting-edge communications technology in the world.
Engaging communications
Bring more interesting and powerful messages to your customers. RCS allows you to send longer texts, larger files, and even pay buttons within text messages, so you can convey your messages exactly as you want them.
Actionable insights
With RCS's read receipts, our cloud-based messaging portal brings better insights than ever. Track and report your vital metrics to improve your communications with real data-driven actions.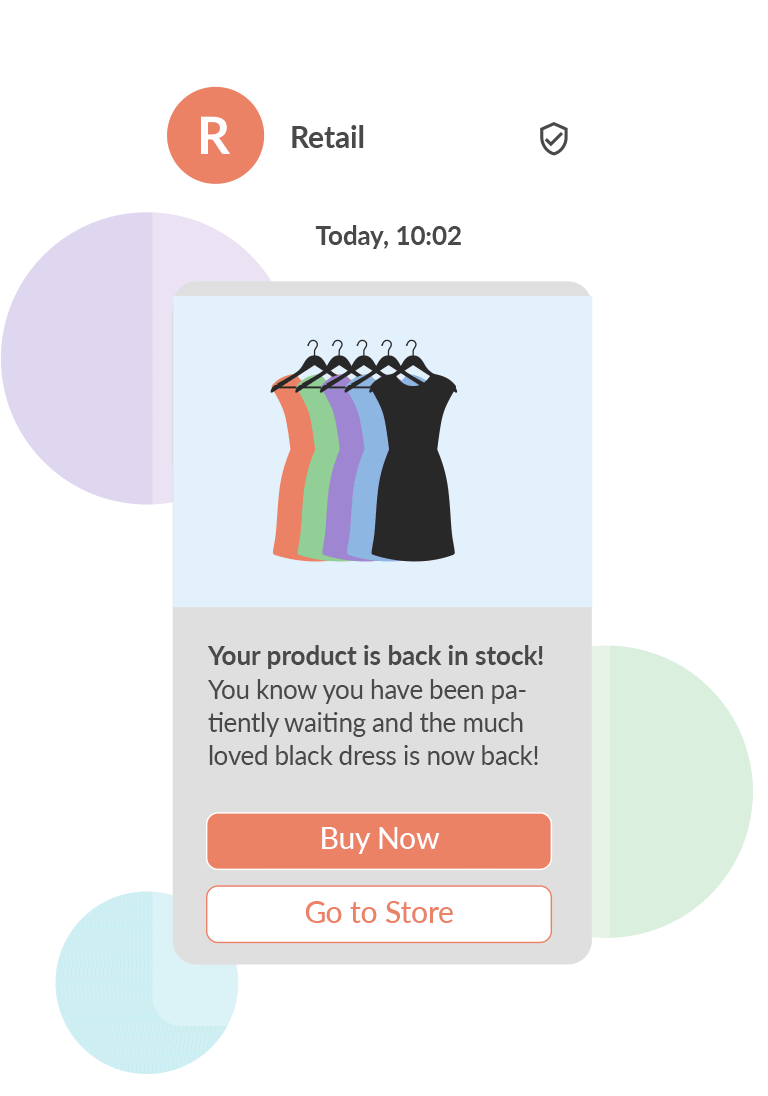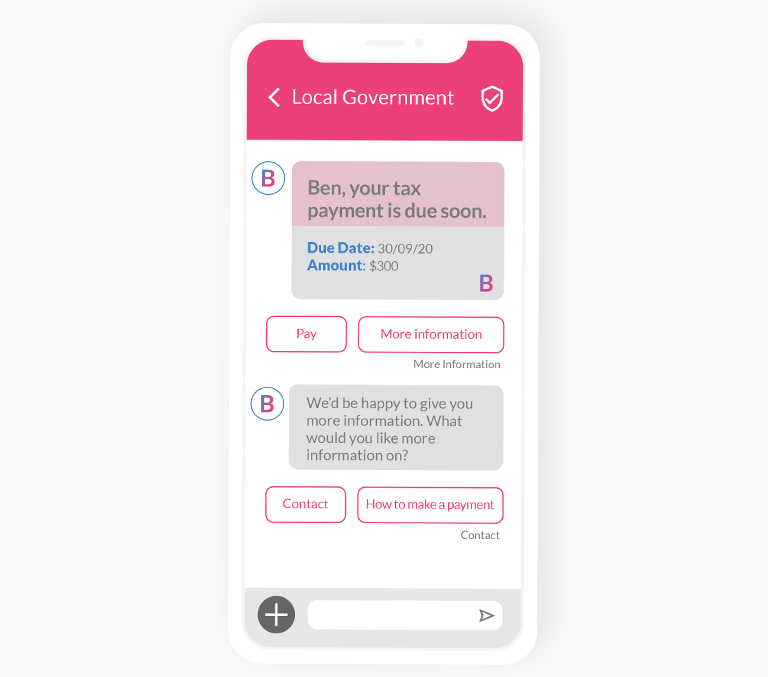 What is Rich Communication Services?
RCS is the new messaging standard that is already replacing SMS worldwide. It is more powerful, more versatile, and more future-proof than the texting software we've been using since the 90s.
Implementing RCS worldwide represents a huge jump forward in communications technology. Not only for users, who have been using advanced online messaging for years, but also businesses, who can now connect with customers with trust and form stronger connections than ever.
The reach and status of RCS
RCS has been globally available since the end of 2020. This technology works by having a globally-accepted protocol, agreed upon by mobile operators, phone manufacturers, and software providers. This agreement, known as the Universal Profile, creates features and technical enablers which are agreed upon by nearly everyone. 
Improved customer experiences with RCS
Key Features and Capabilities of RCS
RCS brings a whole host of new features and advantages over its predecessor, SMS, and is allowing text messaging to keep up with other popular messaging services.
Longer texts, bigger attachments, and group messaging allow users to communicate in much richer detail than before. Conversation searches and WiFi connectivity make using the software easier than SMS ever allowed. And, allowing for in-app payments and verifying business senders mean that businesses can reach out to customers and conduct business more quickly and safely for everyone.
In essence, RCS is transforming text messaging into a service that fits the needs of today's world. It's truly a combination of the incredible reach of SMS messaging with the interactivity of social media features.
This allows businesses to speak to customers on their own terms, using the programs they use in their day-to-day lives, and takes away the limitations of outdated SMS technology.

Expanded text limit
The days of messages with 160-character limits are coming to an end. With RCS messages, your communication can be 50 times the size it was before, with sizes capped at 8,000 characters. This means that businesses can get their message across without squeezing the character count down to the bare minimum.

Send bigger attachments
RCS allows text messages to carry much larger files than ever before. High-resolution and dynamic photos, fun GIFs and animated stickers, QR codes, and entire PDF documents can now be sent RCS. This makes texts more engaging and interesting for readers than ever, and will only amplify what businesses can send to their customers.

Location Sharing
Being able to drop pins on virtual maps and sharing live locations over texts already have amazing implementations in many apps. Between making it easy to navigate customers to your store and live-updating a delivery driver's location, RCS is making it easier for businesses to feel connected to their customers.

WiFi & data connections
RCS does away with the SMS limitation of needing cell service. Instead, texts can also be received through wi-fi and data connections. But, if the customer is offline, the technology will simply fall back on MMS and send the message anyway—minus the large attachments and other features.

Read receipts & typing bubbles
Delivery and read receipts allow businesses to know who is opening and reading the messages they're sending. This information allows teams to dive deeper into how they're communicating with their audience and how people are responding to it. Additionally, the typing bubble, already seen in other messaging apps, comes to texting, so each side knows when the other is typing out a response.

Improved group messaging
The world is already used to messaging groups of people together, and RCS brings the ability to a technology that's struggled to keep up with demands. With this feature, businesses can bring in all the clients from a team into a group message to give them updates—or, conversely, to bring in multiple teammates to handle a difficult issue brought to customer service.

Verified business senders
Businesses can contact customers with the "Verified Sender" feature. This highlights the company as authentic, complete with their own branding, meaning recipients will know who they're talking to before they even read the message. This also helps to combat fraud, as unverified businesses can be more easily reported as spam.

Allow in-app payments
Following the examples of WeChat Pay and Instagram, RCS allows businesses to implement in-app pay buttons. Consumers can now receive offers and make purchases without leaving their messaging app. Combining this with larger attachments and verified business senders, RCS turns texting into a shopping platform on its own, making the sales process smoother than ever.

Search within conversations
As text messages get more elaborate and conversations last for longer, the ability to search for previous messages has become essential. This, too, is arriving with RCS, meaning that customers and businesses alike can easily find details in messages sent far in the past, and don't have to worry about keeping notes elsewhere.

Mass RCS communications
Target lists of message recipients at once to amplify your communications to RCS recipients.

Pay buttons
Turn your text communications into a new direct sales channel by adding pay buttons within RCS conversations

Opt-out keywords
Keep customers content with automated opt-out keywords that allow them to choose how and when they want to be contacted

Calendar integrations
Schedule meetings with clients within an RCS text communication by using automated booking processes.
Template integration
Create and use RCS message templates to keep your brand's voice and messaging consistent when speaking with potential customers.

Suggested replies
Use suggested replies for text, cards, carousels and more to keep communications in both directions smooth and efficient.

Chatbots and AI Messaging
Save money by implementing chatbots to guide users through menus, and reserve human agents for important and complex customer service issues.

Communications management
Manage RCS communications easily using HTTP and REST, with interconnected RCS carriers, all through our Soprano Connect API.

SMS fallback
The RCS messaging channel additionally supports device capability verification that allows customers to detect the device's RCS capability to decide to send an RCS or SMS fallback. For reminders, alerts, notifications, confirmations and ticket updates, recipients with devices not reachable by RCS will receive a "fallback" SMS message so no critical update goes unfulfilled.

Mobile Operator Network Routing
The new automatic routing capability of RCS combined with relations with mobile operators in EMEA and LATAM regions, enables Soprano to be an RCS aggregator in those regions. Soprano partners can rely on industry-best delivery rates as the system intelligently routes the RCS traffic to the right network.

Location data
With RCS's location services, users can direct customers to their closest brick-and-mortar store, or keep them updated in real-time about the location of items being delivered.

Decision trees
Create and implement decision trees that automate RCS text conversations through keywords, regular expressions.
Transform your text messaging services into a service that fits the needs of today's world with RCS messages
RCS vs other messaging channels
No single communications channel is perfect. They all have their moments to shine, and applications where they struggle to convey the right message. RCS vs SMS which should a brand choose? The best answer is to use the best of both channels.
Finding the right channel to use for your company's communications is key, and it can make the difference between earning a highly engaged customer base and being ignored as a spam sender.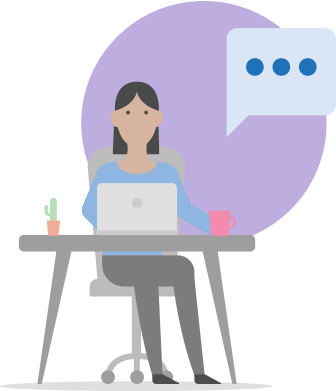 Connections supported
Wi-fi, data, and cellular
Max message size
600KB max size (MMS only)
Sending capabilities
Clickable links, emojis, images, stickers, video and audio files, contacts
Clickable links, emojis, images (SMS), video and audio files (MMS)
Read receipts


Location Settings


Video Calling


The benefits of RCS in comparison to other communication channels
RCS vs SMS
When comparing RCS and SMS, there is a clear winner. Since RCS is created specifically to be the successor to SMS, every aspect of the software has received a significant upgrade.
From more consistent connectivity to richer message quality, as well as new features like location sharing and video calling, RCS marks a clear improvement in the way text messages will be sent from now on.
RCS vs Digital Messaging Apps
Digital messaging apps are the norm for most people in this day and age. WhatsApp, the world's most popular option, boasts over two billion users each month, and Facebook Messenger, Telegram, Tencent QQ, WeChat, and others provide their service to the majority of people today.
With RCS, the features of these apps are arriving to smartphones' native messaging apps. This allows users to send richer communications than SMS, but without having to install any new software. Instead of having multiple apps on a phone, users can simply use the built-in software from day one and still enjoy stickers, location services, large attachments, and every other feature they're now used to using.
RCS vs Phone Calls
Picking up the phone to call a prospect directly is a time-tested method of closing deals and handling customer service issues. The engagement and connection earned with a phone call is hard to replicate with any method other than taking a trip to speak face to face.
Where RCS can help most is in the space between these calls. Nurturing leads with valuable content, handling customer service issues, and making follow-up touch points are all made easier with RCS. It allows for the conversation to continue through the entire sales process—and beyond—without requiring the other person to give up time for a phone call.
RCS vs Email
Email has served as perhaps the most useful communications tool for marketing and sales teams for decades, and even with the arrival of RCS, that is not likely to change.
For business-to-business communications, emails are so embedded in people's expectations and daily processes that no improvement in texting software will change it.
Businesses should see RCS as a companion to emailing. While emailing is great for sending messages en masse to all subscribers, allowing beautifully designed communications and putting more information on screen, RCS works best for more personalized messages and providing customers with the information they need at a moment's notice, without taking them away from their day-to-day messaging app.
RCS is also more effective at sending important and timely messages to customers. RCS has an open rate of 72% for messages sent by businesses, compared to 21% for email. This means that, for critical messages whose contents may expire, such as security verification codes, RCS will be the best choice moving forward.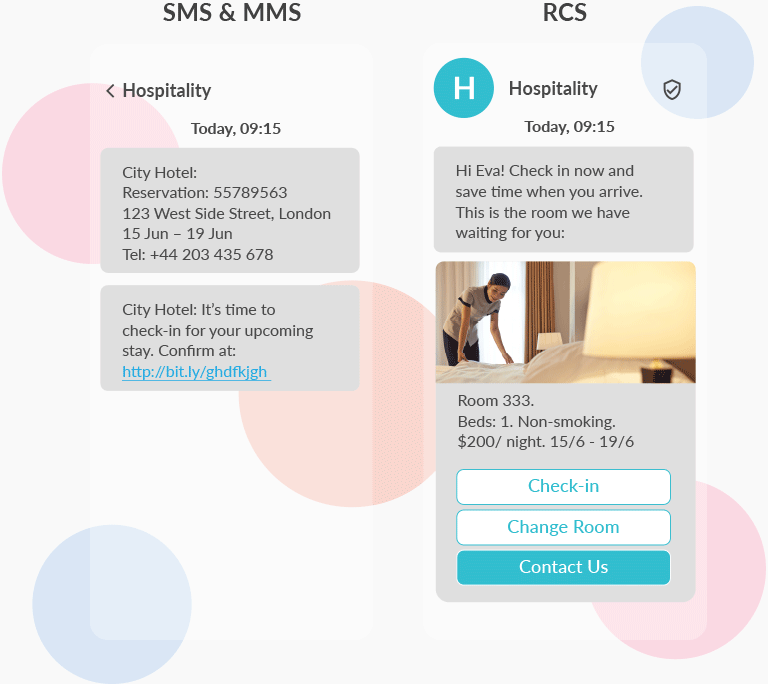 What You Can Do With RCS Messaging for Enterprises
RCS messaging brings huge advantages in business communications. It's a more reliable, more scalable, and more secure technology over SMS. It fills a niche communications channel that email and calling can't fill, and that SMS is too outdated to take up.
Soprano offers bespoke solutions to provide enterprise-level companies to choose the exact scope of RCS capabilities they need. As an official partner of Google RCS Business Messaging, Soprano's clients are assured that their communications platform is handled by the most reliable option available.
Reliability at high-volume messaging
99.99% uptime

24/7 support

Global reach

No blocked messages
Scalability
Suite of advanced APIs enable automation of communication and easy integration

Demonstrated success with complex integrations with all types of IT systems including EHR, CRM and proprietary systems
Security and Compliance
Data encryption at rest and in motion

"Security by Design" philosophy

ISO 27001:2013 Certified

Marketing Departments
Communicate on the terms of your customers, with the tech they already use.
Add text messaging to amplify your list of communication channels.
Take the step from outdated SMS to the more powerful messaging technology.
Turn texting into an inbound marketing machine with RCS pay buttons.

Customer service
Make it easier than ever for your customers to get the guidance and support they need.
Bring in team members to conversations for additional support.
Use decision trees to automate support through the most common problems.

 

Save money by reserving human support for more difficult cases.

Sales Teams
Adopt the new generation of technology that makes the sales process smoother than it's ever been.
Keep in touch with clients for smoother after-sales opportunities.
Simplify booking calls by integrating a calendar API into your RCS service.
The Future of Enterprise with RCS Communications
With RCS technology, Enterprise users can deliver much more intricate and interactive communications, while also moving conversations to users' preferred channels.
Improve interactivity
Chatbots are set to see a substantial boost to their usability with RCS. The ability to provide human-like conversations to users with their phone's regular messaging app makes a much more straightforward and intuitive process for moving through decision trees, selecting options, and interacting with chatbots overall.
Separating the chatbots from a website and allowing them to operate over RCS also allows users to speak on their own terms. They're not forced to stay on a webpage, and can even interact with chatbots while on the go.
This update can also remove many company's over-reliance on third-party apps. For example, established restaurants can provide their own delivery options by creating a simple RCS-enabled ordering system. While newer businesses may prefer the simplicity of not managing deliveries, more established places can offer direct delivery to loyal customers and only require customers to text in their order. This provides flexibility for companies to regain better control over their product and save money from third-party costs.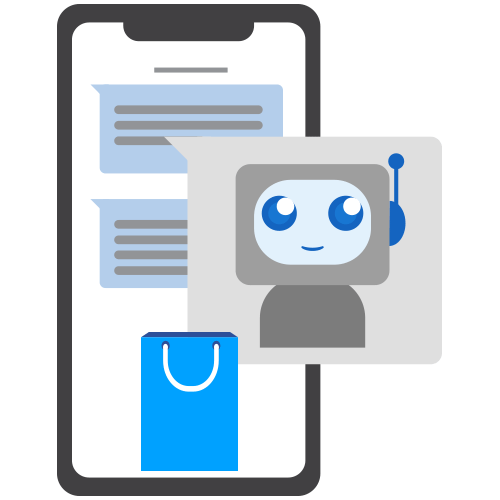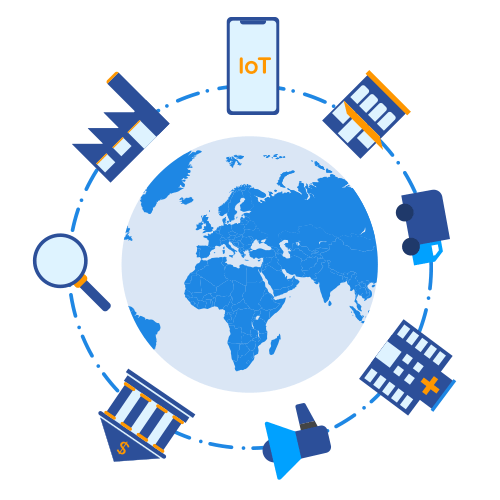 Internet of Things integration
As the Internet of Things (IoT) gradually increases its presence in the world, adding interactivity to more and more common items, it becomes ever-more important to have seamless communication and control over them.
RCS is the logical next step for IoT integration and accessibility. Its combination of global reach and interactive features means that a whoe new generation of internet-connected physical products can be controlled all through the same source.
Vehicles...
Vehicles linked to a phone number can text their location for the owner, and then even be unlocked remotely through a RCS conversation.
Home devices
Such as air conditioning, ovens, and cleaning robots can be monitored and controlled remotely, saving utility costs and improving safety.
Security systems
Security systems at home and in workspaces can send messages based on programmed triggers, such as motion detectors or certain doors being opened.
Ensuring critical communications
RCS can be deployed to more responsibly and effectively communicate important information between pillars of society and citizens. This is only possible with the combination of SMS's ability to reach billions of people with the advanced features of modern messaging apps.
Consider a national healthcare system that could automatically inform individuals when there is an important vaccine available to them. RCS could be used with a messaging automation system to send out messages to the right people at the right time. RCS messages could even show options for booking an appointment, show nearby medical facilities, and even provide directions through location services.
This application of RCS could provide real improvements for informing and educating a country's citizens about a huge range of important topics.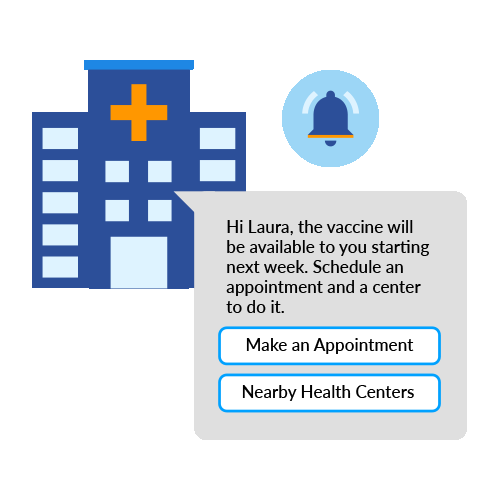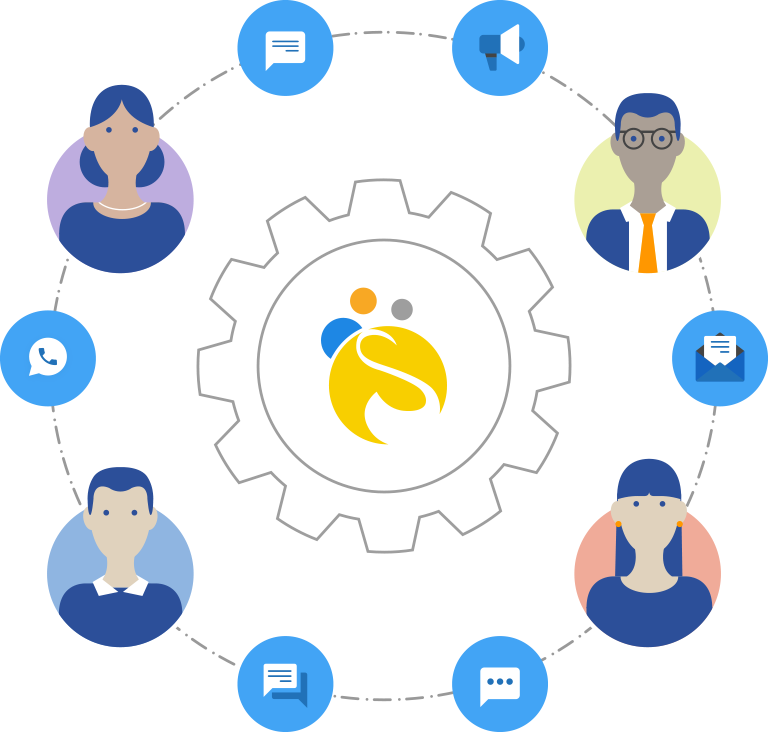 Effortless Engagement with RCS Messaging APIs
One of the biggest improvements in RCS is the ability to customize users' own communications capabilities. With API compatibility, business users can integrate new tools into their messaging, including the ability to send critical, time-sensitive messages, a voice API for sending audio messages, a contact API for granting control over the contact base, and many more.
With Soprano Connect, these capabilities become even more effective. Our single portal lets users control their messaging through RCS, email, calls, and every other communication channel in use.
The low coding property of Soprano Connect's APIs means that only a few lines of code is needed to integrate it into your existing IT systems. And, for creating and managing content, no coding is required at all. This means that teams of developers aren't tasked with weeks of work to implement these new communications features, and IT teams don't need to make big changes to their IT system to make room for RCS messaging.
Soprano Connect is a leading communications platform-as-a-service (CPaaS) profiled by Gartner in their 2019 CPaaS market guide.
We send over 9 billion mission critical messages per year, from over 4.5 million active users. Our customers include over 150 Global Fortune 2000 companies. Soprano products are used actively by global top-100 companies, leading financial institutions, and large government agencies in four major world regions. Soprano's award-winning engineering and innovation has resulted in a powerful cloud-based enterprise platform that powerfully integrates IP, SMS, MMS, voice, and location into a seamless secure business mobile messaging experience.
Soprano are heavily focused on providing a solution which gives you high engagement rates and results. We have a team of experts based worldwide ready to help you with your business requirements.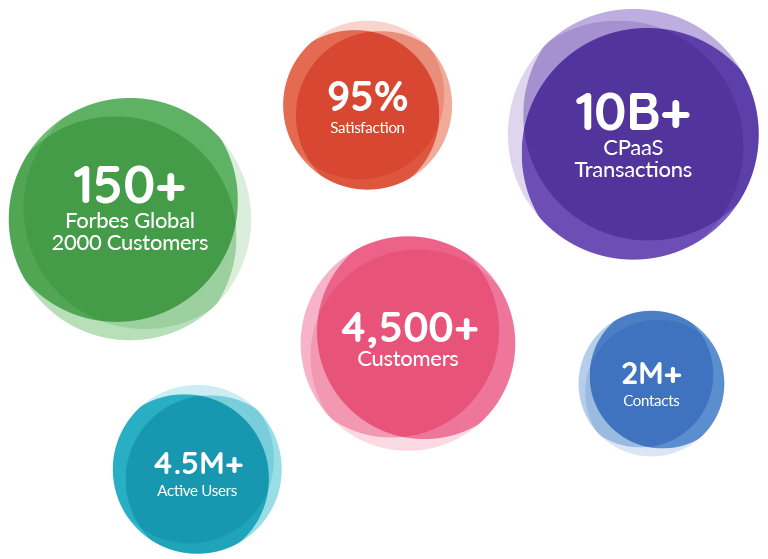 Soprano Connect's Customers
Soprano Design have more than 4500 customers globally across APAC, EMEA, LATAM and the US.
Our customers range from large corporations to independent companies across every industry possible including Government, Healthcare, Finance, Education, Retail, Manufacturing and Logistics.
Get in touch to discuss how to get started with RCS.