RCS vs SMS: All You Need To Know About Both Messaging Channels
Not many 80s technologies remain unchanged to this day. SMS is one exception, and in many ways continues to be as effective as ever. But its limitations are beginning to catch up with it. Let's talk about the role that SMS might play as we enter the era of rich communication services or RCS.
Subject:
CPaaS Channels, RCS Messaging, SMS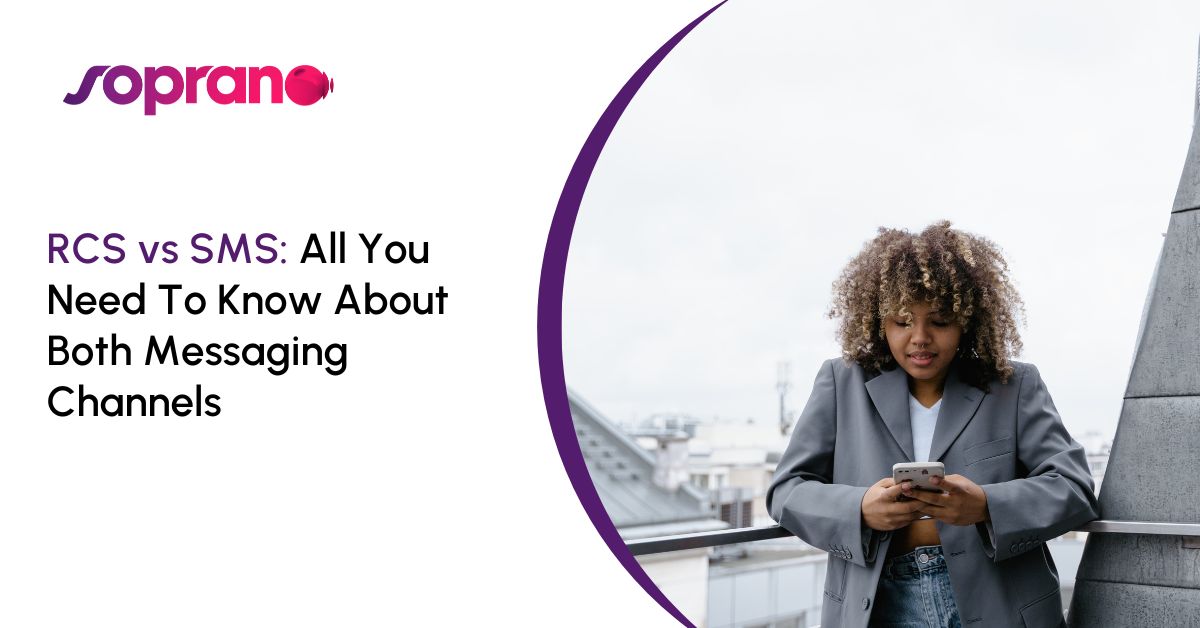 SMS messaging was invented in the 90s. It has held strong as a dominant form of communication ever since. In its 30th anniversary, the business world compares it with a new and powerful communication channel, Rich Communication Services (RCS messaging). Learn here all about RCS vs SMS and why you should use both channels in your business communication strategy.
SMS remains the most effective form of communication a brand has at its disposal:
97% of SMSs are read within three minutes.
SMS has far higher open rates than email and other forms of communication, at 98%.
SMS also has very high response rates, at 45%.
Nevertheless, some traits of SMS make it abundantly clear that this technology is a child of the 90s. While there's beauty in its simplicity, there's also a hard limit on functionality. A question is beginning to be asked: Is SMS's age over?
Today we'll be talking about the benefits of Rich Communication Services – RCS to its friends – and a modern brand's decision between RCS vs SMS.
What is RCS?
RCS is a protocol shared between mobile operators and Android phones. As the name implies, it offers a far richer form of communication than legacy technologies like SMS and MMS, which it has been designed to replace. It's been around for a few years now, though one factor has so far seen it fall short of the ubiquity enjoyed by SMS: Apple is yet to join the RCS messaging party and has instead chosen to support iMessage, RCS's main rival.
RCS has taken cues from over-the-top (OTT) applications like WhatsApp. The data network handles everything, and features like live chat, multimedia messaging and typing indicators are included, making it feel familiar to users.
Though RCS is still in its infancy, the rollout of person-to-person (P2P) RCS contributes to a significant increase in RCS messaging traffic. According to Juniper Research, between 2020 and 2025, the amount of RCS messages will increase by 2500%, reaching approximately 415 billion in 2025.
Why is RCS a significant opportunity for brands?
Brands constantly search for new and innovative means to reach and engage customers. RCS allows them to target Android users in a more prosperous, more interactive and more engaging way; to send more visually appealing content, complete with interactive elements like carousels and suggested responses, direct to the inbox on Android devices.
There's no need for the audience to download an app: it's all within the messaging software that comes standard on the phone.
RCS can help to restore trust in messaging. Senders can be verified, similar to the blue tick you see next to prominent social media accounts, so a receiver can trust that a message came from a brand, not a scammer.
If the recipient has an iPhone, an old handset, or is out of internet range, no problem! If a message can't be sent as an RCS, it's converted and sent as an SMS, usually with a link to a webpage that offers a similar experience.
While mobile operators' job is to roll out support for application-to-person (A2P) RCS, CPaaS providers like Soprano are tasked with removing the complexities of RCS for the brands that want to send rich messages.
RCS vs SMS: which should a brand choose?
RCS vs SMS: it seems like a lopsided battle. In some ways, it is; in others, it isn't.
Firstly, RCS and SMS share a significant advantage over services like WhatsApp, Line and Viber because there's no need to download an app. In the case of SMS, there isn't even a need for an internet connection.
From this point, however, the RCS vs SMS debate begins to become more skewed:
SMS has a 160-character limit, while RCS doesn't have an inherent limitation on message size.
SMS only supports text and URLs, while RCS supports a wealth of rich messaging options, such as live chat, GIFs, location sharing, read receipts and type indicators.
SMS demands that a company purchase a long number or short code to send out bulk messages, while setup and operational costs are significantly reduced in RCS.
RCS can be used to send tickets and take payments.
The chat functionality of RCS can reduce customer engagement costs by replacing equivalent telephone conversations. 67% of people prefer to message brands, and RCS bots can also be available 24/7 to answer basic FAQs, enhancing the customer experience.
SMS phishing and other scams are causing problems for brands. The 'Verified Sender' feature can be seen as the jewel in the crown for RCS, potentially stopping scams and increasing consumer trust.
The ubiquity of social media marketing means that its ROI is in decline. RCS offers advertisers a more targeted and effective digital channel.
The reality? This is not a case of RCS vs SMS. While RCS is the evolution of SMS, SMS will have its place in years to come, primarily as a fallback option.
Given the lack of Apple support, you'll only reach approximately half your target audience if you use RCS alone. By using an SMS fallback, complete with a URL that links to an RCS-style experience, you'll continue to reach your entire audience.
Stop thinking of RCS vs SMS: How to integrate both
If you want to provide an omnichannel experience combining both communication channels, your best option is to choose a cloud-based CPaaS platform like Soprano Connect.
At Soprano, we're excited to help our customers make the most of the new and exciting world of RCS. We've worked hard to provide a low-code way to integrate RCS with an SMS fallback.
Our solution features a wealth of pre-built content in the portal, making for rapid integration. Use our templates to personalise and send whatever communication you'd like.
Want to know more about how to combine RCS and SMS? Our team would love to give you a personalised consultation.