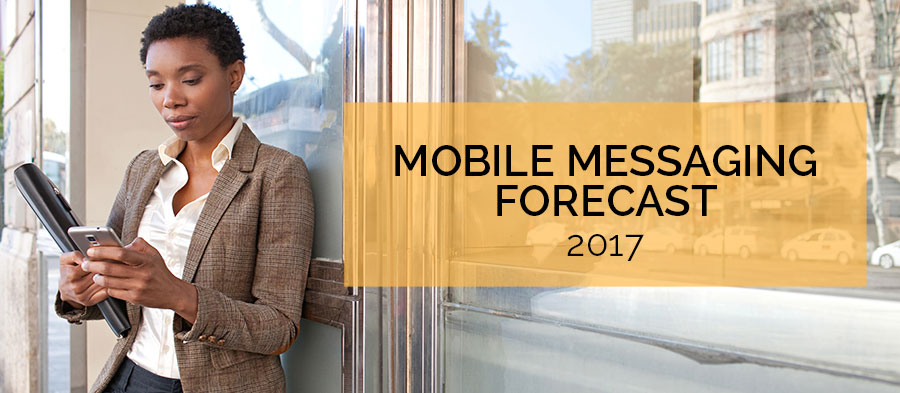 We know mobile messaging has been on the rise and Portio Research* states that more than 7 trillion mobile messages are sent every year. Yes, that's trillion!
The need for enterprise grade messaging solutions is also growing. Companies want to accelerate their business growth through mobile apps, improve productivity and create flexible ways to reach their key stakeholders faster – without sacrificing security.
So what's fuelling this growth? Here we share our forecast on what's to come in 2017.
Employee Engagement Will Evolve
Mobile apps are focusing on productivity features, evolving faster than ever before.
The majority of workers today prefer and expect to communicate with colleagues and receive company related content on their mobiles.
The Generation 'Y' workforce has surpassed the Generation 'X', forcing even traditional sectors to realise the value of mobile in employee engagement.
Aligning with this rise, this year companies will seek an enterprise messaging solution that enables employees to communicate in real-time by using their own devices in the workplace.
Security Will Remain a Priority
Messaging services like WhatsApp and Facebook Messenger are well-known and are easy to use, however they lack crucial business-grade security features.
Security concerns can no longer afford to lag behind. Even tech giants as big as Apple have struggled and faced mobile app security issues.
With an increased volume of data breaches, businesses will invest in encrypted messaging apps that protects their proprietary business information and reduces their vulnerability of having BYOD (bring-your-own-device) policies.
Here's a list of features enterprises will consider in 2017:
Vanishing messages
Remote wipe
PIN-protected or verification tools
Permission controls
Message expiry controls
Brands Will Embrace A2P SMS
Received a text message with an appointment reminder or an authentication code whilst banking online? That's A2P (application-to-person) messaging.
Customer service preferences are shifting from telephone calls and emails to using SMS, which come at a lower cost and provide a more effective solution.
90% of text messages are opened within seconds of receiving them and with SMS becoming the preferred method to receiving information, brands are turning to A2P messaging to reach consumers as a cost-effective and reliable channel to generate more revenue.
The power is in the hands of the consumer – literally! As consumers express their desire to communicate over text message, brands and marketers will invest in enterprise level messaging to provide customers with effortless engagement.
Mobile Will Influence Industries
The growth in mobile messaging will also influence industries like construction and manufacturing to leverage enterprise mobile solutions and empower their field workforce to achieve greater efficiency.
For instance, messaging apps can allow technicians to open and close repair jobs at the touch of a button, automatically updating IT systems.
Government, travel and logistics workers will all increase their use of compliant communication solutions and utilise location-based services whilst finance and retail will continue to be vanguard users.
Delivery and transportation workers will source solutions that include mapping, billing and other phone-enabled mobile solutions to achieve greater efficiency.
Mobile Messaging in 2017
So it's here, and it's here to stay. It's not if your organisation should embrace mobile in 2017 – it's when.
At Soprano, we specialise in enterprise messaging solutions that are secure, productive and compliant.
Discover how our mobile solutions could help you in 2017.
*SMS: the language of 6 billion people. Portio Research