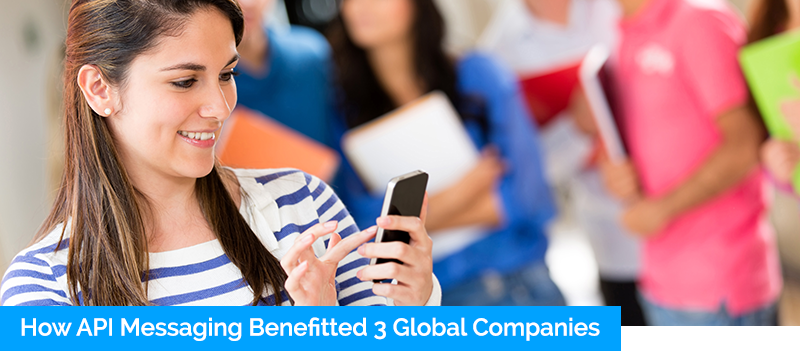 Choosing a text message API business messaging solution that can automate campaigns alleviates the pain and saves time from manually sending messages to your customers. Targeting the right offers to the right people is crucial when it comes to SMS, plus text messaging has the highest response rate compared to emails. So it's not surprising that businesses are embracing integrated messaging.
Here are three companies in different sectors that have SMS messaging down to a tee.
SMS API Messaging Use Cases
1. Leading Healthcare business uses text messaging for appointment reminders
One of the finest hospitals that provides full emergency and primary care medical services in conjunction with the most prestigious medical school, turned their attention towards SMS messaging for a reliable way to alert medical staff of a patient's status and to send automated appointment reminders to patients.
How SMS API messaging benefits them:
Their API integrated business SMS platform automates text alerts to medical staff about patients' health statuses, lab results, medication or appointment changes which has helped to improve critical communication between the patient and their care provider.
The medical centre has confidence in the reliability of SMS to deliver key messages to hospital staff in order to collaborate efficiently. Their patient booking system automatically retrieves appointments and sends SMS reminders to patients. This is a major improvement on spending time on phone calls to confirm and reschedule appointments.
Automated reminders free up staff's time for other higher value tasks. This also helps reduce the number of people who do not attend appointments – saving significant costs from missed appointments.
2. Global Finance Company
When considering mobile texting, most banks limit their requirements to fraud prevention and mobile banking alerts, but here's a large bank that uses SMS messages to provide effective-client oriented communications and promote their services
How SMS API messaging benefits them:
By integrating an SMS API messaging platform, this financial institution is not only communicating real-time important account information, updates on loan or credit applications, but also promoting services to their loyal account holders.
Once their loyal customers pay off loans and are debt-free, the bank offers them the same amount of funds to borrow again, but with a lower interest rate than before. The 2-way inbound SMS campaign enables the bank to send & receive text messages to have a text-based chat with their customers.
The bank creates SMS keyword enabled inbound mobile messaging campaigns
Customers that are interested can quickly opt into this promotional program by simply responding with a keyword 'disposable money'.
The bank's system recognises the keyword and automatically responds back to the customer with the loan application link
The customer clicks the link on their mobile to complete the application form
The application gets processed right away – making it easy to borrow money for the loyal customers
The bank starts collecting interest rates again from their customers that were once debt-free, which directly impacts their bottom line and revenue goals.
3. World Renowned Luxury Retail Brand
A premium world leader in fashion and accessories retailing uses enterprise text messaging to engage customers on mobile with SMS campaigns to communicate new fashion trends and promote new collections.
How SMS API messaging benefits them:
Soprano's API messaging is integrated with their existing marketing system, providing access to customer lists with the ability to opt-in and opt-out.
It's vital for this fashion brand to send customers the right information and to continue to re-engage loyal customers.
They needed to have better visibility on their customers' demographics, so they set up a bulk SMS campaign with a promotional mobile flyer which includes a call-to-action link. The mobile flyer encourages consumers to click on a link to find out about new apparel promotions.
Clicking on the URL link sends customers directly to the promotional page, engaging them into making a purchase which increases sales and strengthens consumer loyalty. Because SMS has a higher open rate than email, the use of enterprise text messaging has provided them with better results.
Discover how our business SMS platform can help you today.