Unproductivity is expensive. If your team isn't operating efficiently, your company is bleeding money.
But productivity gains are within reach. In fact, there's a productivity tool that fits into the palm of your hand and the good news is that you likely already have one – your smartphone.
By harnessing digital tools, you can bolster your business's productivity. And it doesn't need to be expensive, many companies allow their employees to bring their own device (BYOD) to facilitate this digital transformation.
Enabling digital transformation within a secure and controlled environment is the first step towards productivity improvements.
What Are The Most Common Productivity Pain Points?
Paper based systems are inefficient, expensive, error-prone, wasteful, risky, and frustrating for your team.
Despite this, a recent IDC study notes that an incredible 80% of enterprises still use paper based processes.
Many employees within the financial services and healthcare sectors spend 16 hours of their working week on paper-based exercises, which runs up a cost of $573 a week or $29,973 a year. Yes, that's for each employee!
The good news is that these costs can be cut by 30% by simply implementing a mobile solution to reduce the amount of hours spent on manual intensive tasks.
Take Action Now
Business leaders, IT leaders, and information workers, consulted in the same IDC study, commented on what productivity benefits they'd expect from digital transformation:
23% reduction in security and compliance issues
Costs would reduce by 30%
Revenue increase by 36%
Employee productivity would leap 45%
Customer satisfaction and brand equity would strengthen
Mobile is a quick win for productivity gains. Nearly 63% of employees are already using their smartphone or tablet as a work tool.
Concerned about the security risks of BYOD? Power up productivity with the Common Criteria certified GAMMA secure employee messaging app to keep your corporate information secure.
GAMMA: A Tool Designed for Productivity
Where inefficient processes exist, GAMMA aims to close productivity breaches.
Team mobile messaging: Enable fast peer-to-peer conversations between two people or create groups to quickly share information.
Embedded forms: Automate manual processes with customised forms. Forms can be completed within the GAMMA app and integrates with any IT system (ERP, CRM and bespoke systems).
API automation and integration: Integrate effortlessly with your IT systems to automatically send and receive messages to and from the GAMMA app.
SMS escalation: If a user is offline (for example if they have no data coverage) GAMMA converts the message into an SMS instead. Any responses sent via SMS will be received within the GAMMA app for a smooth interaction.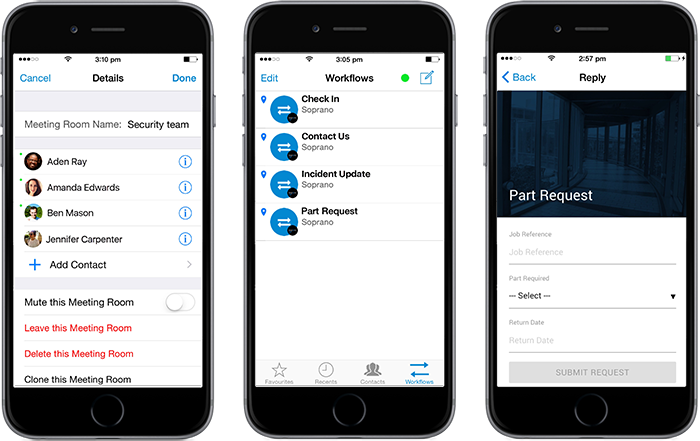 Ready to start making productivity gains and save money? Contact us to speak to discover how GAMMA can be tailored to make your business much more efficient.