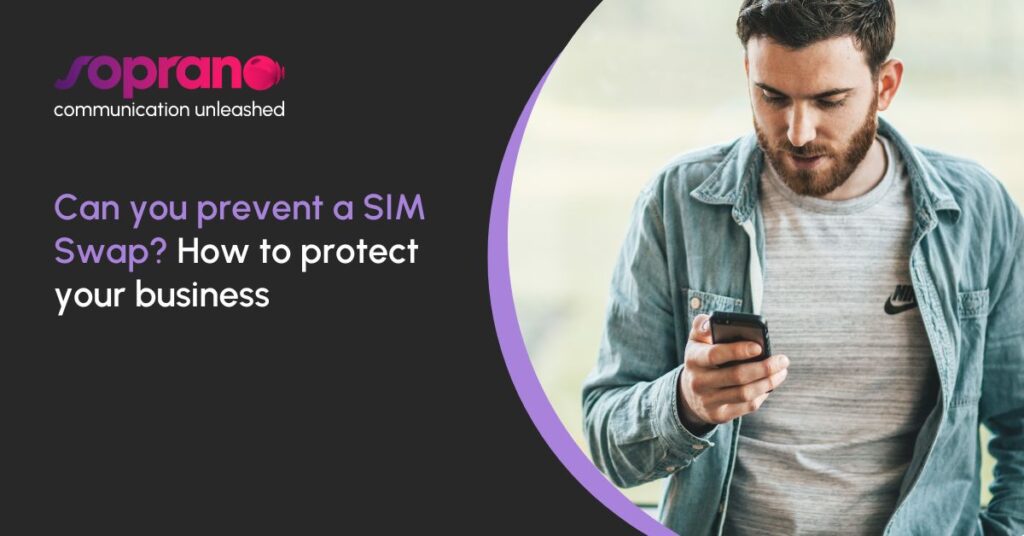 Your customers and employees have crucial information on their smartphones. Therefore, a scam such as SIM swapping can have costly consequences not only for them but also for your business. Are you wondering if you can prevent a SIM swap scam? Learn more here.
Nowadays, people use their smartphones to send work emails, make purchases, pay their credit cards, and much more. The value of what they have in the palms of their hands is so high that it is essential to avoid any risks.
But with so many types of SMS fraud out there, sometimes it's challenging to stay one step ahead of fraudsters. In this article, we will explain all about SIM swap scams and how you can take action to prevent them.
How does a SIM swap attack happen?
SIM card swap, SIMjacking or SIM hijacking is a type of fraud in which hackers gain access to a phone's data by convincing the mobile carrier to reassign the phone number to a new SIM card.
While it's true that it can also happen when losing your mobile phone, most SIM thefts are remote. Cybercriminals steal personal details via phishing or smishing attacks, impersonate you via phone or email and persuade your service company to transfer your SIM data to a new card.
As most people have SMS 2FA enabled, once they have access to your phone's data, fraudsters can change passwords to gain access to online bank accounts, emails, and more.
How common is SIM swapping?
As more organizations use text messaging to interact with their audiences, hackers are increasingly looking to take advantage of its vulnerabilities. And among all types of fraud, SIM swapping is gaining ground.
In the US, SIM swap fraud increased from 320 complaints in 2018, 2019 and 2020 combined to 1611 complaints only in 2021. According to the FBI, that is reflected in a $68 million loss.
Unfortunately, SIM swapping is expected to grow fast because of its relation to data breaches. When cybercriminals steal phone numbers and personal details from organizations, they could use that information later to make SIM swapping.
That's the case of the T-Mobile data breach that occurred in August 2021, in which hackers attacked their systems and stole information from millions of former and prospective customers.
Three months later, the company reported another data breach linked to SIM swapping. "We informed a very small number of customers that the SIM card assigned to a mobile number on their account may have been illegally reassigned or limited account."
The main point is that the final user is not the only one suffering the consequences of SIM swap scams. Enterprises and MNOs are also victims. Fraudsters can steal valuable information from their employees and customers by hacking their work emails and bank accounts.
Therefore, security and data breach prevention are two of the top priorities for businesses in 2023. According to Battery, 92% of respondents to its survey expect their security budget to increase in 2023. In addition, 31% of respondents listed security as their number one priority, and data warehousing and data operations together occupied another 31% of their priority positions.
What are the signs of SIM swapping?
To prevent SIM swap consequences is vital to be aware of the signs and report the fraud to your carrier as fast as possible. Here are some indicators that you might be a victim of a SIM swap.
Loss of cell network connection. The principal sign of SIM swap attacks is when your phone suffers changes in the connection. That means you can't make phone calls or send text messages without Wi-Fi.
Alert notifications. Another obvious sign of SIM deactivation is when the carrier sends you a warning. Usually, providers tell their users when a phone number is activated in another place. Also, you should pay attention to security alerts about the profile and password changes.
Unusual activity. If you can't access your carrier account or notice strange activity on your media accounts, you can be SIM swapped.
In all these cases, you should first alert your carrier and ask to remove your number from the illegitimate SIM card. Then, you should immediately lock down your online accounts, including banking and payment apps, social media accounts, and mobile messaging apps.
Can you prevent a SIM swap?
It would be best if you did not wait for the scam to happen to take action. Here are some recommendations to share and implement with your employees and customers that can help with SIM swap prevention.
Combine SMS 2FA with authentication apps
Sending one-time passwords via SMS is a great security layer because they protect online accounts easily and quickly for your customers and employees. But to prevent SIM swapping, it's important also to use a 2FA Authenticator to which hackers can have access. You can combine both methods for different accounts to avoid the friction this kind of app can generate in people.
Protect your SIM with a PIN
Setting up a PIN on your SIM card is the best option to protect your data in case your mobile phone is lost or stolen. So, if they try to make changes to your account, they will need a 4-digit password. You can set it up quickly on Android by going to Settings / Security / More Security Settings / SIM card lock. On Apple, go to Settings > Mobile Data > SIM PIN. Avoid easy passcodes like 1111 or 1234 because mobile carriers usually use them as defaults.
Be aware of phishing and smishing.
Hackers use phishing and smishing attempts to obtain personal information from potential SIM swap victims. This is why it is crucial to educate yourself, your employees and your customers on recognizing these illegal messages, usually sent by SMS or email.
Prioritize secure messaging.
Mobile messaging has great benefits for business communication, but security should be the top priority. You should ensure your communications platform focus on secure messaging to avoid security breaches, which means it encrypts and stores your message safely, follows all data regulations, and has the right security features.
How to protect your business and customers against mobile fraud
Choosing an enterprise secure messaging platform with the right security features and solutions can help you avoid costly mobile fraud.
At Soprano, we design mobile security solutions for highly regulated and secure organizations. Our communications platform, Soprano Connect, has security features that provide additional access control and visibility layers.
For example, data is encrypted on transit (TLS 1.2) and encrypted at REST by default. Servers are in secure, geographically separate data centres in HA configuration that act as failovers.
In addition, the Soprano Connect platform is ISO/IEC 27001: 2013 Certified in the US, Asia, Europe, the UK, LATAM, Australia, and New Zealand.
For us, protecting our business customers from mobile fraud and data breaches is the top priority. Do you want to learn more about our security features and how to prevent fraud? Fill out the form to download our new security whitepaper "Protecting Your Enterprise From Mobile Fraud".