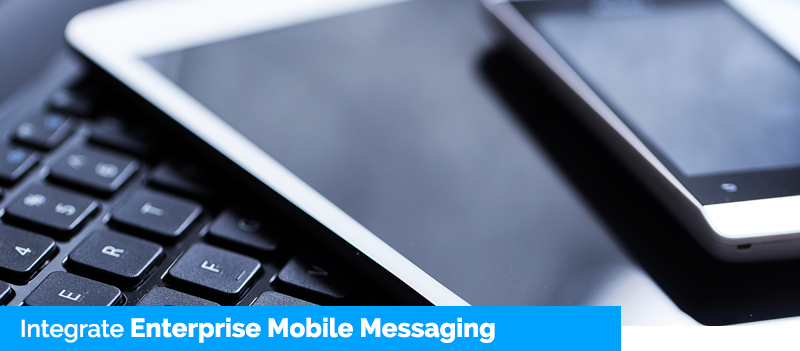 What is Integrated Business Mobile Messaging?
A secure messaging solution can be easily integrated into your business processes through the use of APIs. These enable your business to send SMS to all of your key stakeholders, whether it is a bulk SMS marketing campaign, text reminders for business or application to person (A2P SMS) informing you of a data breach.
And there's no sign of the popularity of SMS going away either. Despite reports claiming SMS usage will shrink, over 70% of respondents in Ovum's Digital Consumer Insights survey expected to increase their use of SMS.
This is because:
SMS is 5 times more efficient than email
SMS is ubiquitous and boasts a 98% read rate within 3 minutes
Text messaging has a 45% response rate
How to Integrate Mobile Messaging
1. Improve the Customer Experience
Poor customer services continues to plague many companies, presenting a revenue leak costing over $62 billion each year.
SMS is short, brief and the preferred choice for many people to communicate with brands. It can be easily integrated within existing customer relationship management (CRM) systems to send personalised messages to customers or bulk SMS as a group from your brand with special offers and satisfaction surveys.
Remember it's more cost effective to sell to existing customers than attempting to attract new ones, so keep your business front of mind with a bulk SMS service provider.
2. Send SMS from Your Computer
By using an enterprise messaging platform, it is easy to send SMS messages to contacts from your computer. By logging in from any web browser, you can send SMS from anywhere in the world.
Platforms can even enable you to send SMS from your email, meaning you can easily integrate SMS into your business processes without having to learn a new system. SMS can be automated allowing your systems to automatically send text messages on your behalf via email.
3. Communicate with Employees
Integrate SMS with your internal applications, such as staffing software, to engage and communicate with employees.
Send shift offers to employees and automatically assign the shift to the first person to respond with SMS and remind people when their shift is due to start.
SMS can also be used to safeguard employee welfare. Send alerts to employees working in the field to confirm their safety. Workers simply need to respond to confirm their status. In the situation where a response isn't received, send regular reminders and escalate if required.
4. Authenticate Online Accounts
SMS is the safest ways to authenticate online accounts. The timely and direct nature of SMS means that sensitive information can be kept out of the wrong hands.
One-time passwords are sent via SMS to users to verify their identity when attempting to access their online accounts.
Mobile messaging platforms easily integrate with systems to enable efficient two factor authentication so you no longer need to rely on expensive physical hardware security tokens.
5. Send Emergency Notifications
When an incident strikes, every second counts. A business needs to be prepared in order to respond quickly and reduce any potential negative impact. Get the right message to the right people at the right time, quickly.
Get emergency notifications to key stakeholders and first-time responders efficiently with critical SMS alerts to enable faster response times to incidents.
The platform enables ongoing communication throughout an event, and quickly send time-sensitive information via SMS to your first responders.
By integrating an enterprise messaging platform with your existing systems, SMS templates can be prepared in advance so contact groups can be reached quickly in the event of an emergency.
Get an Integrated Business Messaging Solution
Start benefiting from the high response rate of text messaging by choosing an integrated SMS gateway product that can automate manual processes, saving you time and money.
Soprano MEMS can integrate with most business systems and enables your business to realise the speed, reach and engagement of SMS.
There's no need to maintain a separate database of contacts, with our Active Directory Plugin, contacts are seamlessly synced with your organisation's address book.
Get in touch today to discuss how our solution can be applied to your business.#0071a1