How to Improve Communications with Soprano RCS Business Messaging
RCS is the new messaging standard that's revolutionizing the mobile messaging market and provides an excellent opportunity for business and government to engage more deeply with target audiences.
Subject:
CPaaS Channels, RCS Messaging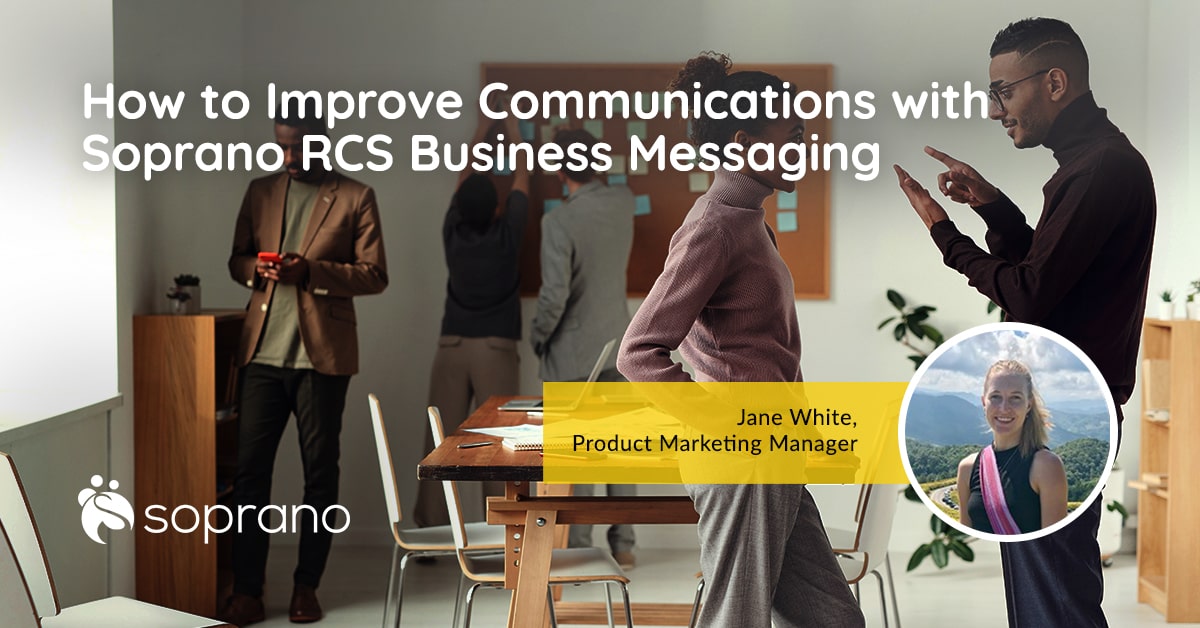 SMS hasn't changed much since the '90s. But there's a new player in message protocols – RCS, or Rich Communication Services – and it's considered by many to be the future of messaging.
With RCS messaging, there's no 160 character limit like SMS. It also has no file size limit—so photos, gifs, and even videos are delivered in crystal clear quality. There's also a bunch of other cool features that RCS enables that aren't possible for SMS, like sending locations, files, read receipts, carousels, buttons, and more.
Despite its capabilities, the market isn't yet 100% mature on the RCS front. In the US, for example, only 40% of people have a phone which can receive an RCS message (i.e. Android). Across the rest of the world, Android is favored by almost 80% of the population, so there are many more users who can take advantage.
It's also important to note that 97% of smartphone users worldwide use an alternative messaging service like Line, Telegram, Facebook Messenger, or WhatsApp at least once a day. This means that users are getting used to these enhanced features because these apps all have them.
New channels proliferate quickly and add value – so it's critical for brands to leverage the benefits of RCS business messaging to remain competitive.
How does RCS business messaging improve the effectiveness and efficiency of communications?
Because RCS has richer content, it can be much more engaging and improve all standard KPIs relating to engagement. That's one of the biggest benefits from the outset.
Beyond that, however, RCS has the potential to open up innumerable use cases that haven't been implemented because of its additional actionable capabilities.
For example, share location and open URL CTAs in a mobile message combined with two-way communications opens up a huge number of possible interactions between a sender and recipient that would not be applicable at all to SMS-only campaigns.
Soprano's RCS business messaging capabilities
Soprano's RCS business messaging is a service to design and deliver RCS messages via the Soprano Connect platform, for unified delivery and management of these messages. Soprano's current version of RCS business messaging has a robust suite of capabilities including:
Portal and API support for the RCS channel (RCS messages can be built in the Soprano UI or in our customers' native systems)
Create and send RCS messaging in a drag-and-drop editor
Supports "text", "card", "suggested replies", and "carousel" components
SMS fallback support (if a device is not compatible with RCS message types, a similar message will be sent via SMS)
Support for consent management (opt-in and opt-out responses)
Two-way RCS messaging using Inbound
Inbound supports any-to-any channel responses (users can trigger RCS/SMS/WhatsApp/Voice channel responses to RCS incoming messages.
View RCS order summary and statistics (basic reporting)
The platform's new capabilities also include:
Share/view location
Open URL
Click-to-dial
Video and images with buttons
The Soprano platform is super easy to use and it is built to make adding new channels seamless and easy. Soprano's team analyzes the market to forecast which channels are gaining adoption and then builds the mechanisms to use that channel into a standard interface our customers already know how to use. With low-code and no-code deployments from the app or native integrations, you can diversify and future-proof your multichannel marketing for mobile through Soprano.
RCS is just one example of a more actionable, dynamic channel that can be utilized by Soprano users through a familiar interface.
What makes Soprano the premier messaging platform solution?
In the rapidly evolving communication industry, mobile messaging is one of few channels that has maintained a constant, prominent position in our everyday lives. Content, media, and communications of all kinds have vastly expanded in volume while the threshold for significance of published content has dropped to almost rock bottom. As new platforms emerge, proliferate, and plateau, CPaaS remains a super-reliable and protected channel for critical messaging.
Throughout this evolution, Soprano has worked to build a platform where reputable customers can send messages with critical intent. After 27 years, governments, banks, hospitals, and other key industries have trusted Soprano to achieve their communication goals. Looking forward, Soprano is evolving with the industry and developing tools to serve hyper-personal messages that are needed and trusted, in whatever form they are delivered.
Find out more about Soprano's RCS business messaging solutions.