OTP in banking: Optimize Your Protection Against Online Banking Fraud
Unfortunately banking fraud remains rife, but evolving technologies are providing more and more robust protection against attacks. One Time Password (OTP) security is a fantastic way to optimize security and protection for banking institutions and their customers. With correct, expert implementation, OTPs greatly reduce the risk of fraudulent access to systems and accounts.
Subject:
CPaaS Platform, Secure Messaging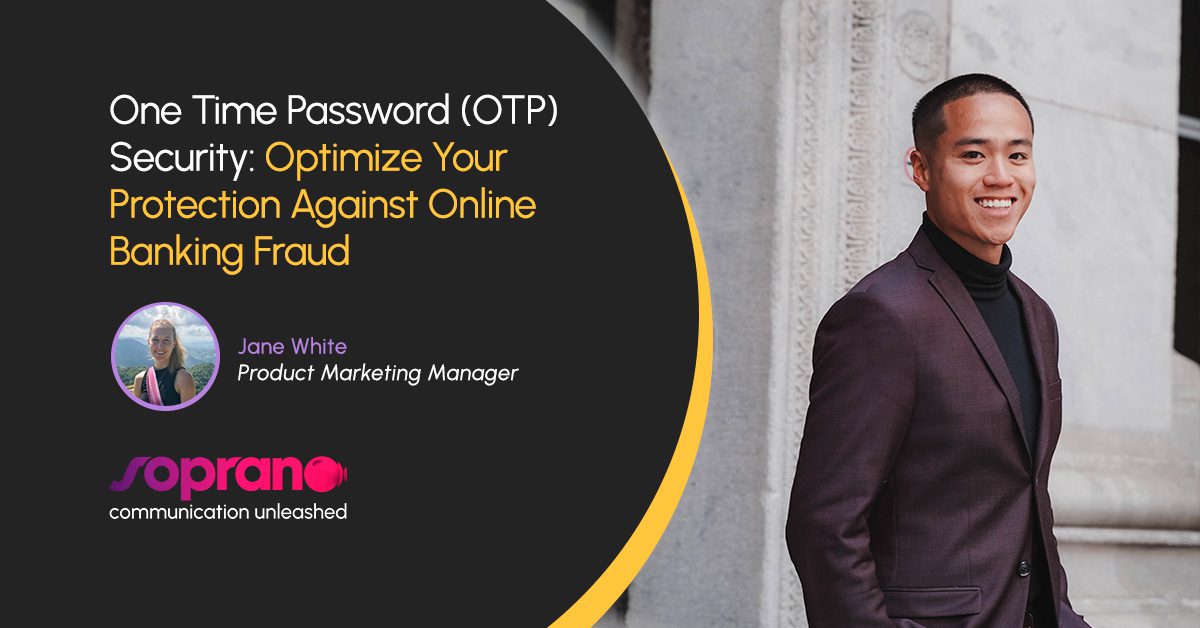 A One Time Password (OTP) solution is a security measure for logging into accounts and devices. It works by delivering a single-use, auto-generated set of characters, usually to a mobile device, which is then used to log in to the user's account.
This type of password vastly improves protection against online banking fraud. It adds a critical layer to login security, which can help prevent scammers and hackers from compromising accounts. OTPs are gaining massively in adoption, especially OTP in banking, and are becoming more and more frictionless as the technology matures.
How OTP in banking mitigate the risk of fraud
According to research from Microsoft, multi-factor authentication blocks 99.9% of all attacks on individual accounts. Furthermore, Verizon's 2020 Data Breach Investigations Report found that 80% of accounts are breached because of password failure.
Attackers are continually evolving their methods to gain access to victims' accounts, with social engineering being a key component in so many recent successful attacks. OTPs help subvert many of these attacks and make access much harder for unauthorized parties.
Before OTPs, attackers could buy login information from the dark web easily. Then their work was done. Now, thanks to the safety of One-Time password, they need to execute a time-specific, layered attack to obtain access, or a more sophisticated hack where they reroute messages, take over devices, or infect a device with spyware. It's far more difficult and as such, they're much less likely to go to the trouble.
The importance of implementing OTP in banking well
The unfortunate reality of OTPs is that they are not foolproof – and scammers are getting better every day. Even with OTPs, there are common scams in banking that manage to extract OTP information from targets.
This includes smishing, currently the greatest threat, which entails a scammer messaging a victim's mobile device with a fraudulent alert or other action-eliciting message and link. When the victim follows the link, they might think they are on an official website and give their personal information, when they are really giving it to a scammer. This information is then used to access victims' accounts.
Many institutions focus their efforts on securing their own platforms and infrastructure, and view the security of individuals' devices as each individual's responsibility. When things go wrong, they end up with very unhappy customers which has negative knock-on effects for the business.
Soprano does not take that view. We offer our financial communication tools to protect against fraud on an individual device level. We want our customers to have the ability to protect their end recipients, and as a result we can dramatically reduce the risk our partners take when sending critical messages like OTPs.
Our delivery team at Soprano is made up of seasoned experts who have deep experience implementing OTPs. There are inherent risks with a badly implemented OTP system, so it's important for the job to be done right, rather than fast. At Soprano, we ensure careful delivery as well as security expertise to ensure the success and reliability of your OTP measures.
Setting up OTP in banking with Soprano
Soprano has a robust solution for 2FA and lots of easy-to-orchestrate settings you can apply to ensure your systems' security. Our Authenticator API simply connects to whatever system you are looking to secure, and tokens are allocated based on the anticipated volume of Authenticator tokens required.
Soprano has been an industry leader in security for 28 years. Our Soprano Connect platform has been built with security as a top priority at all times. With our headquarters in Australia, where data, privacy, and security regulations are some of the most stringent worldwide, we've adopted a position as the go-to provider for secure communications.
Our customers will often choose to work with us because they need to deliver mission-critical messages with systems housing personal data or high-stakes information interconnected with our platform. In those circumstances we have a reputation, team, and product that can meet their needs better than anyone.