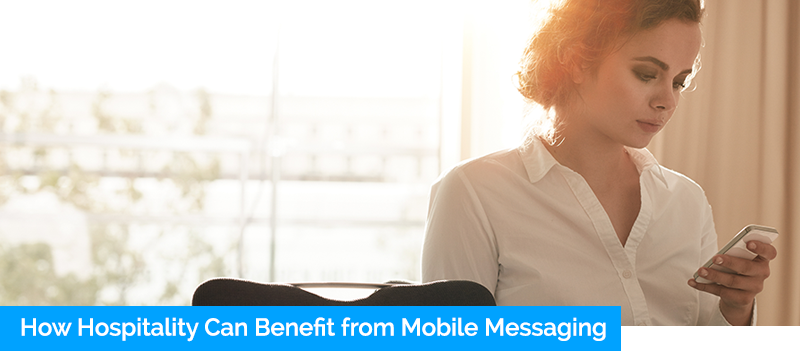 Rising operating costs, managing guest expectations and unforeseen incidents. Do all of these sound familiar? These are just a few of the many challenges that hospitality businesses face.
But there are ways to solve these on-going problems. Whilst SMS messaging has been around for decades, hotels are only now adopting text messaging to communicate with their guests and employees, simply because it is a quicker and more convenient way of reaching people.
Implementing a smarter messaging solution for hotels, casinos, restaurants, cruise lines and tourism businesses, is one of the most reliable and proven methods to lower your facility operational costs and improve customer service.
Here are 3 of the many ways mobile messaging can benefit hospitality.
1. Facility Operations Management
Rising labour costs, labour shortages, utilities, and maintenance expenses are among the largest operating costs in a hotel that are eroding your bottom line and impacting profitability.
Enterprise SMS messaging solutions can improve your operational efficiency by integrating with your existing IT systems to automate time cumbersome business processes.
Fill Shifts Faster
Shift planning is a key element of a business' operations and requires swift processes to keep operating costs in check. Integrated messaging has proven itself to be an effective workforce management tool that helps hospitality businesses fill vacant shifts faster.
No more leaving voice mails. Use SMS to automatically notify staff of new shifts quickly and directly to their mobile. Accepted shifts can be automatically scheduled to specify the shift details to the assigned candidate list. Additionally, automatic SMS reminders are a great way to ensure workers arrive for their shift on time.
Reduce Housekeeping Costs
Housekeeping operations can be painfully slow. Staff can waste time going back and forth, making multiple trips to reception to find out which rooms can be cleaned. This wasted time leads to loss in productivity and increased labour costs.
Rather than relying on outdated manual reports and the hope that housekeepers will quickly find rooms to clean, hotels can implement smarter internal mobile communications to inform housekeeping teams of immediate duties.
2. Improve Customer Loyalty
Customers' expectations are constantly evolving, and as a hospitality business you're tasked with constantly staying ahead.
Hospitality mobile messaging is an effective B2C marketing and promotional tool to keep guests engaged and coming back to your business. In fact the Phocuswright 2016 Technology Trends report states it is a "game changer" for the industry.
SMS has a broader reach, read and response rate than other communication channels. It enables you to send a broadcast a message that is tailored to your guests' needs, leading to increased customer satisfaction. Use SMS to send up-to-date information about on-site events, restaurant options, facility features, resort maps and more.
Foster Better Guest Relationships
Speed is key. Guests want their requests to be dealt with as quickly as possible.
SMS can improve response time from concierge services. Finally there is a solution to replace time cumbersome phone calls from guests' to the front desk to make a request, state a concern or order room service. Mobile messaging offers a better alternative by providing a two-way communication channel anywhere any time and ensures your guest requests can be fulfilled in a timely manner.
Retain customers through an effective B2C messaging loyalty program. Request feedback, send promotional offers and deliver information about exclusive events that are happening in your local area to foster guest loyalty.
3.Business Continuity and Incidents
The unexpected happens. When an incident arises a business must be able to respond promptly, accurately and confidently during an emergency. Keep guests safe and informed by responding more quickly to incidents and eliminate any risks that could potentially have a negative impact on your brand.
Be prepared with immediate alerts
Use Enterprise SMS messaging solutions for urgent response and worker safety during incidents. In advance, create templates and group lists, such as specific templates for hospitality operations staff, teams, specialists, and first responders. Notify workers of an incident by triggering alerts from any browser or mobile devices and ensure your staff are safe by receiving real-time reports via message delivery confirmations.
A solution to meet your needs
At Soprano we deliver B2C hospitality messaging solutions designed to improve productivity and reduce operating costs.
Our leading solution is a comprehensive 2-way cloud mobile messaging platform delivered through a single user interface for inbound and outbound messaging via SMS and email. It easily integrates with existing IT systems to help automate communication and workflow processes throughout a single or across multiple facilities.